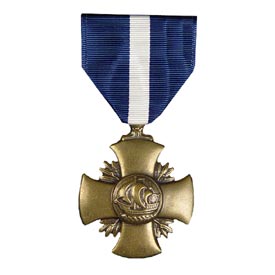 The President of the United States takes pleasure in presenting
The NAVY CROSS to
Lieutenant Clarence L. Cook, United States Naval Reserve
For service as set forth in the following
CITATION
For extraordinary heroism while serving as copilot of a search and rescue helicopter, attached to Helicopter Combat Support Squadron SEVEN, detachment ONE HUNDRED FOUR, embarked aboard USS PREBLE (DLG-15) operating as a unit of the United States Seventh Fleet, in connection with the rescue of two downed aviators in North Vietnam on 19 June 1968. Providing exceptional support to the pilot of his aircraft throughout this daring night rescue mission which was carried out despite extremely formidable enemy opposition, Lieutenant Cook rendered invaluable assistance in locating and maintaining references to the position of the survivors, and in utilizing his machine gun to suppress hostile small arms and automatic weapons fire which was directed at the rescue helicopter with growing intensity during four difficult decents which culminated in the successful rescue of the survivors. By his professional skill, prompt actions, and great personal valor in the face of intense enemy fire, Lieutenant Cook contributed in large measure to the success of this rescue mission and upheld the highest traditions of the United States Naval Service.
Lassen MOH Rescue Crew Panel Discussion of Rescue June 18, 1993 NNAM NAS Pensacola, FL
Return to Navy Cross