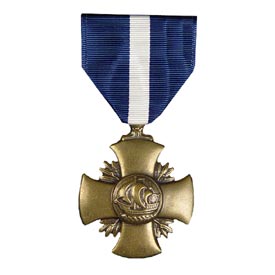 The President of the United States takes pleasure in presenting
The NAVY CROSS to
LIEUTENANT JAMES ROBERT WALKER, United States Navy
For service as set forth in the following
CITATION
The President of the United States takes pleasure in presenting the Navy Cross to James Robert Walker (641616), Lieutenant, U.S. Navy, for extraordinary heroism on 14 September 1968 while serving with Helicopter Attack (Light) Squadron THREE (HAL(L)-3), Detachment THREE, Task Force 116 (TF-116), during operations against enemy aggressor forces in the Republic of Vietnam. As the Fire Team Leader of a Light Helicopter Fire Team which was called in to support United States naval forces that were under heavy attack on the Mekong River, Lieutenant Walker, upon arrival at the scene of the enemy ambush, immediately commenced his attacks against the entrenched hostile emplacements on both sides of the river. After diverting the intense enemy fire from the badly-damaged ships to himself and his fire team, he continued to press his attacks and was able to suppress much of the Viet Cong fire. With his ammunition expended, Lieutenant Walker was preparing to leave the scene of action to rearm when he was informed of the need of an immediate medical evacuation of a critically-wounded crewman aboard a severely-damaged lighter. Realizing that no medical-evacuation aircraft could approach the crippled ship due to the heavy fire, Lieutenant Walker courageously volunteered to attempt the evacuation, in the face of the withering hail of bullets, and with full knowledge that the ship had no landing capabilities for his aircraft. He hovered his aircraft over the bow of the moving ship and successfully completed the evacuation of the injured man under the most hazardous conditions. He then flew the casualty to awaiting medical attention at Vinh Long Airfield and quickly rearmed, returning to the scene of contact to press his attacks on the enemy positions. Forced to rearm once again at Vinh Long, Lieutenant Walker again returned to the ambush scene and succeeded in breaking the fiercely-resisting insurgents and suppressing all their fire. Through his tenacious and courageous attacks, he turned a well-planned enemy ambush on United States naval forces into a disastrous enemy rout. Lieutenant Walker's composure under fire, outstanding professionalism, and valorous dedication were in keeping with the highest traditions of the United States Naval Service.
Return to Navy Cross