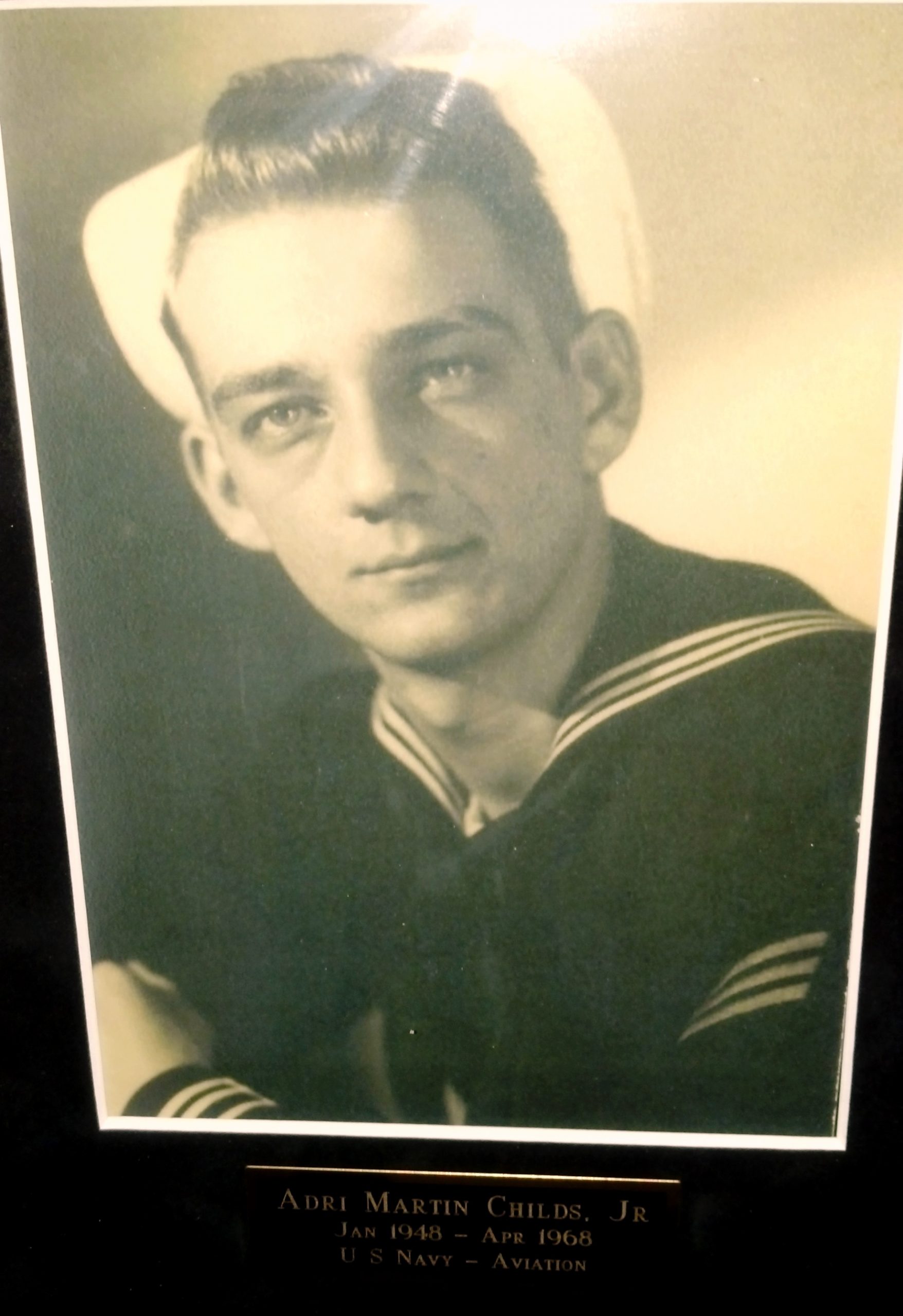 ADR1 Martin (NMN) Childs, Jr., USN (Ret.) Signal Charlie
On July 15, 2012, the family of Martin Childs, Jr., USN Ret., gathered at his bedside as his commanding officer, the Lord Jesus Christ, granted him permission to go ashore a final time, and welcomed him into heaven. After a brave and dignified battle with cancer, Martin passed from his mortal body and was reunited with departed family, dear friends, and shipmates from the nine aircraft carriers he served on during his 20 years of service to the US Navy.
Born in Manhattan, NY, to Martin and Beatrice Childs (nee Hughes), he was the oldest brother to sisters Bea and Hazel, who preceded him in death. As a teenager, his family moved to New Jersey, where he graduated from Haddonfield High School. Soon thereafter, he joined the Navy, where he proudly served his country until his retirement in April 1968.
A short time later, Martin met Dora Hockett in Norfolk, VA, and on November 29, 1969, she became his first mate and together they set sail on an adventurous marriage that lasted 42 years. Martin worked for Bechtel Corp for many years and during that time, the family moved frequently. In 1985, he was transferred to Phoenix for what was to be a brief stint but, when Dora fell in love with the desert southwest, Martin moved his family to the growing suburb of Peoria, and worked at Palo Verde Nuclear Generating Station until his retirement in 1993. He and Dora moved to Surprise in 2000, where their home was always over-flowing with love and laughter.
Martin's father immigrated from Armenia to the US at the age of 15, and Martin was the first member of the Childs family to be born on American soil. Martin was proud of his Armenian heritage and enjoyed making stuffed grape leaves and potato blinis.
Martin's proudest accomplishment during his naval career was earning his wings following air crewman training in water survival, an 18-month course that he completed in less than 12 months.
Martin is survived by his beloved wife, Dora, sons Martin III (Wendy) and Greg (Becky), daughter Michele, grandchildren Lisa (Brandon), Hunter, Darian, Saraya, Katrina, Lindsay, Morgan, Martin IV, and Savannah, and great-grandson Keith. In lieu of flowers, the family requests that donations be made in Martin's name to the Wounded Warrior Project. www.woundedwarriorproject.org.
A memorial service will be held on Sunday, July 22, 2012, at 1:30 P.M., at Regency Mortuary, located at 9850 West Thunderbird Road, Sun City, AZ. Private interment services will be conducted at Arlington National Cemetery, in Arlington, VA, at a date to be determined upon the homecoming of Martin's grandson, Army PFC Hunter Childs, 82nd Airborne Div., who is currently serving in Afghanistan.
A portion of the US Navy Retirement Creed reads, "He stood the watch for [20] years. He stood the watch so that we, our families, and our fellow countrymen could sleep soundly in safety each and every night, knowing that a sailor stood the watch. Today we are here to say, shipmate, the watch stands relieved. Relieved by those you have trained, guided, and led. Shipmate, you stand relieved."
Fair Winds and Following Seas Petty Officer Childs!
ADR1 Martin (NMN) Childs Jr.
26 DEC 1930 – 15 JUL 2012
USN JAN 1948 – APR 1968
Final Resting Place:  Arlington National Cemetery, Court N70 – Section H – Column 22 – Niche 1
HT-8 Collective Pitch Newsletter, NAS Ellyson Field, Pensacola, FL August 8, 1963 ADR2 Childs Receives Award-Click at the top and scroll through the newsletter.