CAPT FREDERICK R. BARTLETT, SR, USN (RET.) SIGNAL CHARLIE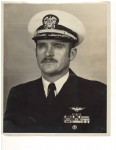 CAPT Frederick R. Bartlett, SR, USN (Ret.) 89, former Commanding Officer of HS-11, formerly of North Kingstown, RI, passed away very suddenly on March 2nd. He was predeceased by his wife Joan K. Bartlett of Mt. Laurel, NJ, and is survived by his children, Fred Bartlett Jr. of Narragansett, RI, Dan Bartlett and his wife Lourdes of Hawthorne, California, Marjorie Bartlett of Charlestown, RI, and Julie West of Saunderstown, RI. He was the loving grandfather of six children and great grandfather of four. He leaves behind his friend and companion of the last five years, Letty K. Thomas of East Stroudsburg, PA, and his brother Richard Bartlett along with his wife Ann of Lakewood, CO.
LT Bartlett, USN received his Navy wings as a Navy Helicopter Pilot on April 4, 1960 in HTG-1 at NAS Ellyson Field, Pensacola, FL. Lt Bartlett is Navy Helicopter Designator #5186. CDR Bartlett served in HA(L)-3 in Vietnam from April 1, 1968 till January 1, 1969 as a pilot in Det-6. His awards from his HA(L)-3 service include Air Medal-Strike/Flight (2), Navy and Marine Corps Commendation Medal (2) and a Bronze Star Medal with Combat V.
Capt. Bartlett (AKA Black Bart) was a consummate career naval officer, serving over 30 years in the Navy. After leaving University of Massachusetts, he rose from the rank of ensign and retired as a Captain. He was a jack of all trades, flying fixed wing prop planes, jet aircraft, helicopters, commanding aircraft squadrons, as well as naval vessels including aircraft carriers. During his long and distinguished career he was stationed in Pensacola, FL, Norfolk, VA, Monterey, CA, Meridian, MI, Quonset Point, RI, with his final posting at the Newport Naval Station in RI, where he taught at the Naval War College. He also served in both the Korean and Vietnam wars. In addition to numerous citations, medals and decorations, he was awarded the prestigious Bronze Star for his actions in Vietnam. After ending his career in the Navy, he moved to Mount Laurel, NJ, where he was employed in the public sector working for a Navy defense contractor. He then moved on to become a history teacher at the Valley Forge Military Academy in PA, where he achieved acclaim for his innovative and life changing teaching skills and curriculum.
Fred was a true family man and along with his wife, Joan, they raised four children, as they traveled from base to base. They instilled and inspired their children's sense of adventure, independence, athletics, love of nature, and play, especially when it had anything to do with the water and water sports. He also enjoyed camping with the family, and later owning a series of RV campers, each one bigger than the last. His love of all things water related, included water skiing, body surfing, swimming of course, and sailing, where he owned a series of sailboats, each one larger than the last. He continued to expand his mind in his retirement years by attending Elder Hostels, as well traveling abroad visiting the sights he taught about. He enjoyed all sorts of card games, including bridge, which he played most of his adult life.
Fred was the captain of his U. Mass swim team, competed as part of a select Navy Swim team, was captain of his tennis team, enjoyed model railroading, dabbled at golf, as well as running for fitness, and became a champion triathlete in his latter years, completing three ironman triathlons, including the Hawaiian Ironman, which he finished in the year 2000 as a 70 year old. He was also a member of Team USA triathlon, competing in three ITU World Championships held in Perth, Australia, Edmonton, Canada, and Lausanne, Switzerland, along side his son, Fred Jr. He was always an intense but fair competitor, happy to race against people half his age usually with him coming out ahead.
He was a consummate man's man, stern, but caring, straight- laced, full of vitality, fun activities, was a doting father and true family man. He was an officer and a gentleman, father, grandfather, great-grandfather, husband, companion, athlete, competitor and much, much, more. He will be truly missed by all who knew him, and to all those that loved him very much. For condolences, visit FaganQuinnFuneralHome.com