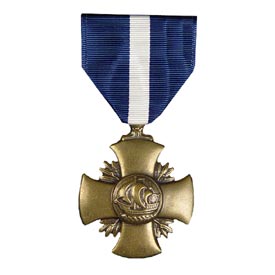 The President of the United States takes pleasure in presenting
The NAVY CROSS to
LTJG Robert Edward Baratko, United States Naval Reserve
For service as set forth in the following
CITATION
For extraordinary heroism on 15 September 1970 while serving as the Aircraft Commander of an attack helicopter, attached to Helicopter Attack (Light) Squadron THREE (HAL(L)-3), Task Force 116 (TF-116), during operations against enemy forces in the Republic of Vietnam. Lieutenant, Junior Grade, Baratko participated in a mission to provide cover for a medical evacuation helicopter which had previously attempted to evacuate several seriously wounded personnel in the face of intense enemy fire. As his plane and three others entered the evacuation area, the surrounding tree lines erupted with intense fire which downed two aircraft and seriously damaged a third. Lieutenant, Junior Grade, Baratko's aircraft sustained several critical hits, including one through the fuel tank. With the only flyable attack helicopter on the scene, he provided gun-ship coverage while the medical evacuation helicopter eventually succeeded in rescuing the downed crews. As he was flying this coverage, Lieutenant, Junior Grade, Baratko's plane was again subjected to heavy fire and sustained several more hits. After the medical evacuation helicopter departed the area, Lieutenant, Junior Grade, Baratko flew to a nearby landing strip with his fuel supply practically exhausted. By his perseverance and great personal valor in the face of almost overwhelming odds, he was directly instrumental in saving the lives of several of his shipmates. His selfless and determined efforts were in keeping with the highest traditions of the United States Naval Service.
Return to Navy Cross