LT Thomas McKittrick Jones, USNR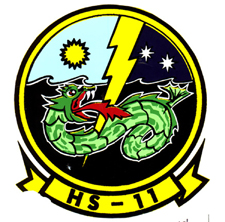 Tim 'The Beef' Jones passed away suddenly on 9 April 2020 in Palm Beach, FL. 'The Beef' was 61 years old. He grew up in the St Louis, MO area, had a home in Ladue, MO (a St. Louis suburb) and recently spent winters in Palm Beach, FL. Born as Thomas McKittrick Jones, he was known as 'Tim' although that changed when he reported to his first sea going squadron, HS 11 DRAGONSLAYERS.
Although his call sign became 'The Beef', close friends just called him ' Beef' as he was larger than life. He entered the Navy as an Aviation Officer Candidate in 1981 after graduation from the University of Richmond, VA (Go 'Spiders'!) having earned his bachelor's degree in Speech Communications. His Primary Flight training took him to VT-27 in Corpus Christi, TX and subsequent helicopter pipeline thru HT-8 and HT-18 at Whiting Field in Milton, FL. He earned his wings as a Naval Aviator on 3 December 1982. His rotary wing designation number was #16934. He then reported as a student to the RAG (HS 1) in Jacksonville, FL before assignment to HS 11 DRAGONSLAYERS with CV WING ONE aboard USS AMERICA (CV 66).
Beef held a number of division officer duties including Line Division, Aircrew Division and Schedules Writer while with HS 11. He was a "favorite" in C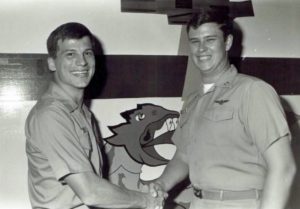 arrier Strike Ops due to his easy going and magnetic personality. "He was always a ray of sunshine and everyone's favorite in Strike Ops" said the former CAG-1 ASW Ops Officer just recently. Besides being every JO's best friend, he was not fazed by the "distance" of more senior officers. In fact, he became pretty "chummy" with AMERICA's Ops Officer to the point of asking the OPS O if he were actually going to use his' VIP parking spot' on the hangar deck for the cruise (note: actual deployment, not a home port change!) "Sure, 'Beef', you can have my spot in Hangar Bay One. I am not going to take my car on this cruise" replied the OPS O who was in on the "set up". The JOs had to run out to the parking lot at the last minute in Jax to stop him from actually driving from Jax to Naval Station Norfolk to "on load " his new sporty Nissan Z car. He did pull out his golf clubs for the cruise, of course, but the car remained in Jax. Anybody who knew Tim, knew Tim was never far from his clubs.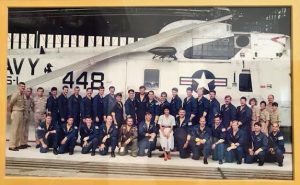 After HS 11, 'Beef' was assigned to the RAG (HS 1) as an instructor pilot in 1987. He loved flying and the Maintenance folks and Enlisted Aircrew loved to go with him on Post Maintenance Check Flights. He was respected as a solid aviator and the Enlisted Maintenance folks and Enlisted Aircrew enjoyed his outgoing and friendly personality. In addition to golfing and fast cars, it should be remembered that Tim was a founding member of the St John's River (Jacksonville, FL) "Fast Boat Club" adding his ski boat, "$ink Hole", powered with twin Mercury outboards to the fleet.
After the Navy in 1989, Tim settled down in the St Louis area. Happily married to Lynn Hastings Jones for just days short of 32 years and the proud father of two grown sons, Robert Fitz-Gerald (Bobby) Jones and Edward Moffat (Teddy) Jones, 'Beef' enjoyed a successful 25 year career as an executive in the financial services industry where he continued his service to his clients. He was active in his community serving not only as a board member with US Vets, an organization providing housing and counseling for homeless veterans and families, but also as a volunteer coach with The First Tee St. Louis Junior Golf Program. He was also on the board for "H.E.L.P"., the Helicopter Emergency Lifeline Project. Golfing and Flying… that was "The Beef".
Services: A Memorial Service will be held at a later date.  In lieu flowers, memorials appreciated to Evans Scholars Foundation, 2501 Patriot Blvd., Glenview, IL 60026, Missouri Veterans Endeavor, 8410 Engler Park Court, St. Louis, MO  63114 or to Choate School, 333 Christian Street, Wallingford, CT  06492.