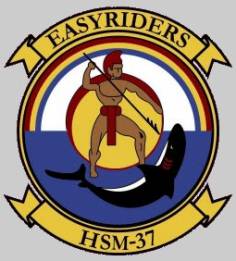 HSL-37  Squadron Patches
History of HSL-35 Easy Riders
HSL-37 Easy Riders established at NAS Barbers Point, Hawaii on July 3 1975 flying the SH-2F Seasprite LAMPS I. The squadron changed to the SH-60B Seahawk LAMPS III in 1992. As of 2011 is Navy's oldest operational LAMPS squadron. LAMPS ( Light Airborne Multi-Purpose System ) squadrons provides helicopters to be embarked on surface ships escorts as frigates, destroyers and cruisers.
The squadron celebrated 93,000 Class-A mishap-free flight hours in 2011. On September 2013 they received their first 4 MH-60R Seahawks and was later redesignated HSM-37 January 2014
Helicopters have been a vital part our US Naval forces. With the introduction of helicopters the 101st Airborne division started deploying into battle mainly from helicopters as opposed to airplanes. An the helicopter patches are a representation of HSL-37 / HSM-37 squadron missions and deployments.