LCDR JOHN (JACK) HALLORAN, USN-(RET.) SIGNAL CHARLIE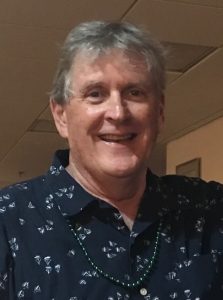 LCDR John "Jack" Halloran, USN-(Ret.)
January 12, 1954 ~ April 19, 2018 (age 64)
John "Jack" Halloran passed away unexpectedly while hiking in California with his wife Tami.  Jack was the third child and eldest son of John and Betty Halloran, one of nine siblings.  He grew up in Newbury, MA and graduated from The Governors Academy in 1972 and Marquette University in 1976. After graduating, Jack was commissioned in the US Navy and attended Naval Flight School In Corpus Christi, TX , earning his Naval Aviator Wings. Jack made the Navy a career, and was one of only a handful of pilots achieving dual rating in both fixed and rotary wing aircraft. He served several overseas deployments.
After retiring from the US Navy Jack met and married his wife, Tami Paine, and together they raised two daughters Elizabeth, and Caley. Jack pursued a career in education following his Naval service, teaching history at the secondary level in California and Colorado.
Jack is survived by his loving wife Tami, and daughters Elizabeth and Caley of Madison, GA. Sisters Bernadette Halloran of Nashua, NH; Betty Knox and husband Frank of Newburyport, MA; and Sheila Bouvier and husband Lou of Ipswich, MA. Brothers Mark and wife Wendy of FT. Meyers, FL; Brian and wife Sheila of Seabrook, NH; Peter and wife Sue of Milford, NH; and James of Nashua, NH. He was predeceased by both parents and sister Mary Ellen Halloran.
Family and friends may call from 5:00 to 8:00 PM on Friday April 27, 2018 at the Twomey, LeBlanc, & Conte Funeral Home 193 High St. Newburyport, MA 01950. Parking available behind the Funeral Home. His Funeral Mass will be celebrated at 10:30 AM on Saturday April 28, 2018 at Immaculate
Conception Church followed by burial at St. Mary Cemetery both in Newburyport.
LCDR John (Jack) Halloran USN-(Ret.) Just wanted to relate that my brother Lcdr John (Jack) Halloran passed away last Thursday the 19th while hiking out in CA along the coast. He served in the Navy immediately after graduating from college in 1976 . I know that he attended flight school at Corpus Christi and somewhere else as well. He did several Westpac deployments. I believe one of the ships he served on was the USS Mount Hood. He ultimately retired out of Weymouth NAS in 1996. I was hoping that some of you might remember serving with him and could relate some humorous stories of your time together with him, that I could mention in my eulogy. If you remember him and have a story to tell please PM me for. Y email address or phone number. Thank you all so much. Brian Halloran
Services are open to all and I know Jack would love for his fellow squadron members attend. I would love to meet you all as well. There is a service in Colorado on Wednesday in Arvada and a wake on Friday night and funeral mass on Saturday morning tentatively scheduled.
<iframe id="I1" name="I1" src="https://www.tlcfuneralhome.com/notices/John-Halloran" style="width: 1000px; height: 600px" class="auto-style2"><!-- [et_pb_line_break_holder] --> Your browser does not support inline frames or is currently configured not to display inline frames.<!-- [et_pb_line_break_holder] --> </iframe>