LCDR MAURICE TURNER "MORIE" LEGARE, USNR SIGNAL CHARLIE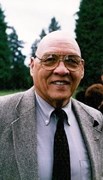 LCDR Maurice "Morie" Turner LeGare, USNR received his Naval Aviator Wings and was designated a Navy Helicopter Pilot on October 9, 1961 at HT-8, NAS Ellyson field, Pensacola, Fl as a full Navy LT.. His Navy Helicopter Designator Number is 5804. LT LeGare reported to HS-2 at NAS Imperial Beach doing a six month deployment with 16 HSS-2s and 2 HSS-1s for plane guard duty on a 7th Fleet CVS. LT LeGare was Co-Pilot on one of the HSS-2s lost during the cruise.  Among other aviation assignments in the Navy, LCDR LeGare was assigned to HC-1 at NAS Imperial Beach, California. Eventually in 1966-67 LCDR LeGare became  OINC of HC-1Det-5, "LeGare's Bears" flying a Navy SH-2A/B Helicopter off the USS King (DLG-10)  and USS Mahan (DLG-11) off North Viet Nam. LCDR Legare passed away in July 12, 2019.
Scottsdale – Maurice "Morie" Turner LeGare, was the only child of missionary parents, the Reverend Maurice B.S. Legare, and Katherine Veronica (Turner) LeGare. He was born in Albuquerque, New Mexico, but lived in Stockton, California for his early through high school years, where his father started and was head pastor of Trinity Presbyterian Church. He had many memories of the vibrant Filipino community in which he lived and worked, and which nurtured him to adulthood. The LeGare Family contribution to the Stockton Christian community and the Trinity Presbyterian Church was honored in the church's 65th anniversary dedication of the Legare Chapel within the church.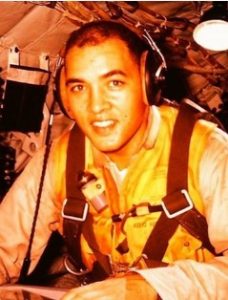 Morie attended Whitworth College, Spokane, Washington, where he participated heavily in the Young Life ministry, and excelled in sports and academia, graduating in 1955. After graduation from Whitworth, he joined the U.S. Navy, went to flight school, and became a Naval Aviator. He was a combat helicopter pilot in Vietnam with Navy HC-1 Det 5, and in 1966, was appointed Officer in Charge of Search and Rescue Detachment 5, and flew missions from the USS King (DLG-51). He and his men (dubbed "Legare's Bears") participated in many heroic rescues, but one memory he often shared was when he and his crew made two water rescues of F-105 pilots who were hit over North Vietnam, and managed to ditch or parachute into the Tonkin Gulf. It was an important and historic event, which is recorded in the operational history of the USS King. For this and other feats, Morie earned the Air Medal, the Vietnam Service and the Republic of Vietnam Campaign Medal, along with the National Defense Service Medal. He earned the rank of Lieutenant Commander, and served in the Navy for 10 years.
After his military career, Morie served as a Flight Engineer (FE) for Pan American World Airways from 1967-1991. His family loved hearing about the many adventures, life-saving calculations, and narrow landing victories Morie experienced in that role. When Pan Am was sold to Delta Airlines in 1991, Morie was able to transfer to Delta, and was a senior FE until his retirement in 2002.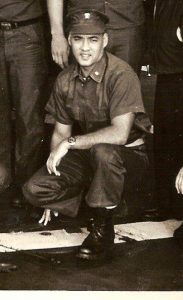 Morie was a lifelong learner and earned two master's degrees, one from the Naval Postgraduate School, Monterey, California in 1964, and the second from Chapman University in Orange, California, in 1971. His family will also remember Morie as a lifelong dabbler (and sometimes gambler) in the stock market, as a brilliant man of many talents, and as someone who loved to find cheap gas and a good Chinese Buffet. More importantly, he loved his Lord and Savior, Jesus Christ, and sought to share his faith whenever possible. He was a respected Bible scholar within his Christian community and was an excellent Bible teacher.
He also loved and is survived by his four children, Marc and Anne (Peterson) LeGare, Lisa-Noelle LeGare, Danielle (LeGare) and Aaron Myers, and J. Michael and Leela (Modjallal) LeGare, two stepchildren, Amy and Jason Mushorn, and 14 grandchildren. His wife Ann, was the joy of his final years, and loved him well.
A Memorial Service will be held on Friday, July 19, 2019 at 4:00 PM at Messinger Pinnacle Peak Mortuary, 8555 E. Pinnacle Peak Road in Scottsdale.
Morie lived a full and rewarding life, and is enjoying his heavenly reward. He would be so happy if instead of giving flowers, you instead donate in his name to the church his father planted, Trinity Presbyterian Church, in Stockton, California. His place of interment is yet to be determined, but his real and forever home is in heaven.
LeGare's Bears-HC1Det5 1966-67