LCDR Thomas L. Phillips, USN (Ret.)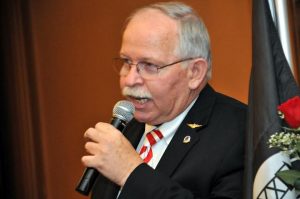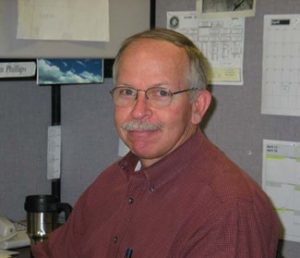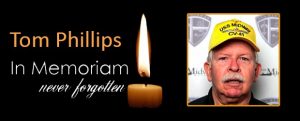 IN MEMORIAM
Tom Phillips passed away on April 29. He joined the MIDWAY team in May of 2013, amassing more than 3,400 volunteer hours. He was a key member and leader of the Saturday Docent team, originating a weekend Docent award for behavior above and beyond normal Docent expectations. During his Naval career Tom was a proud member of the Seawolves, serving as a Fire Team Leader with more than 500 combat missions. He qualified as a CV OOD and served on many carriers. A celebration of his life will be held on MIDWAY at a date and time TBD. The family asks that any donations be made to the MIDWAY Museum.
LCDR Tom Phillips, noted author and expert on Combat SAR, longtime contributor to the NHA ROTORREVIEW Magazine, a former HA(L)-3 Sea Wolf and HS-6er passed away on Friday April 29, 2022 in San Diego, CA. LCDR Phillips was a 1969 graduate of the Naval Academy. LTJG Thomas L. Phillips became a Naval Aviator on June 17, 1970 at HT-8, NAS Ellyson Field, Pensacola, FL.  LTJG Phillips was Navy Helicopter Pilot Designator # R-11134.
Tom Phillips hails from Martinsville, Virginia and was raised in Sylacauga, Alabama, Murfreesboro, Tennessee, and Atlanta, Georgia before returning to Martinsville, Virginia for high school.  As the class salutatorian at the Augusta Military Academy in Virginia, he held the distinction of being the first student to have all 'A' grades for one semester in the school's 100-year history.  Following graduation from the U.S. Naval Academy with the Class of 1969, he entered flight school on 30 June 1969.  Upon completion of flight training with VT-1 (T-34B),  VT-3 (T-28B), and HT-8 (TH-57 and TH-1L) he received his Wings of Gold on 5 June 1970.  Volunteering to serve with Helicopter Attack (Light)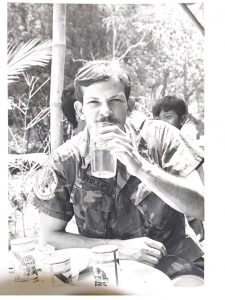 Squadron THREE led to training in the oldest Huey of the day, the UH-1B, the Army bird he would fly in Vietnam, following gunnery and tactics training at Fort Rucker – affectionately known as Mother Rucker.      
In his 365-day tour of duty, Tom flew 560 combat missions: qualifying as an Attack Helicopter Aircraft Commander and as a Fire Team Leader where he was recognized for his skill and bravery with a Distinguished Flying Cross, 19 Air Medals, three Navy Commendation medals with "V", and Presidential, Navy and Meritorious Unit Commendations.  During his time with the all-volunteer "Seawolves", Tom's detachment was based aboard YRBM barges, LSTs, and isolated bases which dotted the Mekong Delta.  From these outposts, surrounded by hostile territory, he and his fellow Naval Aviators and Aircrewmen gunners, recruited from maintenance ratings, operated in monsoonal weather on horizonless nights – when non-IMC rated Army and Air Force crews secured for the night – to patrol and scout for enemy forces using the rivers and mangrove trees to conceal their movements; to scramble in a moment's notice to support beleaguered friendly Navy riverine units; to insert, support, and extract, too often under fire, Sea, Air, and Land (SEAL) brothers; and to evacuate wounded from riverine craft and from the sites of fire fights. 
Following the completion of his assignment with HA(L)-3, Tom returned to the United States with a burning desire to excel in tactics.  Ordered to Helicopter Anti-Submarine Squadron SIX (HS-6) to fly the SH-3A at Naval Air Station Imperial Beach, California, he deployed for ten months with Carrier Air Wing NINE (CVW-9) aboard USS CONSTELLATION (CV-64).  During this tour, he supported Operation End Sweep, the U.S. Navy and Marine Corps operation to remove naval mines from Haiphong Harbor and other coastal and inland waterways in North Vietnam. A sensitive operation made more difficult by the lack of navigation aids, poor visibility, and the risk of inadvertent overflight of North Vietnamese territory which would almost certainly have affected the release of our POWs following the Paris Peace Accord in 1973.     
Following graduation with the highest distinction and completion of a master's degree program in anti-submarine warfare at the Navy Post-Graduate School (NPS) in Monterey, California, Tom reported to USS RANGER (CV-61) where he deployed for eleven months as a plank owner of RANGER's newly installed CV-TSC – and earned his Surface Warfare Officer (SWO) warfare pin.  Next, he served as a Fleet Replacement Squadron (FRS) instructor pilot with    HS-10 at NAS North Island where he completely redesigned the ASW tactical training as the Training Department Head.  Recognized for his ASW expertise, the Navy next assigned Tom to be Commander, Destroyer Squadron THIRTY ONE's (CDS-31) very first air operations officer aboard USS CORAL SEA  (CV-43) and then USS CARL VINSON (CVN-71) where he deployed twice and supported the Pacific Fleet's premier ASW development and strategic DESRON as the ASW Commander's Tactical Action Officer (TAO) in battle group operations and multi-carrier exercises against 32 submarines; to include a total of 16 USN submarines, and 16 Japanese, Australian, British, and Soviet submarines, during RIMPACs, FLEETEXs '83 and '85, and real world battle group ASW defense during the Cold War. 
At the conclusion of Tom's sea service, he helped to transform Commander, ASW Wing Pacific (COMASWWINGPAC) training programs by innovating and leading its Tactical Training Teams (TTTs) to teach coordinated ASW operations to VS, HSL and HS crews through classroom and live exercises on the SCORE range: an unprecedented training initiative at the time.  His last active duty achievement was his most rewarding as Tom's forceful efforts to establish the Sea-based ASW Weapons and Tactics School (SWATS) in San Diego were met with success as his years of lobbying to establish an air ASW tactical center of excellence were realized. Not only was he named as the first Officer in Charge of SWATS, but to his great satisfaction the Navy recognized the importance of coordinated tactical ASW training as SWATS was provided an official UIC, the OIC billet was upgraded to a Commanding Officer position, and he was formally relieved by a Captain before retiring from active duty.  The care with which Tom selected the initial staff cadre paid off as well, as SWATS eventually morphed into NMAWC (now UWDC and SMWDC) with the air ASW elements reforming at NSAWC (now NAWDC) at NAS Fallon as the N8 department – the combined HSC / HSM fleet weapons school – referred to as "SEAWOLF" in honor of the HA(L)-3 Seawolves.
Remarkably, Tom Phillips has remained on CONTINUOUS ASW duty for over 48 years as his post-military civilian career has included ASW tactical development and evaluation work; selection as the first HSL contract simulator instructor (CSI) for tactics; and selection as a dual-hatted flight and tactics CSI when the HS community established its contractor program – where he was known for late night tactical debriefs at the FRSs by generations of active duty ASW and ASuW helicopter warriors.  He continues to serve to this day as an ASW operations analyst at the Southern California Offshore Training Range (SCORE) in San Diego where he assesses and debriefs tactics with the current generation of MPRA (P-3C/P-8A), HSM (MH-60R), surface combatant and submarine crews.
Today, Tom can also be found in his "off duty" hours at the MIDWAY museum in San Diego where he serves as a docent and gives detailed presentations on the Battle of Midway around southern California. 
Tom is the 2012 co-recipient of the Naval Helicopter Association's Pioneer award named in honor of CAPT Mark Starr – NHA's founder.  He has published dozens of professional articles regarding CSAR and ASW history and current aviation issues.  He is the co-author of the 2009 book "Leave No Man Behind: the Saga of Combat Search and Rescue" – a five-year effort to detail the history of the dedicated crews who risked all "so that others may live".
His continued support to the Navy and his community has included service with the US Soccer Federation as a State Referee, Instructor and Assessor; and he is a past post commander of American Legion Post 492 in San Diego. He is currently the president of the Society of Combat Search and Rescue, and proudly a member of the board of directors of the Naval Enlisted Combat Aircrew Roll of Honor (originally endowed by Tailhooker Admiral J.D. "Jig Dog" Ramage).
Hello Seawolves and Families.
Just a heads up, if you havent heard this already. Apologies for the late notice, I thought I posted this last week, but failed somehow…
My fathers Celebration of Life will be held aboard the USS Midway in San Diego, on Saturday, June 25th at 11:00am till 12:00.
If you're in, or near enough, to San Diego, would like to attend, and are able, ALL are welcome. Dress code is San Diego semi-casual, and comfortable shoes. No need to sweat in a suit on a flight deck.
Admission aboard is free if you'd like to join us. Just report to the forward staircase, and look for the Docent in the RED CAP. Let them know you are there for Tom Philips' Celebration of Life, and they'll show you the way.
Following the Celebration, you are free to roam the Museum to your hearts content.
Parking on the pier is $10, as its a private lot, so be aware…
We will be on the forward flight deck, near Helo 1 spot.
Through some fortunate connections, and the respect Dad had from a lifetime of dedication to the Navy Helicopter Community, we have made arrangements for a few different flyby events. Active Duty H-60's, from North Island, will conduct a formation fly by early in the ceremony, and San Diego Salutes will make a few passes, including a Missing Man formation in T-34's (like so many of these Seawolf pilots trained in), towards the end.
Come enjoy the mini airshow, the Museum Dad loved so much, and join us as we celebrate him, his sense of humor, duty to his country, his loyalty to his brothers, and his connections to family and friends.
Would love to see any of his Seawolf brothers who could make it.
Contact me w/ any questions. (619)339-4943 (leave a message after the Padres highlights and I'll call ya back if I dont puck up).
Love to ya all. Hug your loved ones.
Fair Winds and Following Seas Tom!