LCDR WILLIAM G. FREDERICK, USN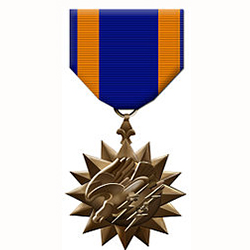 The President of the United States takes pleasure in presenting
the AIR MEDAL (with Bronze Star for  the First Award) to
LIEUTENANT COMMANDER WILLIAM G. FREDERICK, UNITED STATES NAVY
for service as set forth in the following
CITATION:
"For heroic achievement in aerial flight as a Pilot of an HH-60H helicopter during a joint special operations airborne assault in support of Commander, Joint Special Operations Task Force-Arabian Peninsula deployed with Commander, United States FIFTH Fleet on 25 June 2005 in support of Operation IRAQI FREEDOM. Lieutenant Commander Frederick expertly maneuvered his aircraft, LOBO13, as part of a five-aircraft mixed division, through demanding night desert environmental conditions on a dangerous national interest target assault in central Iraq. Under extremely hazardous conditions, Lieutenant Commander Frederick displayed incredible airmanship in safely landing his aircraft to insert the ground assault element at the target building. His precise airmanship and crew coordination gave the ground assault force the advantage of total surprise and resulted in the swift apprehension of the building's occupants without a single shot fired. Upon completion of this first infil and learning that MONGOOSE 31 had incurred an in-flight emergency, he and his crew escorted the damaged MH-53 aircraft to the nearest friendly airfield. After refueling and transiting back to the assault location as a single ship, LOBO 13 and MONGOOSE 32 proceeded with the exfil of the entire ground assault force. This evolution took two runs with his section landing again in severe brownout conditions, to safely and successfully extract all the troops from the target buildings back to their base. His aviation skill and acumen under severe hazardous conditions enabled the capture of the two individuals primarily responsible for the killing and desecration of five Blackwater Security personnel in Fallujah. By his skillful airmanship, steadfast aggressiveness, Lieutenant Commander Frederick reflected great credit upon himself and upheld the highest traditions of the United States Naval Service."
The Combat Distinguising Device is authorized.
                        For the President
                             J. W. Miller
           Rear Admiral, U. S. Navy
                           COMMANDER UNITED STATES NAVAL FORCES CENTRAL COMMAND