LCDR William I. "Bill" Armstrong, USN (Ret.)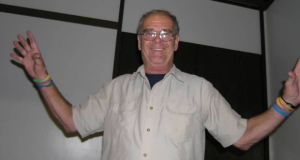 William Louis Armstrong (Bill) passed away peacefully on March 18, 2021, after a long struggle with COPD. Not one to give up, he was planning a tour of Long Beach days before his passing. He is survived by his daughter Melloney Bradley (Chris) and grandson Ben of Coarsegold, CA; and his siblings, Sandra Finstuen of Long Beach, CA, John Armstrong of Reno, NV, and Dorothy Young of Santa Cruz, CA.
Bill lived life to the fullest and was dedicated to a life of service. After graduating from Wilson High School in 1960 he accepted a congressional appointment to the U.S. Naval Academy from which he graduated in 1964.  LTJG Armstrong became a Naval Aviator at HT-8, NAS Ellyson Field, Pensacola, FL on April 7, 1966.  He was Naval Helicopter Designator Number R-8359.  He went on to serve several tours in the Western Pacific in helicopter combat support. He was stationed at both North Island and Point Mugu. While at Point Mugu, Bill and his wife hosted two adult Vietnamese refugees and assisted them in their assimilation into American society. After a two-year tour of duty in the Philippines, he finished out his 20 years of service at Point Mugu Naval Air base and retired as a Lieutenant Commander.
Bill moved to Oakhurst in the mid-1980s where his parents had relocated. He pursued a Master's Degree in Education and enjoyed a teaching career. He was especially effective in helping ESL students and those with special needs. While teaching he also volunteered at a juvenile detention center where he mentored numerous young men and helped them navigate the school system to finish their degrees.
Upon the death of his father and his mother's diagnosis of Alzheimer's, Bill and his mother returned to Long Beach where he became her primary caregiver. It was at this time he became very close with two Vietnamese families who would occasionally provide assistance in caregiving. After his mother's death he then helped many of these Vietnamese assimilate, obtain advanced degrees, and find employment. They became part of his family and many were with him when he passed.
Bill lived a very spiritual life and found community at numerous places of worship both in the Sierras and in Long Beach. He valued the friendships he made throughout his life, and was always interested in each person's story. He participated in many social justice causes. Bill had many accomplishments in his life but he can best be remembered as the guy who would ask, "How can I help you?"
A small service will be held in Southern California in late June. In lieu of flowers the family requests donations be made to Manna House or to your favorite charity.
Sierra News Online
18 June 2021
https://sierranewsonline.com/celebration-of-life-for-bill-armstrong/ 
 

Celebration of Life for Bill Armstrong | Sierra News Online

William Louis Armstrong (Bill) passed away peacefully on March 18, 2021, after a long struggle with COPD. Not one to give up, he was planning a tour of Long Beach days before his passing. He is survived by his daughter Melloney Bradley (Chris) and grandson Ben of Coarsegold, CA; and his siblings, Sandra Finstuen of …