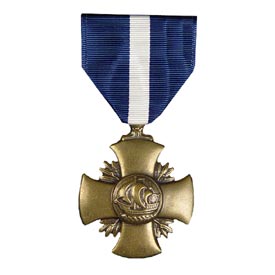 The President of the United States takes pleasure in presenting
The NAVY CROSS to
Lance Corporal Alan C. Lefler, United States Marine Corps
For service as set forth in the following
CITATION
The President of the United States takes pleasure in presenting the Navy Cross to Alan C. Lefler (2264470), Lance Corporal, U.S. Marine Corps, for extraordinary heroism while serving with Marine Light Helicopter Observation Squadron TWO (HMO(L)-2), Marine Aircraft Group SIXTEEN, First Marine Aircraft Wing in connection with combat operations against the enemy in the Republic of Vietnam. On 17 March 1969, Lance Corporal Lefler launched as Crew Chief aboard an armed helicopter assigned the mission of supporting a Marine company which was heavily engaged in combat with a large North Vietnamese Army force near An Hoa in Quang Nam Province. Arriving over the designated location, he was informed that the unit on the ground had sustained several casualties and had been pinned down in an open rice paddy by a heavy volume of automatic weapons fire. Throughout the ensuing four-hour period, while his pilot maneuvered the helicopter close to hostile emplacements, Lance Corporal Lefler delivered intense machine gun fire at the enemy. Despite his vigorous efforts, the withering fire of the hostile troops still prevented the Marines from recovering their casualties from exposed locations. The pilot of the helicopter subsequently elected to land his craft in the contested area to evacuate the wounded men. During the landing, the aircraft became a vulnerable target for intensified hostile fire. Although Lance Corporal Lefler attempted to suppress the enemy fire and to destroy the nearby enemy positions with his machine gun, he observed that the hostile fusillade raking the friendly lines prevented the Marines from reaching the casualties. Quickly dismounting his machine gun and providing his own covering fire, he ran thirty meters across the hazardous terrain to the side of one of the wounded and, assisted by a companion, carried the critically wounded Marine back toward the helicopter. On three additional occasions, the pilot landed to embark casualties and, each time, Lance Corporal Lefler braved the hostile fire to ensure the evacuation of the casualties. His heroic and selfless actions inspired all who observed him and were instrumental in saving the lives of four fellow Marines. By his courage, initiative, and selfless devotion to duty, Lance Corporal Lefler upheld the highest traditions of the Marine Corps and of the United States Naval Service.
Return to Navy Cross