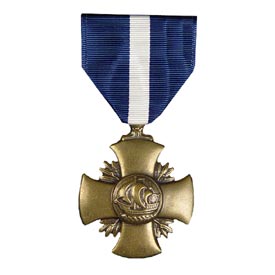 The President of the United States takes pleasure in presenting
The NAVY CROSS to
Lance Corporal Ernesto Gomez, United States Marine Corps
For service as set forth in the following
CITATION
The President of the United States takes pleasure in presenting the Navy Cross to Ernesto Gomez (2151708), Lance Corporal, U.S. Marine Corps, for extraordinary heroism while serving with Marine Medium Helicopter Squadron TWO HUNDRED SIXTY-TWO (HMM-262), Marine Aircraft Group SIXTEEN, First Marine Aircraft Wing, in connection with operations against the enemy in the Republic of Vietnam. On 25 January 1968, Corporal Gomez was the Crew Chief aboard a CH-46 transport helicopter assigned an emergency medical evacuation mission on Hill 881 near the Khe Sanh Combat Base. The pilot proceeded to the designated area and landed in the zone as two Marines began leading a casualty, whose head and eyes were covered with bandages, toward the helicopter. When the entire landing zone was subjected to intense enemy fire, the two men were forced to drop to the ground. Observing the blindfolded casualty attempting to reach the aircraft unassisted, Corporal Gomez unhesitatingly left the helicopter and rushed across 25 meters of fire-swept terrain to the side of the injured man. Quickly pulling the Marine to the ground, he selflessly used his own body to shield his comrade from the hostile fire impacting around them, and as the enemy fire continued, he took cover with the casualty in a nearby rocket crater. Corporal Gomez remained in this exposed area until another crew member rushed to his assistance. Then the two Marines, protecting their wounded comrade from further injury, carried him to the helicopter. The Pilot was quickly informed that the injured Marine was aboard, and the aircraft lifted from the hazardous area for the medical facility at Khe Sanh. Corporal Gomez's heroic actions were instrumental in saving his companion's life and inspired all who observed him. By his courage, selfless concern for the safety of his fellow Marine, and unswerving devotion to duty at great personal risk, he upheld the highest traditions of the Marine Corps and the United States Naval Service.
Return to Navy Cross