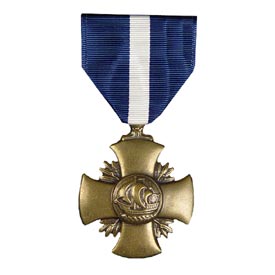 The President of the United States takes pleasure in presenting
The NAVY CROSS to
Lance Corporal John G. Phelps, United States Marine Corps
For service as set forth in the following
CITATION
The President of the United States takes pleasure in presenting the Navy Cross to John G. Phelps (2079635), Lance Corporal, U.S. Marine Corps, for extraordinary heroism as a Crew Chief of a UH-1E Helicopter attached to Marine Observation Squadron SIX (VMO-6), Marine Aircraft Group SIXTEEN, First Marine Aircraft Wing, near Quang Ngai, Republic of Vietnam, on 19 August 1967. While conducting a regularly assigned mission, Lance Corporal Phelps' aircraft monitored a transmission giving the approximate location of four soldiers from a downed Army helicopter. The UH-1E diverted to the site and arrived to find the Army personnel in the midst of an estimated thirty to forty frenzied Viet Cong, who were bayoneting and beating them with rifle butts. As the UH-IE began a series of low level attacks, the Viet Cong scattered and withdrew to a tree line, firing frantically at the helicopter. Making another low level pass, they observed one soldier raise his hand in a gesture for help. Unhesitatingly, the UH-IE landed on the beach between the wounded men and the Viet Cong, who were now firing furiously at the aircraft. As the aircraft touched down, Lance Corporal Phelps laid down a heavy volume of fire to cover the gunner, who had leaped from the aircraft and raced to the wounded soldiers. When the gunner was unable to carry the man, because of his weight, Lance Corporal Phelps left his machine gun to help move the man. Observing the Viet Cong swarm around the helicopter, he ran back to his gun to provide protective fire, cutting down the enemy advance. Again observing problems being encountered in moving the third man, he handed his machine gun to one still conscious soldier, drew his pistol and raced to their aid. As the men moved with the wounded man, a lone Viet Cong, armed with a grenade, appeared from behind the UH-IE. Unhesitatingly, he released the wounded man, drew his pistol, and shot the Viet Cong. Once inside the helicopter, as it lifted for flight, Lance Corporal Phelps administered first aid to the wounded men until they reached a hospital. By his courageous actions, bold initiative, and unswerving devotion to duty, Lance Corporal Phelps was instrumental in saving the soldiers' lives. His great personal valor reflected great credit upon himself and the Marine Corps and enhanced the finest traditions of the United States Naval Service.
Return to Navy Cross