Lieutenant (junior grade) Paul J. SKRZYPEK United State Naval Reserve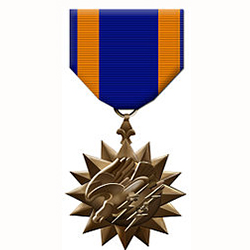 The President of the United States takes pleasure in presenting
the AIR MEDAL (Fourth Strike/Flight Award) to
Lieutenant (junior grade) Paul J. SKRZYPEK United State Naval Reserve
for service as set forth in the following
                       CITATION:
For meritorious achievement in aerial flight as a pilot of a combat search and rescue helicopter attached to Helicopter Combat Support Squadron SEVEN, Detachment 106, assigned to Task Force Seventy-Seven, engaged in combat operations against the enemy from 24 May 1969 to 18 August 1969.  In the successful completion of fifty direct combat support missions against the enemy in an active combat area, Lieutenant (junior grade) SKRZYPEK contributed materially to the success of the United States' efforts in Southeast Asia.  His devotion to duty under hazardous flying conditions was  in keeping with the highest traditions of the United States Naval Service.
The Numeral "4" to represent four Strike/Flight Awards is authorized.
For the President
W.F. Bringle
Vice Admiral
United State Navy
Return to Air Medals