LT DAVID S. COHICK, USN AIR MEDAL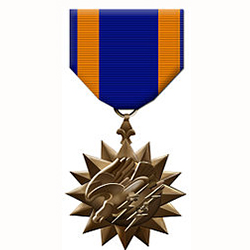 The President of the United States takes pleasure in presenting
the AIR MEDAL with Bronze Star for  the First Award to
Lieutenant  David S. COHICK, United States Navy
for service as set forth in the following
CITATION:
"For heroic achievement while participating in aerial flight as a Co-Pilot of an HH-60H aircraft assigned to Helicopter Anti-Submarine Squadron TWO while deployed with Commander, Carrier Air Wing TWO and Commander, Carrier Strike Group NINE aboard USS ABRAHAM LINCOLN (CVN 72) on 9 November 2007. Lieutenant Cohick launched as Co-Pilot of a two-ship, long range Combat Search and Rescue Exercise.   On return from East San Diego County at the end of a six and a half hour flight, his aircraft experienced controllability problems. He and the crew immediately and correctly diagnosed the problem as an impending loss of tail rotor drive.   After turning the aircraft to the nearest point of land and climbing to an altitude sufficient for autorotation, all tail rotor drive was lost.  He superbly co-piloted a full autorotation in no moon, no light conditions on night vision devices.     His cockpit resource management during the approach resulted in a near perfect touchdown on the water, allowing the aircraft to stay largely intact, and saved the lives of all seven aircrew aboard the aircraft with minimal injury.   By his skillful airmanship, steadfast aggressiveness, and exemplary devotion to duty in the face of hazardous flying conditions, Lieutenant Cohick reflected great credit upon himself and upheld the highest traditions of the United States Naval Service.
                        For the President
                             S. R.. Van Buskirk
           Rear Admiral, U. S. Navy
                           Commander Carrier Strike Group NINE