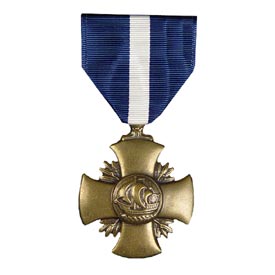 The President of the United States takes pleasure in presenting
The NAVY CROSS to
Lieutenant Harry J. Zinser, United States Navy
For service as set forth in the following
CITATION
For extraordinary heroism in action on the night of 6 August and early morning of 7 August 1972 while serving with Helicopter Combat Support Squadron SEVEN, Detachment 110, embarked on USS SARATOGA (CVA-60). As pilot in command of a combat rescue helicopter during nearly five hours of a coordinated search and rescue effort for a United States Navy pilot downed in North Vietnam, Lieutenant Zinser, in the face of intense enemy fire, commenced a low level flight and turned on his landing lights in order to facilitate the search. Although his aircraft was repeatedly hit by enemy ground fire, he continued the search until the downed pilot was visually located. Lieutenant Zinser then carried out a skillful landing, picked up the downed airman and succeeded in flying his crippled aircraft at treetop level back to the safety of SARATOGA. By his outstanding aeronautical skill, courageous leadership, and inspiring dedication, Lieutenant Zinser reflected great credit upon himself and upheld the highest traditions of the United States Naval Service.
Return to Navy Cross