LT Phillip "Skip" Roy Lehrfeld, USNR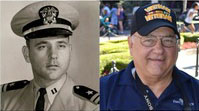 ENS Phillip "Skip" Roy Lehrfeld, USNR received his wings as a Naval Aviator on January 29, 1964 at HT-8, NAS Ellyson Field, Pensacola, Florida. Ensign Lehrfeld was Navy Helicopter Pilot Designator Number R-7192.
"I must admit I woke up when I saw Don Lehrfld's name appear. I didn't know his first name, but Lieutenant Lehrfeld has crossed my mind several time since 12 December 1967 when I had my first flight with him in VT-2, a T-4 hop (TPA) and subsequently had six more flights with the last on 1 February 1968, a P-1 (Precision).
I recall two hops in particular that span the gambit: "Atta-boy to Dumb S..T!" The former was when he cut the engine and declared a simulated engine failure.  I set up pretty well, got a good field picked out, and expected that he was going to recover at what was the prescribed altitude, but we continued. (Probably a helo mentality yet unknown to me ?) Anyway, I keyed the mike and declared high power lines at 12 O'clock, he cobbed the throttle and we cleared the lines nicely. I got an above in Headwork which was not always the case. ? The latter occurred when we were bouncing at OLF Brewton or maybe Middleton. We entered the pattern and turned downwind to a left base rolling out on centerline when the crash crew fired a red flare. I wonder what that's about? I keyed the mike, guess they are changing the runway, and he replied might be something else: Check your gear! Oops, Below Average in Headwork, but as you remember that one could get you a Done.  
There weren't too many helo drivers in VT-2 at the time, and it was my custom" to ask an instructor what he had flown in the fleet?  I remember his relating having flown the H-2. I was impressed.  I still didn't know exactly what pipeline I would ultimately wind-up in. It wasn't until just before CarQual that I learned of the Seawolves and said that's for me.   [Commander Con Jaberg was the first XO in the Seawolves and later CO of HT-8, presenting me with my wings on 25 October 1968. Con helped me get orders to HAL-3, and about nine months later he came back in country as O-in-C of FASU Binh Thuy, bagging some time with the Seawolves, and on a couple of occasions flying as my Copilot.  I introduced him to  W-3 (at the time) Mike Novosel (MOH) of the 29th Medevac, and Con continued to fly with Dustoff after I left Country. Mike mentioned both of us in his book                                                         Dustoff: The Memoir of an Army Aviator)
Looking at the info below my guess is that LT Don Lehrfeld deployed on Indy in the time frame related in her deployment history 1965-1970. This would put him in the Tonkin Gulf among other locations while on that cruise. From the Indy Cruise Book 1965 HC-2 Det-62: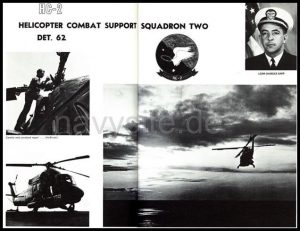 1965–1970
On 10 May 1965, Independence deployed for more than seven months, including 100 days in the South China Sea, off the coast of Vietnam, the first Atlantic Fleet carrier to do so. She also was the fifth U.S. carrier to operate off Vietnam. Independence and her embarked Carrier Air Wing 7 received the Navy Unit Commendation for exceptionally meritorious service from 5 June to 21 November 1965. The carrier's air group participated in the first major series of coordinated strikes against vital enemy supply lines north of the Hanoi–Haiphong complex, successfully evading the first massive surface-to-air missile barrage in aviation history while attacking assigned targets, and executing, with daring and precision, the first successful attack on an enemy surface-to-air missile installation. The carrier launched more than 7,000 sorties, sustaining an exceptional pace of day and night strike operations against military and logistic supply facilities in North Vietnam. "The superior team spirit, courage, professional competence, and devotion to duty displayed by the officers and men of Independence and embarked Attack Carrier Air Wing Seven reflect great credit upon themselves and the United States Naval Service."
On 1 April 1948, Helicopter Utility Squadron ONE and TWO (HU-1 and HU-2), both known as the "Fleet Angels," were formed from the newly decommissioned Helicopter Development Squadron THREE (VX-3) at Lakehurst, New Jersey. These were the Navy's first two helicopter squadrons.
Seventeen years later in July 1965, HU-2 was redesignated Helicopter Combat Support Squadron TWO (HC-2). In October 1973, the Fleet Angels moved to Jacksonville, FL. Over the years, the Fleet Angels distinguished itself with many firsts: First MEDEVAC, first blimp rescue, first all-weather day/night detachment, first night Doppler rescue, and first night full autorotation to a flight deck. Their existence was justified by their superior record and astonishing 2,318 rescues. The "Fleet Angels" were disestablished on 30 September 1977, falling victim to budget restraints after 30 years of proud service.
H-2 in HC-2 aboard Independence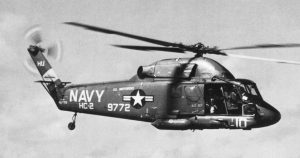 Unfortunately, the O-in-C, Charlie Sapp flew West a couple of years ago and would of course been able to make a complete verification or Don Lehrfeld's flight history.
 https://www.nhahistoricalsociety.org/cdr-charles-s-sapp-usn-ret-signal-charlie/  
Gents, keep your Powder Dry and your Turns up!  Cheers, Bud Barnes"
Phillip Roy Lehrfeld (known fondly as Skip) of Riverton, Utah passed away on Friday, October 22, 2021, at the age of 80. After a year of declining health, Phillip died peacefully with his beloved wife Sophia. daughter Laura and his son in law Chad by his side.
Skip was born in Waukegan, Illinois on May 29, 1941, to father Philip Roy Pink and mother Marion Adelle Olson.  He was the only son of Philip Pink.  His mom remarried to his stepfather Leon Lehrfeld.  Over the years he became a big brother to Samuel Lehrfeld, Sharon Lehrfeld, Marci Lehrfeld, Sandy Lehrfeld and Raymond Lehrfeld.
On May 7th, 1965 Skip married Sophia Mc Arthur in Elizabeth City, North Carolina, just three days before he left with the military for Vietnam. Three years later on June 21st, 1968 they were sealed in the Los Angeles Temple for time and all eternity.
Skip proudly served our country, flying the SH-2 Seasprite helicopter. Stationed on the USS Independence he flew rescue missions, retrieving pilots who had been ejected from their planes.  During his military service, Skip and Sophia lived in Lakehurst, New Jersey and then in Milton, Florida where he served as a flight instructor.
Had a love of reading and listening to mystery stories on tape. He enjoyed learning about outer space and spent countless hours studying about our Solar System and beyond.
He absolutely loved animated movies, especially Disney.  One of his favorite things to do with his grandchildren was taking them to see Disney movies.  His last smile while here on earth was seen while watching Toy Story with his granddaughter Arianna just a day before his passing.
One of Skip's most admirable qualities was that he was always prepared. He loved planning every detail of the many road trips he took across the country to visit National Parks, family and friends. Saying that he took the council of emergency preparedness to heart is an understatement.  He gathered supplies that he would have generously shared with any and all who would have needed it.
Skip loved Genealogy. He served a 2 year service mission as a Genealogy Specialist, offering support to people all over the world while sharing his passion for family history and technical knowledge of the Family Search website.
Skip was married to his beautiful bride Sophia for 56 years. Skip and Sophia celebrated their 50th wedding anniversary with kids and grandkids in Hawaii. He enjoyed a helicopter ride around the Oahu and Kauai Hawaiian Islands.
Skip was preceded in death by his parents and by his sister Sharon Lehrfeld.   He is survived by his wife- Sophia Lehrfeld; children -Laura Christensen, Michael Lehrfeld, Benjamin Lehrfeld and David Lehrfeld; Son in law -Chad Christensen, daughter in law- Carlie Lehrfeld and Dawn Lehrfeld; grandchildren- Arianna, Connor, Arabella & Corbin Christensen,  Evie & Lily Lehrfeld, Olivia & Katelyn Lehrfeld and Tim & Collin Butler.
A viewing for Phillip "Skip" will be held Tuesday, October 26th, 2021, from 6:00 PM to 8:00 PM. The viewing will be held at the Church of Jesus Christ of Latter Day Saints at 5246 West Gossamer Way in Riverton, Utah.  The Funeral Service will be held Wednesday, October 27th, 2021 at 11:00 AM at Broomhead Funeral Home at 12600 South 2200 West in Riverton, Utah.  All are invited to attend.   The Graveside dedication will be immediately after the funeral service at the Utah Veterans Cemetery at 17111 S 1700 W Bluffdale, Utah.  Skip will be receiving full military honors.