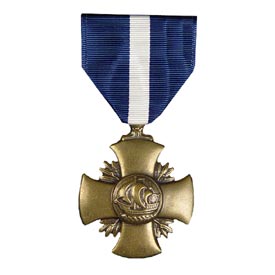 The President of the United States takes pleasure in presenting
The NAVY CROSS to
Major David L. Ross, United States Marine Corps
For service as set forth in the following
CITATION
The President of the United States of America takes pleasure in presenting the Navy Cross to Major David L. Ross (MCSN: 0-74837), United States Marine Corps, for extraordinary heroism while serving as a Pilot with Marine Observation Squadron TWO (VMO-2), Marine Aircraft Group SIXTEEN, First Marine Aircraft Wing, in the Republic of Vietnam, on 4 September 1967. Major Ross was assigned to a single armed UH-1E providing escort for a UH-34 helicopter flying medical evacuation mission in support of elements of the First Battalion, Fifth Marine Regiment, which had come under heavy attack from a large enemy force. As the UH-34 made its approach, Major Ross commenced firing runs, hoping to suppress the enemy fire. Despite this, the UH-34 was hit several times and was forced to shut down in the zone. Major Ross' UH-1E was also hit and he was able to accomplish a successful autorotation into the same zone as the UH-34. Once on the ground, he made his way across this area, which was now under heavy fire, to the command post and discovered that the situation was extremely grave, with the Company Commander fatally injured and many troops wounded. Major Ross made radio contact with a flight of armed UH-1Fs orbiting overhead and a Marine C-1C, which was controlling air strikes to the southwest, briefed them regarding the situation on the ground and directed their attacks to the eastern side of the perimeter. The command post was in a location directly susceptible to enemy fire but commanded an excellent view of both friendly and enemy positions on the northern and eastern sides of the perimeter. With complete disregard for his own safety, Major Ross maintained his vulnerable position throughout the ensuing action. With the help of friendly air forces, the ground defense was able to hold its own, until the enemy obviously decided on a full scale assault. Due to the close proximity of the enemy, Major Ross could not use his fixed-wing support, so instead, he directed the armed UH-1Es on target. He continuously exposed himself to hostile fire in order to determine its exact location and insure accurate counterfire. Occasionally these strikes came within 50 meters of the friendly perimeter. When aid finally arrived, Major Ross refused evacuation for himself, until all injured personnel and helicopter crews were out. His courage and devotion to duty were an inspiration to all who observed him, undoubtedly prevented the company from being overrun and were in keeping with the highest traditions of the Marine Corps and the United States Naval Service.
Return to Navy Cross