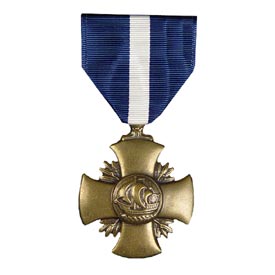 The President of the United States takes pleasure in presenting
The NAVY CROSS to
Major Robert P. Guay, United States Marine Corps
For service as set forth in the following
CITATION
The President of the United States takes pleasure in presenting the Navy Cross to Robert P. Guay (0-60940), Major, U.S. Marine Corps, for extraordinary heroism while serving with Marine Medium Helicopter Squadron TWO HUNDRED SIXTY- ONE (HMM-261), Marine Aircraft Group SIXTEEN, First Marine Aircraft Wing, in the Republic of Vietnam on 19 March 1966. As Flight Leader often UH-34D aircraft on a mission to transport reinforcement troops into the outpost at An Hoa, which was rumored to have been overrun by the enemy during the previous night, Major Guay, upon approaching the outpost, held the flight at altitude while a visual reconnaissance was made. Advised that all appeared quiet and that Vietnamese civilians and military personnel had waved to the aircraft in a friendly manner, Major Guay proceeded with landing operations. As the first two aircraft were about to land, Viet Cong in ambush positions around the landing zone opened intense antiaircraft, small-arms and automatic weapons fire. Courageously braving the barrage, Major Guay completed the landing and disembarked the troops. Realizing that the Viet Cong completely controlled the area and had forced their prisoners to lure the aircraft into the trap, he made several additional attempts to land, then returned to the staging area at Quang Ngai. Volunteering to attempt the rescue of the Vietnamese soldiers just landed in the zone, Major Guay, as Flight Leader, directed the helicopter back to the beleaguered outpost and executed a single plane approach to the nearby landing zone. Although his aircraft sustained a damaging hit from enemy fire, he fearlessly continued his approach and successfully embarked a load of Vietnamese. Despite the continuing danger and battle damage to his aircraft, he remained in the vicinity to direct the efforts of other aircraft in the flight. His courageous actions, inspiring leadership and extraordinary airmanship undoubtedly prevented the friendly troops from being killed or captured by the enemy, reflected great credit upon himself and were in keeping with the highest traditions of the Marine Corps and the United States Naval Service.
Return to Navy Cross