This Naval Helicopter History Timeline is sourced using historical data and pictures from "THE NAVAL HELICOPTER-HIGHLIGHTS IN NAVAL HELICOPTER HISTORY," written by CAPT Vincent C. Secades USN (Ret), Published by Naval Helicopter Association, Coronado, California, 2nd Edition June 2012.
400BC  |1940 | 1950 | 1960 | 1970 | 1980 | 1990 | 2000 |  2010
NAVAL HELICOPTER HISTORY TIMELINE 1970 till 1980
Naval Aviation Chronology 1970-1980
Naval Aviation Chronology 1970-1980
THE SEVENTIES
Naval aviation began its seventh decade with the United States heavily embroiled in the Vietnam War; 1980 ended with carriers Eisenhower and Ranger deployed in the Indian Ocean. The country had no sooner ended its long military involvement in Vietnam than it faced a growing crisis in the Middle East, a crisis that reached hostile proportions late in 1979 when Iranian hoodlums captured the United States embassy in their capital city.
Throughout the seventies, the American public became increasingly aware of the country's critical dependence upon oil from foreign sources. During this time, an acute consciousness of the United States' position as a two-ocean nation re-emphasized the reliance upon the U.S. Navy to keep sea lanes open and commerce moving unhampered.
For nearly ten years, the burden of the Navy's air action fell upon the carriers and aircraft of the Seventh Fleet. To meet this responsibility, Naval air relied on established weapons and material and introduced new ones. The Walleye, a television-guided glide bomb designed to home automatically on target, was tested successfully in combat. Helicopters flexed their muscle in a combat role and served also as aerial tanks and flying freight trains. Land-based patrol aircraft, in Operation Market Time, scoured the coastline of South Vietnam to search out enemy infiltrating vessels and locate surface forces for interception. In 1972, Operations Linebacker I and II waged heavy interdiction and bombing campaigns against North Vietnam. Aircraft of the Seventh Fleet performed the most extensive aerial mining operation in history, blockading the enemy's main avenues of supply. An uneasy truce finally resulted in the United States disengaging itself from Vietnam in 1973. Two years later, Naval aviation was called upon to assist in the evacuation of refugees fleeing the North Vietnamese takeover of South Vietnam. In 1979, Naval air power helped rescue thousands of Indochinese who took to the high seas in poor vessels to escape mounting tyranny in their homelands.
Against the unrelenting need for vigilance was pitted a declining material inventory and difficulty in retaining experienced personnel. Much of the 1970's can hardly be called bountiful for Naval aviation. As the surplus of equipment left over from Vietnam eroded through constant use, money for replenishment was not abundant. The high inflation rate that beset the world's industrial nations plagued defense budgets and drove downward the purchasing power of military salaries. Nevertheless, Naval aviation continued to make headway in the areas of research and development.
Early in the 1970's, the Navy introduced the F-14 Tomcat, and the Marine Corps accepted the AV-8 V/STOL Harrier. At the end of the decade, a new fighter/attack aircraft, the F/A-18 Hornet, was undergoing flight trials. The submarine threat was confronted by the addition to the fleet of the light airborne multipurpose system (LAMPS) which combined shipboard electronics with the SH-2D helicopter. As 1980 drew to a close, the latest LAMPS version was under test in a new Navy airframe, the SH-60B Seahawk. Also at decade's end, the Navy's latest heavy-lift helicopter, the CH-53E, was ready for acceptance by a Marine Corps squadron. Airframes were not the only items which saw advance. The fields of electronics, missiles, and crew systems also benefitted from improvements. Finally it should be mentioned that during the seventies two nuclear supercarriers, Nimitz and Eisenhower were commissioned; a third, Carl Vinson was launched.
As Naval aviation began its eighth decade, there was no serious reason to doubt that its good record of achievement would endure. Aircraft, integrated with the fleet, would continue to provide the United States with the strongest naval power on earth.
VC-8 Seaking Rescues 26 People from Airliner Crash in Caribbean
May 2, 1970–Twenty-six persons were rescued by a VC-8 helicopter from a Dutch Antillean Airlines DC-9 ditched in the Caribbean. The helicopter was piloted by Lieutenant Commander James E. Rylee and Lieutenant (jg) Donald Hartman; crewmen were ADC William Brazzell and AD Calvin Lindley.
U.S. Navy Riverine Air and Water Resources Combined Attack
May 9, 1970–Approximately 30 U.S. Navy craft, helicopters and OV-10 Bronco aircraft participated with the combined South Vietnamese/U.S. Riverine Force in operations into the "Mekong River Corridor" to neutralize sanctuary bases in that area. This followed the initial series of strikes by combined U.S.-RVN ground forces against enemy sanctuaries in Cambodia during the first week of May.
Marine Corps CH-53D Establishes New Speed Record
June 9, 1970–Sikorsky pilot James R. Wright and copilot Colonel Henry Hart, USMC, flying a Marine Corps CH-53D, established a New York to Washington record for helicopters of 156.43 m.p.h. with an elapsed time of one hour, 18 minutes and 41.4 seconds from downtown to downtown. The following day they established a New York to Boston record for helicopters of 162.72 miles per hour with a city to city time of one hour, nine minutes, 23.9 seconds.
Marine Corps Helicopters Performed Rescue and Relief Operations for Typhoon Kate in VN
October 29, 1970–Following the ravages of Typhoon Kate and flood waters that inundated some 140 square miles of Vietnam south of Da Nang, the helicopter forces of 1st Marine Aircraft Wing performed rescue and relief operations for over 9,000 South Vietnamese. Initial rescue operations began when MAG-16 evacuated some 900 people the first day during floods termed the worst since 1964.
NAVAL HELICOPTER HISTORY TIMELINE 1971
Tests of the SH-2D Light Airborne Multi-Purpose System (LAMPS) Helicopter Began
March 16, 1971. – Tests of the SH-2D Light Airborne Multi-Purpose System (LAMPS) helicopter began at the Kaman plant in Bloomfield, Connecticut. The LAMPS system extends the Surface and Sub-surface Surveillance and Control (SSSC) range of cruisers and destroyers by adding the ASW and ASMD capabilities of helicopter-borne sensors.
Helicopter Launches Sidewinder Missile
March 29, 1971–The first active AIM-9G missile was launched from an NUH-2H helicopter by the Weapons System Test Division of NATC.
Helicopter Mine Countermeasures Squadron Twelve (HM-12) was Established
April 1, 1971. – Helicopter Mine Countermeasures Squadron Twelve (HM-12) was established at NAS Norfolk, VA. This was the first minesweeping squadron in the U.S. Navy. That year the Marines transferred fifteen CH-53As to the Navy to be used as minesweepers. They were redesignated RH-53As and assigned to the newly established squadron.
SECDEF Announces Strength Changes to Sixth Fleet
May 28, 1971–The Secretary of Defense announced measures to strengthen the Sixth Fleet. He said that fleet readiness was to be improved by the almost continuous presence of a helicopter carrier, and by a substantial increase in the hours flown by maritime air patrols and the ship-operating days of sea patrols. This followed an earlier announcement by the Pentagon on 24 May that the Sixth Fleet would be strengthened in response to the growing Soviet naval power.
HC-7 was awarded the Presidential Unit Citation
July 28, 1971–HC-7 was awarded the Presidential Unit Citation, the second Navy helicopter squadron to receive the citation for duty in Vietnam. The other helo squadron to win the award was HA(L)-3. Operating from ships at sea on Yankee Station, HC-7 SAR detachments were credited with rescuing 76 U.S. aviators from Vietnam waters. During the early stages of the conflict, the squadron had made several overland rescues in NVN under intense enemy fire.
HC-4 First squadron to Receive the LAMPS-configured SH-2F Seasprite Helicopter
October 5, 1971. – HC-4, at NAS Lakehurst, NJ, became the first squadron to receive the LAMPS-configured SH-2F Seasprite helicopter. HC-5, at NAS Imperial Beach, CA, received the first West Coast SH-2F a week later. HC-4 was redesignated HSL-30 and HC-5 was redesignated HSL-31 on 1 March 1972.
World-Wide Quick Reaction Mine Countermeasures Capability Demonstrated
October 8, 1971–About one hundred officers and men of the Mobile Mine Countermeasure Command and four CH-53 Sea Stallion helicopters, were air lifted from Norfolk, Virginia, and Charleston, South Carolina, to the Sixth Fleet at Souda Bay, Crete by C-5's of the 437th Military Airlift Wing in a demonstration of the world-wide quick reaction mine countermeasures capability.
HM-12 Detachment Deployment
October 10, 1971–A detachment of four CH-53A's from HM-12 recorded the first overseas deployment of the new helicopter. The detachment began sweeping operations, after being airlifted by C-5A Galaxies from Charleston, South Carolina, to Souda Bay, Crete. From 2 to 7 November, the squadron participated in the first integration of airborne minesweeping operations into an amphibious assault exercise. The operations were conducted from Coronado.
HS-15, the First Sea Control Squadron, was Established at NAS Lakehurst, NJ
October 29, 1971. – HS-15, the first sea control squadron, was established at NAS Lakehurst, NJ. The squadron operated the SH-3H helicopters to provide protection to convoys or ships not operating with or within the protective range of aircraft carriers.
Naval Helicopter Association Was Founded
November 2, 1971. – Eleven Navy helicopter pilots and one civilian helicopter engineer met at the NAS Imperial Beach Officers Club and founded the Naval Helicopter Association. CAPT Alfred Monahan was elected the first National President. The Association's objectives were, and continue to be, to provide recognition and enhance the prestige of the U.S. Naval vertical flight community; to promote the use of vertical lift aircraft in the U.S. Navy, Marine Corps, and Coast Guard; and to keep members informed of new developments and accomplishments in rotary wing aviation. The NHA held its first Annual Symposium the week of 11 March 1972.
Tripoli and it's Embarked Marine Air Wing Ready for Foreign Citizen Evacuation From Indo-Pakistani war
December 8, 1971–Amphibious Group Alpha, formed around Tripoli, was directed to move from Okinawa to the vicinity of Singapore in anticipation of a possible Indian Ocean deployment. This followed indications by the head of the UN relief mission in Dacca, East Pakistan/Bangladesh that as a result of the Indo-Pakistani war, which began on 3 December, evacuation of foreign civilians by means of carrier-based helicopters might be required.
HAL-3 SeaWolves in Action 1971
December 31, 1971–During 1971 HAL-3, nicknamed the "Seawolves," the only light attack helicopter squadron in the Navy, flew 34,746 hours in squadron aircraft in support of their mission to provide quick reaction armed helicopter close air support for all naval forces and SVN forces operating in the southern part of SVN. During their flights in 1971, HAL-3 expended 16,939,268 rounds of 7.62 mm ammunition; 96,696 2.75 inch rockets; 32,313 .40 mm grenade rounds; and 2,414,096 rounds of .50 cal. machine gun ammunition in carrying out their assigned missions. HAL-3 lost six aircraft during 1971.
NAVAL HELICOPTER HISTORY TIMELINE 1972
TRAWING FIVE Established at NAS Whiting Field
January 6, 1972–Training Air Wing Five was established at Whiting Field, Florida. The new wing was composed of Naval Air Stations Whiting and Ellyson Fields; VT-2, 3, and 6; and HT-8. This was the first training wing established under the reorganization of the Naval Air Training Command. The wing was established to coordinate and supervise training activities that previously had been the responsibility of each station and squadron.
USS Guam Used to Analyze the Sea Control Ship Concept (SCS)
January 18, 1972–Guam began the first in a series of tests to analyze the sea control ship concept (SCS). The SCS was a concept in which a shipboard platform would have a smaller complement of aircraft than the large carriers (CVA) and would maintain control of sea lines/lanes in low threat areas of the world. The SCS ship was designed to carry the VSTOL aircraft as well as helicopters. The mission functions were to provide protection of underway replenishment groups, mercantile convoys, amphibious assault forces and task groups with no aircraft carrier in company.
Lieutenants Cunningham and William Driscoll Shoot Down Mig-21
January 19, 1972–Lieutenants Randall Cunningham and William Driscoll in an F-4 of VF-96 off Constellation shot down a MiG-21, the first enemy aircraft downed since 28 March 1970, when Lieutenants Jerome Beaulier and Steven Barkley in an F-4 of VF-142 off Constellation downed a MiG-21. The 19 January action occurred during a protective reaction strike in response to earlier AAA and SAM firings from the area which had menaced an RA-5C reconnaissance plane and its escorts. This accounted for the Navy's 33rd MiG shot down in the Vietnam war since the first on 17 June 1965, downed by Commanders Louis Page and John Smith in an F-4 of VF-21 off Midway.
HT-8 was Split into Two Squadrons, HT-8 and HT-18
March 1, 1972. – HT-8 was split into two squadrons, HT-8 and HT-18. HT-8 retained the primary helicopter training mission, flying the TH-57 A. HT-18 became the advance training squadron, flying the TH-1L. The Naval Air Training Command was reorganized late in 1972. A result of this reorganization was the closing of Ellyson Field and the move of HT-8 and HT-18 to NAS Whiting Field, Milton, Florida, in December 1973. Navy helicopter training remains at Whiting Field to this day. In 1985, the TH-57B replaced the TH-1L as advance trainer.
HAL-3 Desestablished
March 16, 1972–HAL-3, the only armed UH-1 Navy helicopter squadron to serve in Vietnam, was disestablished. HAL-3 and VAL-4 were the only Navy air units to be stationed in-country. HAL-3 provided valuable gunship support for Navy and Army riverine operations in the Mekong Delta from 1967 to their disestablishment. During this time HAL-3 pioneered various tactics in support of patrol boats and shore installations. They operated from various bases in the Mekong Delta and from specially equipped Patrol Craft Tenders (AGP) (former LSTs).
Photographer's Mate Class "A" School Initiated Flight Training Again
March 29, 1972–Due to the fleet requirements for qualified aircrew personnel, the Naval Air Technical Training Unit's Photographer's Mate Class "A" School initiated flight training again as part of the course. The flight training requirements for the Photographer's Mate Class "A" School had been dropped 16 years earlier.
HC-1 Recovers Apollo 16 Spacecraft After Splashdown
April 27, 1972–HC-1, aboard the Ticonderoga, recovered the Apollo 16 spacecraft after it had splashed down in the south Pacific.
The Second Most Cctive Dog-Fight Day of the Viet Nam War
May 6, 1972–In the second most active dog-fight day of the war, Navy flyers shot down two MiG-17s and two MiG-21s. Scoring the kills were flyers from VF-111 and VF-51 aboard Coral Sea and two planes from VF-114 off Kitty Hawk.
Operation Pocket Money Haiphong Harbor
May 9, 1972–Operation Pocket Money, the mining campaign against principal NVN ports, was launched. Early that morning, an EC-121 aircraft took off from Danang airfield to provide support for the mining operation. A short time later, Kitty Hawk launched 17 ordnance-delivering sorties against the Nam Dinh railroad siding as a diversionary air tactic. Poor weather, however, forced the planes to divert to secondary targets at Thanh and Phu Qui which were struck at 090840H and 090845H, Vietnam time, respectively. Coral Sea launched three A-6A and six A-7E aircraft loaded with mines and one EKA-3B in support of the mining operation directed against the outer approaches to Haiphong Harbor. The mining aircraft departed the vicinity of Coral Sea at 090840H in order to execute the mining at precisely 090900H to coincide with the President's public announcement in Washington that mines had been seeded. The A-6 flight led by the CAG, Commander Roger Sheets, was composed of USMC aircraft from VMA-224 and headed for the inner channel. The A-7Es, led by Commander Len Giuliani and made up of aircraft from VA-94 and VA-22, were designated to mine the outer segment of the channel. Each aircraft carried four MK 52-2 mines. Captain William Carr, USMC, the bombardier/navigator in the lead plane established the critical attack azimuth and timed the mine releases. The first mine was dropped at 090859H and the last of the field of 36 mines at 090901H. Twelve mines were placed in the inner segment and the remaining 24 in the outer segment. All MK 52-2 mines were set with 72-hour arming delays, thus permitting merchant ships time for departure or a change in destination consistent with the President's public warning. It was the beginning of a mining campaign that planted over 11,000 MK 36 type destructor and 108 special MK 52-2 mines over the next eight months. It is considered to have played a significant role in bringing about an eventual peace arrangement, particularly since it so hampered the enemy's ability to continue receiving war supplies.
Operation Linebacker I
May 10, 1972–Operation Linebacker I, the heavy strike of targets in most of NVN, evolved and lasted until restrictions on operations above 20_ N were imposed 22 October. The operation was an outgrowth of Freedom Train and the President's mining declaration which also stated that the U.S. would make a maximum effort to interdict the flow of supplies in NVN. On this first day of Linebacker I, the Navy shifted its attacks from targets in southern NVN to the coastal region embracing Haiphong north to the Chinese border. In all, 173 attack sorties were flown in this region this day, although another 62 were directed into SVN in continuing support of allied forces there. It was the most intensified air-to-air combat day of the entire war. Navy flyers shot down eight MiGs. An F-4 Phantom II, from VF-96 on board Constellation, while engaged in aerial combat over Haiphong shot down three MiGs for the first triple downing of enemy MiGs by one plane during the war. Lieutenant Randy Cunningham was the pilot and Lieutenant (jg) William Driscoll was the RIO of the F-4. These three MiG downings, coupled with their 19 January and 8 May downing of two MiGs, made them the first MiG aces of the Vietnam War. Three other kills were scored by planes of VF-96 and one by VF-92 off Constellation and one by VF-51 off Coral Sea. During the five and one-half month period of Linebacker I, the Navy contributed more than 60 percent of the total sorties in NVN, with 60 percent of this effort in the "panhandle", two large regions between Hanoi and the DMZ. Tactical air operations were most intense during the July-September quarter with 12,865 naval sorties flown. Most attack sorties in NVN fell into two classes–armed reconnaissance and strike. The former was usually directed against targets of opportunity with three main areas proscribed–near Hanoi, Haiphong and the Chinese border. Strike operations were preplanned and usually directed at fixed targets. Most types of fixed targets, not associated with armed reconnaissance, required approval by the Commander-in-Chief, Pacific, or by the Joint Chiefs of Staff, prior to attack. Principal Navy aircraft were the A-7 and A-6, which accounted for roughly 60 and 15 percent of the Navy's attack sorties, respectively. About 25 percent of the Navy's effort was at night. Carriers participating in the initial May-June operations from Yankee Station were Constellation, Coral Sea, Hancock, Kitty Hawk, Midway and Saratoga.
HS-2, HS-15, HS-74 and HS-75 Aid Flood Stricken Residents of Wilker-Barre, Scranton and Pottsdown PA
June 23, 1972–HS-2, HS-15, HS-74 and HS-75 came to the aid of flood stricken residents in the Wilkes-Barre, Scranton and Pottstown areas of Pennsylvania. Besides the extensive rescue and evacuation work conducted by these squadrons they were also involved in transporting medical supplies and personnel, equipment, food and clothing to the flood victims.
Reorganization of the Naval Air Training System
July 1, 1972–A reorganization of the Naval Air Training system occurred when the Naval Air Advanced Training Command was disestablished and the Chief of Naval Air Training was relocated to Corpus Christi, Texas. This action was part of the Navy's effort to consolidate training under a concept called "single base training." When pilots completed their primary training they were assigned to a specific program involving training in either jets, props or helos. This training would be completed at one specific training base where the pilots would finish their instruction before receiving their wings. The new structure/organization came under the control of the Chief Naval Air Training Command.
UH-2C Helicopter Fires Sea Sparrow Missiles
July 15, 1972–A three-day test demonstration of the ability of the UH-2C Seasprite to fire Sparrow III missiles against surface targets was completed at the Pacific Missile Range Sea Test Range. The helicopter, modified to carry a single missile mounted on a rail launcher, fired four missiles during the course of the demonstration.
HMM-165 Helicopters Provide Relief Support IN the Philippines
July 22, 1972–Tripoli arrived in Subic Bay with HMM-165 on board to provide relief support after record rains caused disastrous flooding in the central Luzon valley between Manila and Lingayen Gulf. Tens of thousands of people were affected and additional ships were tasked for Philippine flood relief operations.
Night Airops Over North Viet Nam
July 31, 1972–The Navy began night operations regularly on 24 May and during June and July night sorties constituted 30 percent of the total Navy attack effort in NVN. The Navy relied primarily on the A-7 and A-6 for its night sorties. About 45 percent of the Navy armed reconnaissance effort was at night during June and July. The A-7 flew about as many night sorties as it did day sorties. The A-6 flew more night than day armed reconnaissance sorties during the summer months. The total number of Navy night sorties during June and July were 1,243 and 1,332 respectively. Three to four carriers were maintained on Yankee Station during the summer months. The carriers involved were Constellation, Coral Sea, Hancock, Kitty Hawk, Midway, Saratoga, Oriskany and America.
Philippine Flood Relief Operations Continue
August 5, 1972–New Orleans relieved Tripoli in Philippine flood relief operations. HMM-165 transferred to the New Orleans to continue support due to their knowledge of terrain and problems inherent in the flood relief operations.
HC-7 Combat SAR Rescue Deep in North Viet Nam
August 7, 1972–An HC-7 Det 110 helicopter, aided by planes from the carriers Saratoga and Midway, conducted a search and rescue mission for a downed aviator in NVN. The pilot of an A-7 aircraft from Saratoga had been downed by a surface-to-air missile about 20 miles inland, northwest of Vinh, on 6 August. Big Mother, the name HC-7 and its helicopters were referred to, flew inland over mountainous terrain to rescue the pilot. The rescue helicopter used its search light to assist in locating the downed pilot and, despite receiving heavy ground fire, was successful in retrieving the pilot and returning to an LPD off coast of NVN. This was the deepest penetration of a rescue helicopter into NVN since 1968. HC-7 Det 110 continued its rescue efforts and by the end of 1972 it had successfully conducted forty-eight rescues during the year, thirty-fiveof those under combat conditions.
Marine Corps Air Efforts in South Viet Nam and their Effect on North Viet Nam War
August 31, 1972–Although Marine Corps air efforts were concentrated in SVN, the Marines contributed significantly to U.S. efforts in NVN to prevent offloading and transportation of supplies from Chinese merchant ships at Hon La and Hon Nieu. HMA-369, with seven AH-1J helicopters, using the Cobra weapons system, operated from Denver against water transport traffic in late June, and from Cleveland in early August. HMA-369's operations during August were extended to include night surveillance and attack. In addition HMA-369 helicopters served as airspotters for naval gunfire and as airborne tactical controllers for fixed-wing aircraft attacking lucrative targets. The Navy flew 4,819 sorties in August against NVN. The downward trend of Navy attack sorties in SVN continued during July and August. The stepped-up campaign in the Mekong Delta accounted for a sharp rise in Marine Corps air activity in SVN. The Marine Corps air effort rose from eight percent of the total air effort in SVN during May to 43 percent during August.
Groundbreaking for New Naval Aviation Museum Building NAS Pensacola
November 22, 1972–Groundbreaking ceremonies for the new Naval Aviation Museum building were officiated by Admiral Arthur W. Radford, USN (Ret.). Admiral Radford, former Chairman of the Joint Chiefs of Staff, was the Chairman of the Naval Aviation Museum Association, Inc., a non-profit organization of Naval Aviation enthusiasts who labored since 1965 to finance and create the first part of the new museum building. All funds for the building of the first phase of the museum were contributed by private individuals and organizations. The museum was designed to be built in three phases. The first phase consisted of 65,000 sq. ft. of floor space with future expansion of 140,000 sq. ft. The Naval Aviation Museum, was established at the NAS Pensacola in December 1962 by the authority of the Secretary of the Navy. It had been housed in a temporary building until enough money had been accumulated to build the first phase of the new museum building.
HC-1 Combat Rescues From USS Oriskany on Yankee Station, Tonkin Gulf
December 13, 1972–An HC-1 Detachment Five SH-3G Sea King helicopter, stationed aboard Oriskany, rescued a VFP-63 pilot involved in operations in the Tonkin Gulf while on Yankee Station. This was the fifteenth pilot rescued by HC-1 detachments while they were operating aboard a carrier on Yankee Station during 1972. During 1972 HC-1 rescued a total of 36 people.
Bombing Halt Above 20th Parallel in North Viet Nam
December 17, 1972–During the period 23 October through 17 December there was a U.S. bombing halt above the 20th parallel in NVN. No MiG kills or U.S. losses were recorded during this period. Three to four carriers were maintained on Yankee Station during the bombing halt. The carriers alternating on Yankee Station were Enterprise, Kitty Hawk, Midway, Saratoga, Oriskany, America and Ranger.
Linebacker II Operations Initiated After Paris Peace Talks Fail
December 18, 1972–Linebacker II Operations were initiated on 18 December when negotiations in the Paris peace talks stalemated. The Linebacker II Operations ended on 29 December when the North Vietnamese returned to the peace table. These operations involved the resumed bombing of NVN above the 20th parallel and was an intensified version of Linebacker I. The reseeding of the mine fields was resumed and concentrated strikes were carried out against surface-to-air missile and anti-aircraft artillery sites, enemy army barracks, petroleum storage areas, Haiphong Naval and shipyard areas, and railroad and truck stations. Navy tactical air attack sorties under Linebacker II were centered in the coastal areas around Hanoi and Haiphong. There were 505 Navy sorties in this area during Linebacker II. The following carriers participated in Linebacker II operations: Enterprise, Saratoga, Oriskany, America and Ranger.
HC-1 Recovers Apollo 17 Crew After Splashdown
December 19, 1972–HC-1 helicopters, aboard Ticonderoga, recovered the Apollo 17 crew after splashdown. The Apollo 17 crew consisted of Naval Aviators CAPT E. Cernan and Commander R. Evans and geologist H.H. Schmidt. This recovery marked the end of NASA's Apollo lunar program. Naval aviation squadrons and naval surface units performed all the recovery operations for the 11 Apollo missions. There were 33 astronauts involved in the Apollo program and 22 of those had Navy backgrounds.
Airops Over North Viet Nam
December 23, 1972–An example of attack squadron action during the year is portrayed by the following partial roundup of operations by VA-56 which ended its seventh line period this date. Flying combat with CVW-5 off Midway during portions of every month since April, the squadron recorded a total of 180 days on the line, engaged in 5,582.9 combat hours, flew over 3,000 sorties, performed 2,090 and 781 day and night carrier landings, respectively, and amassed a total of 6,301 flight hours during its line periods. It conducted strikes against such targets as the Haiphong, Ninh Binh, Ha Tinh, Kien An, Tam Da and Than Hoa bridge complexes, the Haiphong, Vinh, Doung Nham and Nam Dinh petroleum areas, and the Gia Lam railroad yards across the Red River from Hanoi. Other actions, for example, included mining operations and protective flights for four search and rescue (SAR) missions, including one at night inside NVN, and one for two Air Force officers downed off the coast. During the line periods, four of the unit's A-7Bs were lost to antiaircraft artillery and surface-to-air missile fire, with two pilots taken prisoner of war, one listed as missing in action, and one retrieved.
Christmas Day Recess on Bombing in North Viet Nam
December 25, 1972–A Christmas Day bombing/tactical air attack recess went into effect during which none of the U.S. air services flew sorties. Since the beginning of the heavy raids against the Hanoi/Haiphong complex on 18 December to persuade NVN to return to the conference table and release the American POWs, 420 raids by B-52s had been conducted, with 18 December accounting for 122, the highest number. Carrier strikes from TF-77 and tactical aircraft from Thailand supplemented the raids, mainly to suppress missile sites and confuse the NVN air defense systems. Heavy attacks were resumed on 26 December, with 113 B-52 raids, the next highest sortie count. Targets, as before, were powerhouses, railroads, missile assembly points, command and control stations, fuel reserves, airfields and railroad marshalling yards. By the end of the 27th, intercepted enemy messages indicated NVN was losing its missile potential as new missiles could not be moved from assembly points to the launchers.
VF-142 Downs Another Mig over North Viet Nam
December 28, 1972–An F-4J Phantom II, from VF-142 on board Enterprise, downed a MiG-21. This was the 24th MiG downed by Navy/Marine Corps pilots during 1972. The total MiG downings by Navy/Marine Corps pilots during the Vietnam war from the first in June 1965 through December 1972 were 56. Statistics for Navy/Marine Corps downings of MiGs during 1972:
Constellation: VF-96 downed 8 MiGs VF-92 downed 1 MiG
Coral Sea: VF-51 downed 4 MiGs VF-111 downed 1 MiG
Midway: VF-161 downed 4 MiGs
Kitty Hawk: VF-114 downed 2 MiGs
Saratoga: VF-103 downed 1 MiG VF-31 downed 1 MiG
America: VMFA-333 downed 1 MiG
Enterprise: VF-142 downed 1 MiG
Heavy Raids Around Hanoi
December 29, 1972–Heavy raids around Hanoi, which had been resumed the day after the Christmas bombing halt, were eased as NVN showed indications of returning to the conference table. The over 700 sorties by B-52s during the 11 heavy-bombing days were believed accountable for the eventual resumption of negotiations which led to the peace agreement and the release of American POWs. On 28 and 29 December, during a total of 160 raids, no B-52s were lost to NVN air defenses, indicating the virtual paralysis of the system. Only two percent–15 B-52s were lost from over 700 raids during the whole 11-day, heavy bombing period.
Bombing Halt in North Viet Nam
December 30, 1972–The U.S. called another bombing halt in North Vietnam and the Navy ended all tactical air sorties above the 20th parallel. The bombing halt was called when North Vietnam returned to the negotiating table to continue the Paris peace talks.
The War in South and North Viet Nam
December 31, 1972–During 1972 the Navy conducted 33.9 percent of all tactical air attack sorties flown in SVN. There were 23,802 tactical air attack sorties flown and 160,763 general purpose bombs delivered by Navy fixed-wing aircraft, with the Marine Corps fixed-wing aircraft delivering 111,859 general purpose bombs in SVN during 1972. The Navy and Marine Corps each lost 5 fixed-wing aircraft in SVN during 1972. In NVN the Navy conducted more than 60 percent of the tactical air attack sorties flown, for a total of 28,093. The Navy and Marine Corps lost 49 aircraft in NVN during this period. In 1972 the carriers spent a total of 1,403 on-line days at Yankee Station, with an average on-line period of slightly more than 25 days for each carrier. Carrier and Carrier Air Wings on Yankee Station during 1972 were:
Hancock with CVW-21 on board Kitty Hawk with CVW-11 on board Oriskany with CVW-19 on board America with CVW-8 on board Enterprise with CVW-14 on board Midway with CVW-5 on board Saratoga with CVW-3 on board Constellation with CVW-9 on board Coral Sea with CVW-15 on board Ranger with CVW-2 on board
Marine Corps squadrons operating off carriers on Yankee Station during 1972 were VMA(AW)-224, VMCJ-2 and VMFA-333. Marine Corps land-based fixed-wing squadrons in South East Asia during 1972 were VMFA-115, VMFA-232, VMA(AW)-533, VMCJ-1, VMA-211 and VMA-311, VMFA-212, VMGR-151, H&MS-15, and H&MS-12.
NAVAL HELICOPTER HISTORY TIMELINE 1973
Major Re-Organization of Naval Reserve Affairs
January 1, 1973–A major reorganization in naval reserve affairs got under way as a result of the announcement two days earlier by the Secretary of the Navy that the Naval Surface and Air Reserve Commands would be consolidated into a single command located in New Orleans.
Last Mig Shotdown Over North Viet Nam
January 12, 1973–VF-161, flying off Midway, shot down a NVN MiG-17, the last enemy "kill" of the war, making a total of 57 MiGs shot down by Navy and Marine Corps pilots during the Vietnam conflict.
Viet Nam Cease-Fire Announced in Paris
January 27, 1973. – The cease-fire announced in Paris three days before took effect this day, bringing to an end to American combat operations in Vietnam. During the long American involvement in the conflict (1961 to 27 January 1973), the Navy lost 13 helicopters to hostile fire. During that same period, the Marine Corps lost 270 helicopters to enemy action. The U.S. Navy continued flying combat missions over Laos and Cambodia until the following August.
The Vietnam cease-fire, announced four days earlier, came into effect and the carriers Oriskany, America, Enterprise and Ranger, on Yankee Station, cancelled all combat sorties into North and South Vietnam. During the Vietnam conflict, which dates U.S. involvement starting in 1961 and ends on 27 January 1973, the Navy lost 526 fixed-wing aircraft and 13 helicopters to hostile action. The Marine Corps lost 193 fixed-wing aircraft and 270 helicopters to enemy action during the same period. Operation Homecoming, the repatriation of U.S. POWs between 27 January and 1 April, began and NVN and the Viet Cong released 591 POWs. Of the 591 POWs released during Operation Homecoming, there were 566 military personnel and 145 were Navy personnel. Naval Aviation personnel accounted for 144 of the 145 Navy personnel.
Task Force 78 Formed to Conduct MInesweeping in North Vietnamese Waters
January 27, 1973-Task Force 78 was formed to conduct minesweeping operations in North Vietnamese waters under the code name Operation Endsweep. It consisted of surface minesweeping elements and an Air Mobile Mine Countermeasures Command. The latter was made up of HM-12, HMH-463 and HMM-165, organized into units Alpha through Delta, an airborne mine countermeasures planning element, command and control element, an aircraft element and a material element.
The US Third Fleet Re-Activated
February 1, 1973–The U.S. Third Fleet was reactivated at Pearl Harbor with the merger of the First Fleet and Antisubmarine Warfare Forces, Pacific Fleet. The change was made to reduce fleet staffs and achieve economies while retaining control of operational units, including some 100 ships and 60,000 men serving a 50-million-squaremile area from the West Coast to beyond Midway Island.
Task Force 78 Begin Mine Countermeasures Exercise in Subic Bay
February 3, 1973–Task Force 78 flagship, New Orleans with escort ships, began a six day mine countermeasures exercise in Subic Bay in preparation for scheduled Endsweep operations in NVN.
Commander Task Force 78 Meet with North Vietnamese Leaders In Haiphong
February 5, 1973–Commander Task Force 78 and other Navy mine demolition experts met with North Vietnamese leaders in Haiphong to discuss Operation Endsweep, the clearing of mines in NVN.
Task Force 78 Begins Minesweeping Operations in Haipong Harbor
February 6, 1973–Surface minesweepers of Task Force 78 began preliminary sweeping to prepare an anchorage in deep water off the approaches to Haiphong Harbor. Ships of the force included New Orleans and Inchon. The ocean anchorage would be used by command and supply ships of the U.S. Navy in on-scene support of minesweeping of NVN harbors, coastal and inland waterways. During the operation Task Force 78 ships were joined by Tripoli.
Airops Against Southern Loas
February 11, 1973–Aircraft from the carriers Constellation and Oriskany operating on Yankee Station, the location of which was changed to a position off the coast of the northern part of South Vietnam, flew strikes against targets in southern Laos. Combat sorties from carriers on Yankee Station against targets in Laos had continued since the cease-fire in Vietnam.
Stepped Up Air Operations Over Laos
February 14,1973–The Pentagon announced a step-up of U.S. air strikes in Laos to 380 daily, an increase of 100. Aircraft from Oriskany and Enterprise flew about 160 of these sorties into Laos on this date.
Combat Support Operations Over Cambodia
February 25, 1973–Planes from Ranger and Oriskany flew combat support missions over Cambodia. The combat support sorties were flown in support of the government of Cambodia at its request.
Airborne Minesweeping Begins off Haiphon Harbor
February 27, 1973–Airborne mine countermeasures began off Haiphong during Operation Endsweep. This was a "first" in mine warfare as airborne minesweeping had never been done with "live" mines. A CH-53 Sea Stallion from HM-12 made two sweeps in the Haiphong shipping channel. All operations were abruptly halted and minesweeping task force moved to sea as the President called for "clarification . . . on a most urgent basis" of Hanoi's delay in releasing American POWs.
Troop Withdrawal from Vietnam
March 4, 1973-The withdrawal of U.S. troops from Vietnam resumed and the naval minesweeping force returned to its position off Haiphong. Minesweeping operations continued in and around Haiphong and the harbor was reopened after being closed for ten months because of the U.S. naval mining which began in May 1972. In addition, the carrier America was ordered to depart the Far East for the U.S. This was the initial move in reducing the number of carriers serving in South East Asia from six to three by mid-June 1973.
The Remaining U.S. Combat Forces Left South Vietnam
March 29, 1973–The remaining U.S. combat forces left South Vietnam and the United States Military Assistance Command, Vietnam, was disbanded, officially ending U.S. military involvement in South Vietnam. The last phase of Operation Homecoming was concluded when the final group of 148 American POWs were released by Hanoi. This brought a total of 591 POWs released, and of that total, 566 of them were U.S. military personnel with 144 being naval pilots and aircrewmen.
Navy Helicopters Evacuate 200 People Due to Flooding in Tunisia
March 29-31, 1973–Forrestal led two other Sixth Fleet ships into Tunisian waters where Sea King helicopters from the carrier evacuated some 200 persons and airlifted four tons of relief supplies to flood victims in Tunisia.
Two New Airwings Established
April 1, 1973–Two new air wings were established as the final phase of the reorganization of the AirLant community, completing the functional wing concept: Air Antisubmarine Wing One with VSs 22, 24, 27, 30, 31 and 32 and Helicopter Antisubmarine Wing One with HSs 1, 3, 5, 7 and 11.
SECNAV and United Kingdom Agree on V/STOL Harrier Development
April 13, 1973–The Secretary of the Navy announced that an agreement with the United Kingdom had been signed providing for an eight-month joint study of an advanced V/STOL Harrier involving participation by Rolls-Royce, Hawker Siddeley, Pratt & Whitney Aircraft and McDonnell Douglas. The overall aim was to determine the feasibility of joint development of an advanced concept V/STOL incorporating a Pegasus 15 engine and an advanced wing.
A Four-Day Trial of a Prototype Glide Slope Indicator for Helicopters
May 18, 1973–A four-day trial of a prototype glide slope indicator was completed aboard Truxtun. The indicator, developed by the Naval Air Engineering Center, consisted of a hydraulically stabilized Fresnel lens. It was one of several steps taken to achieve an all weather capability with LAMPS helicopters.
First Production RH-53D Sea Stallion Arrived at PaxRiver
May 25, 1973–The first production RH-53D Sea Stallion, especially configured for the airborne mine countermeasures mission, arrived at the Naval Air Test Center for weapons system trials. Navy preliminary evaluation and the initial phase of the Board of Inspection and Survey trials had begun at Sikorsky Aircraft Division on 15 May.
Skylab II Carries All Navy Crew
May 25, 1973–Skylab II, carrying a three-man, all-Navy crew of Captain Charles Conrad, Commander Joseph Kerwin, MC, and Commander Paul Weitz, rendezvoused with the earth-orbiting Skylab I workshop. Among the crew's first tasks was repairing the Skylab I meteoroid shield and solar array system which had been damaged during launch. The crew boarded the workshop, made repairs, conducted medical experiments and studied solar astronomy and earth resources for 28 days before returning to earth on 22 June.
Task Force 77 and USAF Receive Collier Trophy for 1972
June 13, 1973–The National Aeronautics Association presented the Robert J. Collier Trophy for 1972 jointly to the Navy's Task Force 77 and to the Seventh and Eighth Air Forces for their "demonstrated expert and precisely integrated use of advance aerospace technology" in Operation Linebacker II, the 11-day air campaign in December 1972 that "led to the return of the U.S. prisoners of war."
HC-1 Recovers Skylab II Astronauts
June 22, 1973–The all-Navy crew of Skylab II astronauts was recovered after their 28-day mission in space by HC-1 and flown aboard Ticonderoga.
Operation Endsweep Closed and Task Force 78 Disbanded
July 27, 1973–Operation Endsweep was officially closed and Task Force 78 was disbanded. During the six months of its existence, the airborne element had made 3,554 sweeping runs totaling 1,134.7 sweeping hours in 623 sorties; the surface elements had made 208 sweeping runs of 308.8 hours. The aviation material casualties were three helicopters lost in operational accidents. Mine Logistics Carrier Station operations in the Gulf of Tonkin were conducted by Enterprise, Oriskany, Ranger, and Coral Sea at various periods and their respective aircraft flew support sorties for Operation Endsweep.
Skylab III Launched Into Space
July 28, 1973–Skylab III commanded by Captain Alan Bean, USN in company with civilian doctor Owen Garriott and Major Jack Lousma, USMC, was launched into space.
HSL-33, the Navy's First Squadron Solely Dedicated to Deploy LAMPS
July 31, 1973. – HSL-33, the Navy's first squadron solely dedicated to deploy LAMPS detachments aboard LAMPS-configured ships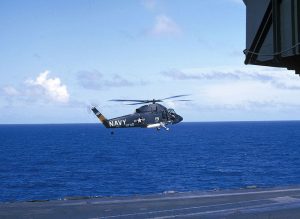 of the Pacific fleet, was established at NAS Imperial Beach, CA.
Cambodia Air Operations End
August 15, 1973–After intensive bombing for more than six months, the U.S. ended its combat involvement in Cambodia, as voted by Congress on 30 June. Aircraft from the carriers Ranger and Oriskany had conducted combat sorties in Cambodia during February. After March 1973, carriers on Yankee Station conducted carrier air patrols, electronic intelligence patrols, surface, subsurface, surveillance coordinator patrols, training, tanker, communications relay and reconnaissance sorties.
HM-12 Received the First of the New RH-53Ds Helicopters
August 29, 1973. – HM-12 received the first of the new RH-53Ds helicopters. Thirty units were produced for the Navy.
BQM-34E Firebee II Target Drone Test Flown
September 6, 1973–A BQM-34E Firebee II target drone, equipped with a wing of graphite-epoxy composite, was successfully test flown at the Point Mugu Sea Test Range reaching a speed of Mach 1.6 at 40,000 feet and a maximum acceleration of six Gs. The graphite-epoxy composite promises to save 40 percent of the weight of metal counterparts in various aeronautical applications. The test wing was designed and fabricated by the Naval Air Development Center.
Blues Switch to A-4s
September 7, 1973–The Navy announced that the Blue Angels flight demonstration team planned to switch to the slower, smaller and less expensive A-4F Skyhawks rather than continue to use the F-4J Phantoms they had been flying since 1969.
HC-1 Recovers Skylab III Astronauts
September 25, 1973–The three astronauts of Skylab III made a successful splashdown in the Pacific, ending a record 59-day, 24-million-mile flight. They were recovered by Helicopter Combat Support Squadron One and flown aboard New Orleans. During Skylab III, CAPT Alan L. Bean, USN, Commander of Skylab III, set a new record for the most time in space, eclipsing Navy CAPT Charles Conrad's record of 49 days, three hours, and 37 minutes.
USS Midway and Airwing 5 Homeported in Japan
October 5, 1973–Midway with embarked CVW-5 put into Yokosuka, Japan, marking the first home-porting of a complete carrier task group in a Japanese port as a result of the accord arrived at on 31 August 1972, between the U.S. and Japan. In addition to the morale factor of dependents housed at a foreign port, the development had strategic significance because it facilitated continuous positioning of three carriers in the Far East at a time when the economic situation demanded the reduction of carriers in the fleet.
US Navy Carriers Standby for Evacuation Contingencies in the Middle East
October 8-13, 1973–Task Force 60.1 with Independence; Task Force 60.2 with Franklin D. Roosevelt and Task Force 61/62 with Guadalcanal were alerted for possible evacuation contingencies in the Middle East. Kennedy, in the Atlantic, was directed to a holding area off Gibraltar.
1973 Yom Kippur War
October 9, 1973–The Pentagon announced that Guadalcanal, an amphibious assault ship with U.S. Marines aboard, was operating in the eastern Mediterranean Sea as part of the Sixth Fleet. Other elements of the fleet were moving toward Crete, including the carriers Independence and Franklin D. Roosevelt, on alert as a result of the 1973 Yom Kippur war between Arab and Israeli forces.
US A-4s Flown to Isreal in Support of the War
October 19-24, 1973–Some 50 A-4 aircraft were flown from the U.S. to supply Israel, staging through the Azores and the Franklin D. Roosevelt which was located south of Sicily. When necessary, the Kennedy, off Gibraltar and Independence, off Crete, also provided assistance. On the 24th, Iwo Jima entered the Mediterranean with reinforcing Marines.
US Worldwide Alert
October 27, 1973–Due to the situation in the Middle East, the U.S. government ordered a worldwide "precautionary alert" of its military forces. Possible unilateral intervention by the Soviet Union was feared. By 28 October, three U.S. aircraft carriers and two amphibious assault carriers were off Crete.
Skylab IV Launched
November 16, 1973–Skylab IV, commanded by Lieutenant Colonel Gerald P. Carr, USMC, and with a crew consisting of Lieutenant Colonel William R. Pogue, USAF, and Edward G. Gibson, civilian, was launched at the Kennedy Space Center. The scheduled 56-day "open-ended" space flight had among its aims, study of the Comet Kohoutek, earth resources, and the sun.
Navy Flight Demonstration Squadron
December 1, 1973–The Blue Angels became the Navy Flight Demonstration Squadron (Blue Angels) and was designated a shore activity located at NAS Pensacola.
USS Tarawa, LHA-1 Was Launched
December 7, 1973–The Tarawa, first of a new class of amphibious assault ships, was launched at Pascagoula, Mississippi.
Iwo Jima Departs Tunisia After Flood Relief
December 17, 1973–Iwo Jima departed Tunisia after three days of flood relief assistance by her helicopters which conducted refugee rescue, equipment deliveries and other flood associated missions.
First Women Navy Flight Surgeons
December 20, 1973–Two women physicians, Lieutenants Jane 0. McWilliams and Victoria M. Voge, graduated from the Naval Flight Surgeon Training Program, to become the first women naval flight surgeons.
Naval Air Engineering Center Relocates From Philly to NAS Lakehurst
December 20, 1973–The Naval Air Engineering Center was officially relocated from Philadelphia to NAS Lakehurst and authority and responsibility for the air station was reassigned to the Chief of Naval Material to be exercised through the Naval Air Systems Command. Subsequently, on 8 Jan 1974, the Air Station was placed under the Naval Air Engineering Center. Thereby, the basic organization arrangements involved in relocation of the Naval Air Engineering Center from League Island, Philadelphia to NAS Lakehurst were completed although the physical transfer would be phased over much of 1974. The relocation was part of the Shore Establishment Realignment announced by the Secretary of Defense in March of 1973. Thus, an affiliation between Naval Aviation and the League Island site at Philadelphia, which began with the establishment of the Naval Aircraft Factory in 1917, was terminated except for a few residual aviation oriented functions.
NAS Ellyson Field Becomes Naval Education aand Training Program Development Center
December 31, 1973–Ellyson Field, NAS Pensacola, Florida, officially became Naval Education and Training Program Development Center to administer the Navy's enlisted advancement system, including the development of advancement and special examinations as well as administering and conducting various courses, studies and training programs
NAVAL HELICOPTER HISTORY TIMELINE 1974
SECNAV Names Navy's Fourth Nuc Carrier
January 18, 1974–The Secretary officially named the Navy's fourth nuclear-powered carrier the Carl Vinson. The name was chosen in honor of Carl Vinson's contributions to the national defense during his fifty years in the House of Representatives.
TF-9J Makes Final Flight
February 4, 1974–TF-9J Cougars, made their final flights. These last flights were made with VT-4 students aboard the John F. Kennedy.
NAMI Handles Navy and Marine Corps POW Perodic Medical Checks
February 5, 1974–The Naval Aerospace Institute at Pensacola, Florida announced that the re-patriated Navy and Marine Corps prisoners-of-war from Vietnam were scheduled to come to Pensacola for periodic checks of their physical and mental status.
HC-1 Recovers Skylab IV Astronauts
February 8, 1974–Skylab IV astronauts Lieutenant Colonel Gerald P. Carr, USMC, who was commander of the mission, Dr. Edward Gibson, and Lieutenant Colonel William Pogue, USAF, landed in the Pacific after a record-setting 84 days in space. They were recovered by HC-1 which flew them aboard New Orleans. This event marked the thirty-second astronaut retrieval by Naval Aviators since the space program began in 1961.
S-3A Viking ASW Aircraft
February 20, 1974–The S-3A Viking ASW aircraft was officially introduced in the Navy in ceremonies at NAS North Island. VS-41 accepted the first aircraft. The Viking, a highly-advanced, carrier-qualified jet aircraft, was designed to replace the older, propeller-driven S-2 Tracker which had been the Navy's primary carrier-based submarine hunter for over twenty years.
First Female Naval Aviator
February 22, 1974–Lieutenant (jg) Barbara Ann Allen became the Navy's first designated female aviator when she received her Gold Wings in a ceremony at NAS Corpus Christi.
First Prototype Three-Engine, Seven-Blade Main Rotor YCH-53E Super Stallion Completed First Flight
March 1, 1974. – The first prototype of the three-engine, seven-blade main rotor YCH-53E Super Stallion completed its first flight.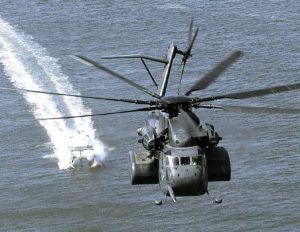 On 10 August 1974, a YCH-53E lifted an external load of 17.8 tons, the heaviest payload ever lifted by a helicopter in the western world.
USS Intrepid Decommissioned
March 15, 1974–The Intrepid was decommissioned and placed in the reserve fleet after thirty years of service to the Navy. Since her commissioning on 16 August 1943 the Intrepid had seen duty as a CV, CVA, and CVS. During World War Il her air groups shot down 266 enemy planes, destroyed 298 more on the ground and damaged 178 others.
Suez Canel Cleanup Begins
March 22, 1974–Rear Admiral Brian McCauley arrived in Cairo, Egypt with a small military planning staff to help plan the clearing of the Suez Canal of unexploded ordnance. The United States, Egypt, France, and the United Kingdom were involved in the project known as Nimbus Star.
USS Yorktown Donated to Charleston, South Carolina
April 14, 1974–The Navy donated the ASW carrier Yorktown to Charleston, South Carolina for the city's National Naval Museum. The "Fighting Lady" had spent twenty-five years with the Pacific Fleet before being transferred to the Atlantic in 1969. She was decommissioned 27 June 1970.
HM-12 Begins Aerial Minesweeping of Suez Canel
April 22, 1974–A twelve-plane detachment of RH-53D Sea Stallions from NAS Norfolk's HM-12 began minesweeping the Suez Canal as part of Project NIMBUS STAR.
NAVAIR Established Aircraft Survivability/Vulnerability Branch
June 4, 1974–The Naval Air Systems Command established an Aircraft Survivability/Vulnerability branch. This office was created in response to the need for a thoroughly coordinated Navy technical program addressing this problem.
Marine Corps OV-10A Bronco Sets New Flight Distance Award
July 5, 1974–Two Marine Corps aviators, Major John H. Pierson and his co-pilot, Major David Shore, flew an OV-1OA Bronco 4,480 kilometers from NAS Whidbey Island to Homestead AFB, Florida. This flight set a new world record for distance in a straight line by a Class C-1-F, Group II aircraft. The National Aeronautics Association sanctioned the record.
HMM-162 Helicopters Evacuate 466 US Citizens and Foreign Nationals From Cypress
July 22, 1974–As a result of the conflict between Turkish and Greek Cypriot forces on Cyprus, the United States Ambassador to Cyprus, Roger Davies, requested the evacuation of U.S. citizens. In a joint Navy/Marine Corps effort, HMM-162 from the Sixth Fleet-Helicopter Carrier Inchon evacuated 466 people, 384 of them U.S. citizens, in only five hours. Other ships were involved, and the Forrestal provided cover for the operation.
World's Largest Unmanned Baloon Launched
August 5, 1974–The world's largest unmanned balloon was successfully launched from Fort Churchill at Manitoba, Canada. The flight was sponsored by the Office of Naval Research and NASA's Office of Space Science. The facilities of the Navy's Skyhook program were used for the launch. The entire flight train–balloon, an 800-pound instrument package, and a parachute–lifted to an altitude of 155,000 feet. As the balloon rose to float altitude it assumed a fully inflated form of 512 feet in diameter with a volume of 50.3 million cubic feet. The balloon traveled 500 miles west and was tracked by Project Skyhook's DC-3.
VC-4 Receives EC-130 TACAMO Aircraft
August 9, 1974–The Navy announced the first acceptance by a fleet squadron of an EC-130 Hercules TACAMO aircraft. VQ-4 was the squadron receiving.
Sikorsky YCH-53E Hovers for First Time
August 10, 1974–Sikorsky's YCH-53E, Number 1, flew in a hover at a gross weight of 71,700 pounds. It carried an external load of 17.8 tons and hovered at a wheel height of fifty feet. This was the heaviest gross weight ever flown–and the heaviest payload ever lifted–by a helicopter in the western world.
Navy and Marine Corps Helicopters Provide Six Days of Disaster Flood Relief Work in Philippines
August 24, 1974–Navy and Marine Corps helicopters completed six days of disaster flood relief work in central Luzon. Aircraft from NAS Cubi Point, the San Jose, the Tripoli, and Clark AFB provided airlift of emergency food supplies.
USS Enterprise Sailed From San Francisco with the F-14A Tomcat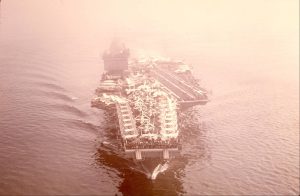 September 17, 1974–Enterprise sailed from San Francisco with VF-1 and VF-2 aboard. This event marked the initial deployment of the Grumman F-14 Tomcat, the Navy's newest fighter. Gordon A. Brattland Photo Sept 17, 1974 Golden Gate Bridge
LAMPS MK-III Developmental Avionics Package, the SH-2SR Helicopter Was Delivered
September 17, 1974. – After completing extensive design modifications at the Naval Development Center, Warminster, PA, to incorporate the LAMPS MK-III developmental avionics package, the SH-2SR helicopter was delivered to Kaman Aerospace Corporation for flight certification tests.
Dupont's HT-4 Standard Fabric for Flight suits
October 2, 1974–The Joint Logistics Commanders signed an agreement making Dupont's HT-4 the standard fabric for all flight suits.
HCT-16 Established NAS Pensacola
November 1, 1974 – HCT-16 established at Naval Air Station Pensacola.
Midlink 74 Exercise Got Underway in the Arabian Sea
November 19, 1974–The Central Treaty Organization exercise Midlink 74 got underway as the largest naval exercise ever held in the Arabian Sea. Participating were forces from the United States, United Kingdom, Iran, Pakistan, and Turkey. Constellation was included in an eight-ship force from the United States.
NAVAL HELICOPTER HISTORY TIMELINE 1975
Association of Naval Aviation (ANA) Founded
January 3, 1975–The Association of Naval Aviation was formally founded "to stimulate and extend appreciation of Naval Aviation . . . past, present and future." The non-profit organization became open to any officer, enlisted person or civilian who contributed to, or was interested in, United States Naval Aviation.
USS Saratoga Released Responce Contingency off Cyprus
January 21, 1975–Saratoga, along with three other surface vessels, was released from response contingency off Cyprus. Saratoga had been maintaining a response alert to possibly assist in the evacuation of American citizens from the strife-torn island.
USS Enterprise Responds to Diaster Relief Needs in Mauritius
February 9, 1975–Enterprise responded to calls for disaster relief from the island nation of Mauritius which was struck on February 6th by Typhoon Cervaise. Arriving at Port Louis on the 12th, carrier personnel spent more than ten thousand man-hours rendering such assistance as restoring water, power and telephone systems, clearing roads and debris, and providing helicopter, medical, food and potable water support to the stricken area. Two Navy H-46 Helicopters rebuilt the entire Mauritius Water System in 48 hours of flying.
Sikosky YCH-53E Completes Navy Preliminary Evaluation
February 15, 1975–The Sikorsky YCH-53E transport helicopter completed Navy Preliminary Evaluation conducted by the Naval Air Test Center and HMX-1.
F-14A Tomcat and Phoenix Missile System Approved
March 2, 1975–Approval for Service Use was given to the F-14A Tomcat and the Phoenix Missile system.
S-3A Viking Approved
March 17, 1975–Approval for Service Use was given to the S-3A Viking.
NAVAIR Estabishes Assistant Commander for Test and Evaluation
March 18, 1975–The Naval Air Systems Command established an Assistant Commander for Test and Evaluation and assigned to him the functions involving management of T & E and its facilities. This important organizational development had its direct origins in a SECDEF decision of the mid-1960's which stressed the need for adequate T & E data to provide a basis for determining whether new equipment was sufficiently developed to warrant procurement for service use. In a much more historic sense, the establishment of the Assistant Commander for Test and Evaluation was part of Naval aviation's long-standing commitment to a consolidation of T & E. This commitment resulted, as early as 1942, in the creation of NAS Patuxent River as a facility for testing experimental airplanes, equipment, and material.
USS Hancock with HMH-463 Aboard to Relieve USS Enterprise
March 23, 1975–Hancock, en route from Subic Bay as relief for Enterprise, loaded HMH-463 at Pearl Harbor for transport to the southwest Pacific. The unit would support operations in case evacuations of American and other nationals became necessary from areas of the Indochinese peninsula. Meanwhile, North Vietnamese forces continued their advance southward and were poised to cut off the entire northern quarter of the Republic of Vietnam some 300 miles north of Saigon.
Eugene Taylor "Smokey" Rhoads, Chief Aviation Pilot, USN, Dies
April 1, 1975–Eugene Taylor "Smokey" Rhoads, Chief Aviation Pilot, USN, died at the Veterans Hospital, San Diego, California. Rhoads was a member of the flight crew that made the first Trans-Atlantic flight in May 1919 on the NC-4.
Operation Eagle Pull was activated for Cambodia
April 12, 1975–Operation Eagle Pull was activated for Cambodia. Twelve CH-53 Sea Stallions of HMH-462 evacuated 287 persons from Phnom Penh to Okinawa. Among those evacuated were U.S. Ambassador John Gunther Dean and Cambodian President Saukhm Khoy, as well as newspapermen and other foreign nationals. Upon completion of the evacuation, helicopters of HMH-463, from Hancock, retrieved the elements of the 31st Marine Amphibious Unit which had established the perimeter from which the evacuees had been rescued.
Naval Aviation Museum Dedicated
April 13, 1975–The Naval Aviation Museum was dedicated at Pensacola, Florida. All funds for construction of the 68,000 square-foot structure had been donated privately. The building was presented to the Navy by the Naval Aviation Museum Foundation Inc. It replaced the small temporary museum set up in 1962. Among the 72 vintage aircraft at the museum, a feature attraction was the original NC-4, the first aeroplane to fly the Atlantic Ocean. Plans, and an on-going drive for privately donated funds, called for continued expansion of the new museum through three more stages to reach eventually 260,000 square feet of floor space.
US Aircraft Carreirs Standby for Saigon Evacuation
April 19, 1975–The carriers Midway, Coral Sea, Hancock, Enterprise, and Okinawa responded to possible evacuation contingencies by deploying to waters off Vietnam as North Vietnam overran two-thirds of South Vietnam and pronounced the carriers' presence a brazen challenge and a violation of the 1973 Paris Peace Accords.
Saigon Evacuation, Operation Frequent Wind
April 29, 1975. – In a period of three hours, Operation Frequent Wind was carried out by U.S. Naval and Marine Corps helicopters from the Seventh Fleet. Frequent Wind involved the evacuation of American citizens from the capital of South Vietnam under heavy attack from the invading forces of North Vietnam. The military situation around Saigon and its Tan Son Nhut airport made evacuation by helicopter the only way out. President Ford ordered the evacuation when Viet Cong shelling forced the suspension of normal transport aircraft use at Tan Son Nhut. With fighter cover provided by carrier aircraft, the helicopters landed on Saigon rooftops and at Tan Son Nhut to evacuate the Americans. The airport became the main helicopter landing zone; it was defended by Marines from the 9th Amphibious Brigade flown in for that purpose. All but a handful of the 900 Americans in Saigon were evacuated. The last helicopter lifted off the roof of the United States Embassy at 7:52 PM carrying Marine security guards.
USS Midway Off-Loades at Utapao, Thailand, over 40 USAF Helicopters
May 2, 1975–Midway off-loaded at Utapao, Thailand, over 40 USAF helicopters used in South Vietnam evacuation operations. At the same time, carrier personnel assisted in the recovery and on-loading from the Utapao Airport over 95 South Vietnamese Air Force craft, including F-5 fighters and A-37 light bombers, which had been flown into Utapao when South Vietnam fell to the Communists. The aircraft were transported to Guam.
The First Training Class for the Aviation Medical Officer (AMO) Began at NAMI
May 5, 1975–The first training class for a new type of physician, the Aviation Medical Officer (AMO), began at the Naval Aerospace Medical Institute, Pensacola, Florida. The program was initiated because of the acute shortage of flight surgeons. The AMOs were not scheduled to undergo flight training nor be assigned duty involving flying; instead, they were to augment the efforts of flight surgeons where aeromedical workloads were heavy, performing flight physicals and providing routine medical care.
American merchantship SS Mayaguez Incident
May 12-14, 1975–Coral Sea participated with other Naval, Marine and USAF forces in the recovery of the American merchantship SS Mayaguez and her 39 crewmen, illegally seized on 12 May in international waters by a Cambodian gunboat controlled by the Communist Khmer Rouge. Protective air strikes were flown from the carrier against Cambodian mainland naval and air installations as USAF helicopters with 288 Marines from Battalion Landing Teams 2 and 9 were launched from Utapao, Thailand, to rescue the crew and secure the merchantman. Eighteen Marines, Airmen and Navy Corpsmen were lost in action. Alerted for response, but not utilized before the release of the commandeered ship and crew on the 14th, were Hancock operating as an LPH platform, and Okinawa.
US Navy Gunfire Training Stopped on Puerto Rican Island of Culebra
July 1, 1975–All U.S. naval gunfire training activities at the Puerto Rican island of Culebra were terminated through a joint Washington-San Juan agreement, ending a controversy that had dragged on for years. The announcement indicated that air-to-ground weapons training at Culebra Cays would continue for a limited time only because of previously scheduled training activities.
Aircraft Carrier Designation CVA Changed to CV
July 1, 1975–The aircraft carrier designation CVA was replaced with CV. This change was made to improve the accuracy of designations in modern warfare. By removing the letter A, which stood for attack, the new designation CV could serve a multipurpose air, surface, and ASW role, depending on the type of aircraft carried.
HS-6 Helicopters Recovered the Apollo Spacecraft and Astronauts
July 24, 1975. – HS-6 helicopters operating from USS New Orleans (LPH-11) recovered the Apollo spacecraft and astronauts Vance D. Brand, Thomas P. Stafford, and Donald K. Slayton after their splashdown in the Pacific Ocean. This recovery marked the end of the Apollo-Soyuz mission, and the end of the Apollo program. It was also the final at-sea recovery in the U.S. space program. Between 1960 and 1975, thirty-five spacecraft and astronaut recovery missions were completed by Navy and Marine helicopters.
Diego Garcia Construction Approved
July 28, 1975–The U.S. Senate cleared the way for construction at Diego Garcia by voting to expand the U.S. support facility on the Indian Ocean island. It ended a long dispute over construction at the installation, permitting the Navy to begin an $18.1 million expansion to include aircraft runway extension, petroleum-oil lubricants storage areas, a pier and additional power plant facilities.
Navy Lighter-Than Air-Project Office Created
July 29, 1975–The Navy created the lighter-than-air project office at the Naval Air Development Center. The purpose of this office was to enhance expertise in lighter-than-air technology within the Navy.
Longest Carrier Based Aircraft Non-Stop Trip
August 1, 1975–A KA-3B Skywarrior, attached to VAQ-208, completed the longest non-stop flight ever made by a carrier-based tactical jet aircraft. The flight originated at the Naval Station, Rota, Spain and ended at NAS Alameda, California. It covered a distance of 6,100 miles and lasted 13 hours.
HC-9 Established at NAS North Island
August 1, 1975—HC-9 Established at Naval Air Station North Island, San Diego, Ca.
USS Nimitz Completes Refresher Training at Gitmo
August 14, 1975–The newly-commissioned Nimitz completed refresher training at Guantanamo Bay before beginning her cruise with a nuclear task force to North European waters. The world's largest ship at the time, Nimitz had an overall length of 1,092 feet, an extreme breadth of 292 feet, a flight deck area of four and a half acres, and displaced 95,000 tons with a combat load. The Navy's second nuclear carrier, Nimitz was named in honor of the World War II hero and former Chief of Naval Operations, Fleet Admiral Chester W. Nimitz.
CNO Approves Tomahawk Name for New Missle
September 26, 1975–The Chief of Naval Operations approved the popular name Tomahawk for the Navy's Sea Launched Cruise Missile (SLCM).
Marine Corps Takes Delivery of First KC-130R
October 3, 1975–Marine Aerial Refueler/Transport Squadron 352 (VMGR-352) took delivery of the first KC-130R Hercules refueler/transport.
Inchon Evacuates US Citizens From Lebanon
October 27, 1975–Inchon and five surface vessels served as a contingency evacuation force, with Kennedy in support, as U.S. citizens were advised to evacuate their dependents from Lebanon due to prolonged government instability and increased armed skirmishing among political factions in the country.
Whidbey Island SAR H-46s Conduct Search and Rescue During Washington State Floods
December 6-, 1975-H-46 Sea Knight helicopters from NAS Whidbey Island began search and rescue operations in the northwestern Washington state areas flooded by heavy rains. Four days of this humanitarian work saw a total of 113 people evacuated after being stranded by the flood waters.
First Production Prototype Sikorsky CH-53E Flight
December 8, 1975–The first production prototype of Sikorsky's three-engine, multi-mission CH-53E transport helicopter made its first flight at the company's Connecticut plant. The flight of about 30 minutes, consisted of low-altitude hovering and limited maneuvering.
NAVAL HELICOPTER HISTORY TIMELINE 1976
S-3Aa Viking Land Aboard USS Saratoga
March 2, 1976-Two VS-22 Lockheed S-3A Viking aircraft landed aboard the Saratoga, off the coast of Italy, completing the first Atlantic crossing by the S-3A Vikings. The S-3A Vikings departed NAS Cecil Field and made stops at NAS Bermuda, NAS Lajes and NS Rota before landing on Saratoga. Their flight across the Atlantic proved that rapid augmentation of S-3A Viking carrier antisubmarine assets was possible from long distances.
Bell AH-1T Helicopter Makes First Flight
May 20, 1976–Bell Helicopter's AH-1T made its first flight. The following week the AH-1T flew to 120 KIAS and did mild sideslips, climbs and descents.
Helicopters From HS-4 and HC-3 Help with Disaster Relief in the Philippines
May 28, 1976–Helicopter crews from HS-4 aboard Ranger; detachments from HC-3 on Camden, Mars (AFS 1) and White Plains; and helicopters from NAS Cubi Point assisted in the Philippine disaster relief effort in the flood ravaged areas of Central Luzon. Over 1,900 people were evacuated; more than 370,000 pounds of disaster relief supplies and 9,340 gallons of fuel were provided by Navy and Air Force helicopters.
USS Tarawa Commissioned
May 29, 1976–Tarawa was commissioned at Ingalls Shipbuilding Division of Litton Industries in Pascagoula, Mississippi. Tarawa was the first of five in a class of amphibious assault ships to join the fleet.
Brown Shoes Go Away
June 30, 1976–A Naval Aviator tradition came to an end when brown shoes were stricken from the officers' and chiefs' uniforms. The tradition initially distinguished the Brown Shoe Navy of the aviators from the black shoes of the surface officers.
USS Coral Sea Receives MUC for SS Mayaguez Criss in 1975
July 6, 1976-Coral Sea was presented the Meritorious Unit Commendation for her actions during the Mayaguez crisis in May 1975. Coral Sea played a major role in the return of SS Mayaguez after Cambodian gunboats had seized the merchant ship on the high seas off the coast of Cambodia. Coral Sea provided air support to the landing of Marines at Koh Tang Island as CVW-15 conducted strikes on specified military targets.
CH-46E Sea Knight Introduced
July 9, 1976–The CH-46 Sea Knight helicopter's effectiveness and life were extended with the delivery of the first two CH-46E prototypes. The major modifications to the CH-46E helicopters were new T-58-GE-16 engines, an Omega-Doppler navigation system, new crashworthy pilot and copilot seats, a combat crashworthy fuel system, a new rescue hoist and an infrared suppressor for engine exhaust.
C-117 Phased Out
July 12, 1976–The Navy phased out the last C-117 (Douglas DC-3), perhaps the most famous transport plane of all time. The last C-117 was flown from Pensacola to Davis Monthan Air Force Base, Arizona, the boneyard for obsolete military aircraft.
Task Force 61 and USS Nimitz Support Beirut Evacuation
July 27, 1976–America and other elements of Task Force 61, with Nimitz standing by, supported the evacuation of 160 Americans and 148 other nationals from Beirut, Lebanon. The amphibious transport ship Coronado removed the evacuees from Lebanon and arrived in Athens on 29 July. During January through July 1976 the contingency evacuation force for the "Lebanon Civil-war Crisis" involved, at different intervals, the support of America, Nimitz, Iwo Jima, Independence, Guadalcanal and Saratoga.
DOD Approves Program to Develop the AV-8B Harrier for the Marine Corps
July 27, 1976–The first phase of a program to develop the AV-8B Harrier, a version of the current AV-8A with improved payload and range was approved by the Department of Defense.
HU-16 Albatross Last Flight
August 13, 1976–An HU-16 Albatross, the Navy's last operational seaplane made its final water landing in Pensacola Bay. After two touch-and-go landings the aircraft was flown to Sherman Field where it was turned over to the Naval Aviation Museum in Pensacola, Florida.
USS Midway Show of Force Off Korea
August 21, 1976–A Navy task force headed by Midway made a show of force off the coast of Korea in response to an unprovoked attack on two U.S. Army officers who were killed by North Korean guards on 18 August. Midway's response was in support of a U.S. demonstration of military concern vis-a-vis North Korea.
S-2 Tracker Last Flight
August 29, 1976–The Navy's last S-2 Tracker aircraft, operating with VS-37, was withdrawn from active service. Many of the pilots who flew the Tracker credit it with being the Navy's most versatile airplane of its era. The S-2 entered service with VS-26 in February 1954 and provided the Navy with 22 years of active service.
Test Flights on New East Coast Aiar Combat Maneuvering Range (ACMR)
September 15, 1976–Test Flights began on the east coast air combat maneuvering range (ACMR) under construction off the coast of Cape Hatteras, North Carolina. This follow-on system to the Navy ACMR at Yuma, Arizona, will provide air combat training for east coast squadrons.
NASA Unveils New Space Shuttle Program
September 17, 1976–The new space shuttle program was unveiled by NASA. Of the 28 astronauts in the space program 12 had either a Navy or Marine Corps aviator background.
RPV STAR Achieves First Closed Loop Recovery
September 29, 1976–The Navy's Ship-Deployable, Tactical, Airborne Remotely-Piloted Vehicle (RPV) (STAR) achieved the first automatically closed-loop recovery of a RPV into a net-encapsuled arresting assembly. The test occurred at the National Parachute Test Range, El Centro, California.
USS Oriskany De-Commissioned
September 30, 1976–Oriskany, the last of the Essex-class attack carriers, was decommissioned at San Francisco and placed in the mothball fleet. Oriskany saw extensive action in the Korean and Vietnam conflicts.
VMA-231 with AV-8A Harriers Make First Operational Deployment Aboard Roosevelt
October 6-,1976-VMA-231, embarked in Franklin D. Roosevelt, was en route to the Mediterranean Sea for a Sixth Fleet deployment. VMA-231 was equipped with the AV-8 Harrier and this was the first overseas operational commitment on a carrier for the AV-8 aircraft.
Bell AH-1T Helicopter Turned Over to the Marine Corps For Testing
November 5, 1976–The latest model of the Sea Cobra helicopter, the AH-1T, was turned over to the Marine Corps from Bell Helicopter Textron for further testing. The new version offers an improved payload of 4,392 pounds over the previous payload of 2,739 pounds.
NAF China Lake Dis-Established
December 1, 1976–Naval Air Facility, China Lake, California was disestablished after more than 30 years, as a separate command, and became part of the Naval Weapons Center.
Saufley Field Disestablished
December 1, 1976–NAAS Saufley Field was disestablished. The closing of the basic tactical and combat flying base brought to an end one of the early fields used in association with the training of Naval Aviators at NAS Pensacola. The primary training installation was opened for flight purposes in 1940 and named after Naval Aviator #14, who was killed while on a record endurance flight on 9 June 1916 after being in the air eight hours and 51 minutes. Saufley Field was initially used by aviation students practicing landings and takeoffs away from the normal flight pattern at NAS Pensacola. Established as NAAS Saufley Field in 1943, aviation students in basic training received instructional courses in ground training, formation flying, and cross-country flying employing the SNJ Texan and T-28 aircraft.
NAVAL HELICOPTER HISTORY TIMELINE 1977
VR-24 Received Four RH-53Ds For Vertical Onboard Delivery (VOD)
January 1, 1977. – VR-24, operating in the Mediterranean theater, received four RH-53Ds to be used as Vertical Onboard Delivery (VOD) aircraft. This event ushered a new era in combat logistics support. The "VOD Squad" provided service to ships of the Sixth Fleet until 1983.
First General Electric F404 Engine Tested Successfully
January 6, 1977–The first F404 development engine was tested successfully at the General Electric plant in Lynn, Massachusetts approximately a month ahead of schedule.
Marine Corps Harriars Make First Bow ON Approach and Landing on a Carrier
January 13, 1977–NAS Jacksonville announced the two AV-8A Harrier aircraft had made a bow on approach and landing aboard Franklin D. Roosevelt. This may have been the first time in Naval aviation history that a fixed-wing aircraft made a bow on, downwind landing aboard a carrier at sea. This landing, with jets facing aft, demonstrated that V/STOL aircraft could be landed aboard a carrier without many of the conditions necessary for fixed-wing, non-V/STOL aircraft.
All Nuclear Task Force
January 14, 1977–For the first time, an all-nuclear-powered task group was operating in both deployed fleets. The Seventh Fleet task group was composed of Enterprise and her nuclear-powered escort ships, while the Sixth Fleet task group had Nimitz with her nuclear-powered escort ships.
EnterpriseOperates off East Africa
February 27, 1977–Enterprise and her escort ships were directed to operate off the east African coast in response to public derogatory remarks against the U.S. by the President of Uganda and his order that all Americans in Uganda meet with him.
NARF/NAS Lake Hurst Dis-Established
March 1, 1977–The Naval Air Rework Facility (NARF) and Naval Air Station (NAS) at Lakehurst, New Jersey were disestablished and the mission of the Naval Air Engineering Center (NAEC) was modified to absorb their functions.
Initial Acceptance Trials of Marine Corps CH-53E Completed
March 24, 1977–Initial service acceptance trials for the CH-53E Super Stallion were completed at NATC. The growth version of the CH-53E has three turbine engines instead of two. The Super Stallion carries mission loads of 16 tons compared to nine tons for the CH-53D. It has seven rotor blades instead of six and can accommodate 56 troops.
NAVAIR Announces Advanced Concepts Division
March 25, 1977–The Naval Air Systems Command announced that its Advanced Concepts Division, and the Naval Air Development Center, were testing a lighter-than-air craft known as Aerocrane. This project represented the first government-sponsored study of lighter-than-air flight in several years.
Night Vision Established as Operational Requirement
April 12, 1977–An operational requirement was established for night vision capability in U.S. Marine Corps transport helicopters.
USS Franklin D. Roosevelt Returns From Deployment for Decommissioning
April 21, 1977–Franklin D. Roosevelt, the first carrier to launch a jet plane, 21 July 1946, returned to the U.S. from its last overseas deployment prior to her decommissioning on 1 October 1977.
HC-16 Established
May 2, 1977—HC-16 established at Pensacola, Florida.
First Prototype of the Bell XV-15 Tilt-Rotor Performed Hover Test
May 3, 1977. – The first prototype of the Bell XV-15 tilt-rotor convertiplane performed its first hover test on 3 May 1977. The aircraft featured an H configured tail and two 25-foot diameter three-bladed rotors powered by two Lycoming LTC1K-4K 1,550 shp engines. During the decade that followed, Bell, NASA, and the military services tested the two XV-15 prototypes. After more than 350 flight-testing hours, including sea trials aboard USS Tripoli (LPH-10) and more than 400 conversions and re-conversions, the XV-15 categorically proved the tilt-rotor concept.
Night Vision Tested on Marine Corps OV-10D Bronco
June 22, 1977–The new OV-1OD Bronco series, undergoing test and evaluation at NATC's Strike Aircraft Test Directorate, Patuxent River, was equipped with a night vision sensor which allowed the two-man crew to pinpoint targets in the dark. Called FLIR, for Forward Looking Infrared Radar, the sensor could detect the thermal radiation from all objects in its field of view, including individual soldiers. While primarily designed to provide a "night eyes" capability, FLIR also offered various degrees of vision through camouflage, dust, smoke, haze and light fog. It was also to be used for navigation, terrain avoidance, terrain surveillance, target detection, target recognition, target tracking, gun laying and as a landing aid.
First Microwave Landing System Landing Accomplished
June 13, 1977–An F-4J Phantom II landed for the first time using the microwave landing system (MLS) at the FAA Test Facility at Atlantic City, New Jersey. A pilot from the Naval Air Test Center was at the controls. The MLS was designed to reach out electronically and catch the target aircraft and fly it to a safe landing without the aircraft's pilot touching the craft's controls.
RADM Alan B. Shepard Jr Inducted in Aviation Hall of Fame
June 23, 1977–Rear Admiral Alan B. Shepard, Jr., was inducted into the Aviation Hall of Fame. He was cited for outstanding contributions to aviation as a Naval Aviator, instructor and test pilot, and his contributions to space technology. He was the first American launched into space and the fifth to walk on the moon.
CH-46 E Sea Knight Flies with New Fiberglass Rotor Baldes
August 11, 1977–The first CH-46E Sea Knight with newly developed fiberglass rotor blades was flown by Marine Corps helicopter pilots. The helicopter was the first of 400 to be retrofitted with new rotor blades which were less susceptible to corrosion and fatigue damage.
Navy Unveiled New XFV-12A Verticla/Short Takeeoff and Landing Research Aircraft
August 26, 1977–The Navy unveiled its new XFV-12A vertical/short takeoff and landing research aircraft at the Rockwell International facility in Columbus, Ohio. The XFV-12A, a single engine, single seat, thrust-augmented wing prototype high-performance fighter aircraft was designed to operate from small ships.
Sikorsky S-70L Won LAMPS MK-III Competition
September 1, 1977. – The winners of the LAMPS MK-III competition were announced. The Sikorsky S-70L won over the Boeing Vertol Model 237 proposal. General Electric Aircraft Engine Division was contracted to further develop the T-700-GE-401 engine. IBM received the contract to continue development of the avionics package.
Naval Aviation Logistics Center Fully Operation at Pax River
October 1, 1977–The Naval Aviation Logistics Center became fully operational at Patuxent River, Maryland. The new center was responsible for the implementation, coordination and management of Navy-wide depot-level aviation maintenance programs.
HC-11 Established at North Island
October 1, 1977—HC-11 established at Naval Air Station North Island. "Oh Thank Heaven for HC-11" Cdr. Mike Reber Commanding Officer. The Gun Bearers "VR"
National Parachute Test Range Moved to China Lake
October 31, 1977–The Department of Defense directed a significant relocation of the essential mission of the National Parachute Test Range at El Centro, California. The Range had been responsible for RDT&E for parachute systems and for providing common airfield support to aviation units. With today's change, the RDT&E mission was moved to the Naval Weapons Center at China Lake, California. The airfield support mission remained at El Centro with the existing Naval Air Facility there.
Navy T-34C Formally Accepted
November 14, 1977–The Chief of Naval Air Training formally accepted the T-34C aircraft manufactured by Beech Aircraft Corporation. The T-34C, a turboprop, two-place trainer, was to replace the T-34B and T-28 training aircraft.
NAVAL HELICOPTER HISTORY TIMELINE 1978
First Satellite of New Navy Fleet Satellite Communications System
February 9, 1978–The first satellite of the new Navy Fleet Satellite Communications System was launched. This system satisfies the need for worldwide tactical command control and communications for the entire fleet.
11 Navy Selected for NASA Space Shuttle Program
February 16, 1978–Eleven of the 35 astronaut candidates selected to participate in NASA's space shuttle program were Navy personnel. Eight of the Navy selectees were in the pilot training program and the other three were trained as mission specialists.
Sikorsky Wins Full Scale Production Contract for the CH-53E Helicopter
February 27, 1978–A contract for the CH-53E Super Stallion helicopter was awarded to Sikorsky Aircraft to begin full scale production. The CH-53E provided the Navy and Marine Corps with a heavy-lift helicopter. It lifts twice as much as the earlier D model.
DOD Authorized Development of Sikorsky's SH-60B, the LAMPS MK-III Helicopter
February 28, 1978. – The Department of Defense authorized full-scale development of Sikorsky's SH-60B, the LAMPS MK-III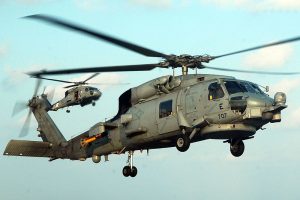 helicopter. NAVAIR awarded Sikorsky a contract to build five prototypes. The final assembly of the first prototype began in March 1979. The aircraft first flew on 12 December 1979. The other four prototypes began flying in early-1980.
NASA Selects Four Two Man Crews
March 17, 1978–NASA selected four two-man crews for early orbital flights of the space shuttle. CAPT John W. Young, USN, was selected as commander and Commander Robert L. Crippen, USN, as pilot for the first scheduled orbital test. Colonel Joe H. Engle, USAF, and Commander Richard H. Truly, USN, were selected as the backup crew. Also included in the first group of two-man crews was Lieutenant Colonel Jack R. Lousma, USMC.
RADM William L. Harris Accepts Daedalian Weapons System Award
June 9, 1978–Rear Admiral William L. Harris, NWC Commander, accepted the Daedalian Weapons Systems Award in San Antonio, Texas, on behalf of the Naval Weapons Center (NWC) and the Naval Air Systems Command (NAVAIR). The Order of Daedalians, a national fraternity of military pilots, selected NWC and NAVAIR as co-winners of the 1978 award in recognition of the success of these two Navy commands in working together as a team in the development and improvement of a family of heat-seeking guided missiles known as Sidewinder. The Daedalian Weapons System Award and accompanying perpetual trophy was presented annually by the Order of Daedalians to the individual, group or organization, military or civilian, judged to have developed the most outstanding weapon system. The recipient was selected from nominations submitted by the Departments of the Army, Navy, and the Air Force on a rotating basis.
Naval Air Test and Evaluation Museum Opens
July 8, 1978–The Naval Air Test and Evaluation Museum at NAS Patuxent River opened its doors to the public for the first time. Its premier exhibition depicted the full scope of test and evaluation in Naval Aviation. The displays were varied, showing the many different types of aircraft which have passed through the Patuxent River test facility over the years.
Final Flight of Service Acceptance Trails of AH-1T Flown
July 21, 1978–The final flight of the service acceptance trials for the AH-1T Cobra helicopter gunship was made at Naval Air Test Center, Patuxent River. The helo carried an increase of more than 200 percent in its armament payload and was designed to fly farther and fight longer and harder over a target than previous models of the Cobra.
Captain Holden C. Richardson Inducted into the National Aviation Hall of Fame
July 22, 1978–Captain Holden C. Richardson was inducted into the National Aviation Hall of Fame at Dayton, Ohio. Naval Aviator number thirteen, Captain Richardson was the first Naval aviation engineering officer to be so honored.
SH-60B Mock-Up Put Thru Shipboard Compatibility Trials
August 2-3, 1978 –The mock-up of the SH-60B ASW helicopter was put through shipboard compatibility trials aboard Arthur W. Radford. Earlier trials were conducted July 25-26 aboard Oliver Hazard Perry. The SH-60B was being developed by Sikorsky Aircraft.
Major Advance in Escape Systems Reported
August 3, 1978–The Naval Air Systems Command reported a major advance in the technology of escape systems. During the summer, the Naval Weapons Center at China Lake successfully tested a vertical-seeking ejection seat. While carrying a dummy crew member, the seat was fired downward from a suspended test module. It traveled downward less than 45 feet before reversing direction and traveling upward; it then parachuted safely to the ground. These tests demonstrated that the vertical-seeking seat would make it possible to safely eject upside down, within 50 feet of the surface, thus greatly increasing the safety envelope of ejection seats.
Tech Eval Completed on CH-53E Helicopter
September 14, 1978–A Navy technical evaluation was completed on the CH-53E Super Stallion helicopter to determine if performance had been altered by changes made since the initial trials conducted by the Board of Inspection and Survey. The Super Stallion successfully completed the 60-hour test program.
P-3C Update III Program
September 15, 1978–The test-bed P-3C Orion was delivered to the Naval Air Development Center for the Update III program. The aircraft featured an advanced signal processor developed by IBM which provided a four-fold improvement in isolating sounds of submerged targets from ocean background noise. Lockheed California Company was the prime contractor of the P-3C and had been involved with its development over the past 17 years.
First Flight Marine Corps AV-8B Harrier
November 9, 1978–The U.S. Marine Corps' newest light attack aircraft, the AV-8B, flew for the first time at McDonnell Douglas Corporation in St. Louis. The AV-8B Harrier had more than double the payload and radius of its predecessor, the AV-8A.
NAVAIR Established Jet Pilot Training System (VTXTS) Project
December 18, 1978–The Commander, Naval Air Systems Command formally established the undergraduate Jet Pilot Training System (VTXTS) Project. This Project was designed to provide Naval aviation with an integrated training program consisting of aircraft, simulators, academics, and training management. VTXTS was aimed at the intermediate and advanced jet training levels.
Constellation Battle Group Held in I.O Due to Iran Crisis
December 27, 1978–Constellation and her escort ships were directed to the vicinity of Singapore in response to the internal crisis in Iran and because of vital U.S. interests in the Persian Gulf area. On 2 January 1979, the President directed Constellation and her escort ships to remain on station in the South China Sea and not enter the Indian Ocean.
NAVAL HELICOPTER HISTORY TIMELINE 1979
Constellation Remains in Indian Ocean
January 2, 1979–Task Group 77.7 composed of Constellation and her escort ships were directed to remain on station in the South China Sea in preparation for possible operations in the Indian Ocean due to the internal crisis in Iran.
Harmon International Aviation Trophy Presented
January 24, 1979–Vice President Walter P. Mondale presented Lieutenant Colonel Herbert Fix with the Harmon International Aviation Trophy. Colonel Fix received the award for his role as Commanding Officer of USMC Helicopter Squadron HMH-463 during the evacuations of Phnom Penh and Saigon in 1975. The citation praised Colonel Fix for carrying out his missions "without casualties among the aircrews of 16 rotary wing aircraft in HMH-463, although the operations took place under combat conditions involving anti-aircraft fire, machine gun and small arms fire, and in part at night with few navigational aids." Colonel Fix was the first U.S. Marine Corps pilot to receive the Harmon Trophy. At the time of the award, he was Project Manager for the H-1/H-3 Helicopters Project Office at the Naval Air Systems Command.
YAV-8B Arrives at Pax River
January 25, 1979–The Navy's YAV-8B, the Harrier prototype built by McDonnell Douglas, arrived at the Naval Air Test Center to test its aerodynamic improvements not found in the AV-8A. 28–Constellation and her escort ships were released from contingency operations in the South China Sea. The contingency operations had been issued in response to the internal crisis in Iran. The crisis abated when the Shah of Iran departed for exile on 16 January. Due to the uneasy situation in Iran all U.S. government dependents and non-essential American citizens were ordered to evacuate the country on 30 January.
LAMPS Mark III To Be Known as Seahawk
February 9, 1979–The Secretary of the Navy announced that the helicopter portion of the Navy's LAMPS MK III was to be known officially as the Seahawk. Designated SH-60B, the Sikorsky helicopter took its name from the Curtiss SC-1 Seahawk which was a catapult launched, non-carrier, ASW float plane of late World War II.
Last A-4 Skyhawk Delivered
February 27, 1979–The Navy took delivery of the last A-4 Skyhawk from the McDonnell Douglas Corporation, setting a record for the longest production run for any U.S. military aircraft. Built as an attack bomber and as a two-place trainer, the A-4 had been in continuous production for 26 years. The final Skyhawk off the production line was an A-4M attack bomber built for operation by the Marine Corps. It was the 2960th Skyhawk manufactured by McDonnell Douglas and was delivered to VMA-331.
Constellation and Escort Ships Ordered to Gulf of Aden
March 7, 1979–Constellation and her escort ships were ordered to the Gulf of Aden in response to the conflict between North and South Yemen. The Gulf of Aden and the Persian Gulf were considered vital waterways for the passage of petroleum products to the U.S. and her allies.
P-3B Makes Flight Guided by NavStar
March 11, 1979–A P-3B Orion from NATC Patuxent River flew the first transoceanic flight guided by NavStar, the space-based radio navigation system. The six-hour flight was from NAS Barbers Point to NAS Moffett Field. The NavStar system comprised 24 satellites in earth orbit providing radio navigational information.
Last P-2 Variant Rolls Off Japanese Assembly Line
March 20, 1979–The last variant of the P-2 Neptune rolled off the production line at ceremonies in Japan. This was the longest production run of any aircraft type in history, 34 years from the first model which was built in 1945 in Burbank, California by the Lockheed Corporation. The P-2 was the mainstay of the U.S. Navy's ASW patrol fleet during the 1950s and early 1960s until it was replaced by the P-3 Orion.
AV-8A Test Ski Jump at Pax River
March 26, 1979–The AV-8A Harrier was used at NATC Patuxent River to test a new ski jump ramp developed by the British to cut down the takeoff distance for the Harrier. The new ski jump ramp was designed with a 12-degree angle of elevation and was 130 feet long. The total takeoff distance for a Harrier using the new ramp was 230 feet compared with the 930-foot runway necessary for a Harrier to make a no-catapult, flat-surface launch. NATC Patuxent River was evaluating the ramp for possible use in the fleet.
USS Midway Relieve USS Constellation In Indian Ocean
April 16, 1979–Midway relieved Constellation as the Indian Ocean contingency carrier. Midway and her escort ships continued a significant American naval presence in the oil-producing region of the Arabian Sea and Persian Gulf.
LastKaanishi H8K2 Flying Boat Transferred to Japan
April 23, 1979–In a ceremony at NAS Norfolk, Vice Admiral Forrest S. Petersen transferred ownership of the last Kawanishi H8K2 flying boat to the Japanese Museum of Maritime Science. Code named Emily by the allies during World War II, the big craft was brought to the United States by the Navy late in 1945 to undergo tests at Patuxent River. When the tests were completed, the Emily was stored at Norfolk and outlasted all its sister aircraft. In July 1979, the Museum of Maritime Science transported the Emily to Tokyo.
Navy RH-53D Helicopter Flies Non-Stop Norfolk to San Diego
April 30, 1979–A RH-53D Sea Stallion from HM-12 set a new nonstop, transcontinental flight by flying from Norfolk, Virginia, to San Diego, California. The helicopter flew 2,077-nm in 18.5 hours, air refueling from an Air National Guard HC-130 Hercules. The flight demonstrated the long-range, quick-response capability of the RH-53D helicopter and was commanded by Lieutenant Rodney M. Davis.
First Two AV-8C Hrriers Arrive at Pax River
May 22, 1979–The first of two McDonnell Douglas AV-8C Harriers arrived at NATC, Patuxent River for service acceptance trials. Improvements built into this aircraft over the AV-8A include a new UHF radio, a chaff and flare dispensing system, lift improvement devices, a radar warning system and secure voice equipment.
USS Midway and Escort Ships Released From Contingency Ops in IO
May 30, 1979–Midway and her escort ships were released from contingency operations in the Arabian Sea and departed for the Pacific.
DOD Approves Mission Element Statement for VTXTS
June 12, 1979–The Deputy Secretary of Defense approved the mission element need statement for the Undergraduate Jet Flight Training System known as VTXTS. This system represented a major step toward meeting the continuing requirement to provide undergraduate pilot training for student naval aviators and transition students of the U.S. Navy and Marine Corps.
First Femail Naval Aviator to CQ in a FixedWing Aircraft
June 20, 1979–Lieutenant Dona Spruill became the first Navy woman pilot to carrier qualify in a fixed-wing aircraft. Lieutenant Spruill piloted a C-1A Trader to an arrested landing aboard Independence.
HMX-1 Becomes Single Source of Helicopter Support to the President
July 1, 1979–With the disestablishment of U.S. Army Executive Flight Detachment, USMC Helicopter Squadron ONE (HMX-1) became the single source of helicopter support for the White House.
Saipan Off Nicaragua for Possible Diplomats Evacuation
July 17, 1979–Saipan was operating off the coast of Nicaragua for possible evacuation of American diplomats and others due to the turmoil surrounding the fall of that government.
7th Fleet to Aid Vietnamese Boat People
July 19, 1979–The President announced he had instructed the U.S. Seventh Fleet to aid the Vietnamese "boat people" and assist them to safety. U.S. naval aviation and surface units of the Seventh Fleet stepped up patrolling, assistance and rescue efforts in support of the Vietnamese "boat people".
Neil Armstrong Inducted into Aviation Hall of Fame
July 21, 1979–Neil A. Armstrong, a Navy pilot during the Korean War, was inducted into the Aviation Hall of Fame in Dayton, Ohio. He served as an experimental test pilot for the National Advisory Committee for Aeronautics (NACA) and flew a variety of high speed aircraft including the X-15. Later, after being selected as an Astronaut by the NASA, he served as Command Pilot of the Gemini 8 mission, during which he participated in the first docking of a spacecraft. His most notable achievement came as Commander of the Apollo 11 Lunar Landing Mission when he became the first man to step upon the moon.
Bell XV-15 Successfully Converts from Helicopter Mode to Fixed Wing Mode in Flight
July 24, 1979–The Bell XV-15 successfully converted in flight from the helicopter mode to the fixed-wing mode. The XV-15 flight test program was founded as a joint U.S. Navy/NASA/Army research effort to evaluate the tilt rotor concept.
Northrop BQM-74C Completes First Flight
July 27, 1979–The Navy's newest turbo-jet-powered aerial target, the Northrop BQM-74C, successfully completed its first flight over the Pacific Missile Test Center, California. The 33 minute flight also marked the first airborne launch of the BQM-74C when the target was launched from under the wing of an A-6 Intruder. Following completion of the flight, the BQM-74C was safely landed at sea, retrieved, and returned to Point Mugu for inspection, refurbishment, and eventual reuse. The BQM-74C is the only target in the world using a Digital Avionics Processor which allows it to provide realistic low cost anti-ship cruise missile simulation in training.
Prototype Navy SH-60B Unveiled
August 30, 1979–The first prototype of the Navy's SH-60B Seahawk helicopter was unveiled at the Sikorsky Aircraft Division at Stratford, Connecticut. The SH-60B was designed to operate from destroyers, frigates and cruisers in performing its role in the LAMPS mission which was detecting, classifying, locating and destroying hostile submarines and surface vessels over extended ranges. Secondary missions for the helicopter included search and rescue, medical evacuation and general fleet support. The SH-60B was officially dubbed the Seahawk in February 1979.
Navy RH-53D Makes Heavy Lift In Italy
August 30, 1979–A U.S. Navy CH-53D Sea Stallion helicopter of VR-24 lifted a 12-foot bronze statue of the Madonna and Child to the top of Mt. Tiberius on Capri, Italy, to replace one which had been destroyed by lightning. The statue was too large to be transported overland.
Circulation Control Rotor (CCR) Made First Flight
September 18, 1979–The Circulation Control Rotor (CCR) made its first flight using the airframe and propulsion system from an HH-2D helicopter. This CCR was initiated by the Navy as an advanced rotor system with improved performance, reduced maintenance requirements, and reduced vibration levels from extant rotor systems.
AV-8C Shipboard Trails
October 1-8, 1979–The AV-8C Harrier shipboard trials were conducted aboard Saipan. Testing consisted of 33 flights involving short take-offs, vertical take-offs and vertical landings by the AV-8C.
Nassau Sent to Cuba in Show of Force
October 11, 1979–Nassau and other amphibious ships headed for Guantanamo Bay, Cuba, in a show of force ordered by the President in response to maneuvers by a Russian combat brigade in Cuba. On 17 October 1,800 Marines landed in Guantanamo Bay as a demonstration of naval power in the wake of the Soviet refusal to withdraw the Russian combat brigade in Cuba.
Kitty Hawkl and Escort ships Sent to Korea
October 28, 1979–Kitty Hawk and her escort ships were directed to operate south of the Korean peninsula in response to the assassination of South Korean President Park on 26 October.
Americans Taken Hostage in American Embassy in Iran
November 4, 1979–One Naval aviator and 14 Marines were among the more than sixty Americans taken hostage when the United States embassy in Tehran, Iran, was seized by a mob of Iranian hoodlums. Spokesmen for the mob demanded that the United States return to Iran the deposed Shah who was in a New York hospital at the time.
USS Midway and Escort Ships Northern Arabian Sea
November 18, 1979–Midway and her escort ships, which had been operating in the Indian Ocean, arrived in the northern part of the Arabian Sea in connection with the continuing hostage crisis in Iran.
Kitty Hawk Moved to Indian Ocean
November 21, 1979–Kitty Hawk and her escort ships were directed to sail to the Indian Ocean to join Midway and her escort ships which were operating in the northern Arabian Sea. The two carrier forces provided the U.S. with attack aircraft, the A-6 and A-7 and fighter aircraft, the F-4 and the modern F-14, which could respond to a variety of situations if called upon during the Iranian hostage crisis.
Kitty Hawk and Escork Ships Arrive Onstation Northern Arabian Sea
December 3, 1979–Kitty Hawk and her escort ships arrived on station in the northern Arabian Sea for contingency operations during the Iranian hostage crisis. This was the first time, since WW-II, that the U.S. Navy had two carrier task forces in the Indian Ocean in response to a crisis situation.
Navy SH-60B First Flight
December 12, 1979–The development program for the LAMPS MK III SH-60B Seahawk helicopter reached a major milestone when the aircraft completed its first flight at the Sikorsky test facility in West Palm Beach, Florida.
Sixth Fleet Nimitz and Escort ships to Relieve Kitty Hawk
December 21, 1979–The Defense Department announced a three-ship nuclear-powered carrier battle group from the Sixth Fleet would deploy to the Indian Ocean to relieve the Seventh Fleet carrier battle group led by Kitty Hawk. The Sixth Fleet carrier battle group consisted of the nuclear-powered Nimitz and her nuclear-powered escort ships.
Russians Send Troops to Afghanistan
December 24, 1979–A massive Soviet airlift of 5,000 Russian airborne troops and equipment into the Afghanistan capital of Kabul was conducted. The U.S. protested the large influx of Soviet troops which the Soviet Union claimed were at the request of the Afghanistan government. On 27 December a Soviet-backed coup installed a new President in Afghanistan. The two carrier task forces consisting of Midway and Kitty Hawk continued contingency operations in the northern Arabian Sea.
Navy Carrier Forces Respond to Five Crisis Around the World in 1979
December 31, 1979–During 1979, Navy carrier forces responded to five crisis situations around the world. The following carriers responded for contingency operations: Constellation responded to the crisis which involved North and South Yemen; Saipan responded during the Nicaraguan turmoil; Nassau was involved in the response to Russian combat troops in Cuba; Kitty Hawk responded to the alert in Korea; and Midway and Kitty Hawk conducted contingency operations during the Iranian hostage crisis.
7th Fleeet Ships and Aircraft Continue Helping Rescue Vietnamese Boat People
December 31, 1979–U.S. Navy surface and aviation forces of the Seventh Fleet continued their patrols and rescue assistance efforts connected with the Vietnamese boat people following the President's order in July. During the last six months of 1979, Navy ships embarked over 800 Vietnamese refugees. Vietnamese refugees picked up by merchant vessels with the aid of P-3 patrol aircraft totaled over 1,000.