Navy Lemoore SAR H-19E Helicopter Crash Kings Canyon National Park Saturday, June 25, 1966
CDR Mike Brattland, USN (Ret.) MHA Retired Affairs Director and Vice President of NHAHS
On April 27, 2022, Nick Gould contacted the Naval Helicopter Association Historical Society (NHAHS) regarding a Navy helicopter mishap in Kings Canyon National Park "Center Basin" area from the 1966 era. Nicks father who is an avid hiker and backpacker took two pictures of a crashed Navy helicopter on July 25, 1966 during a hiking and backpacking trip, in the Center Basin area of Kings Canyon National Park, California. Recently these pictures were given to Nick and he decided to contact NHAHS to see if he could learn more about this helicopter mishap and when it might have occurred.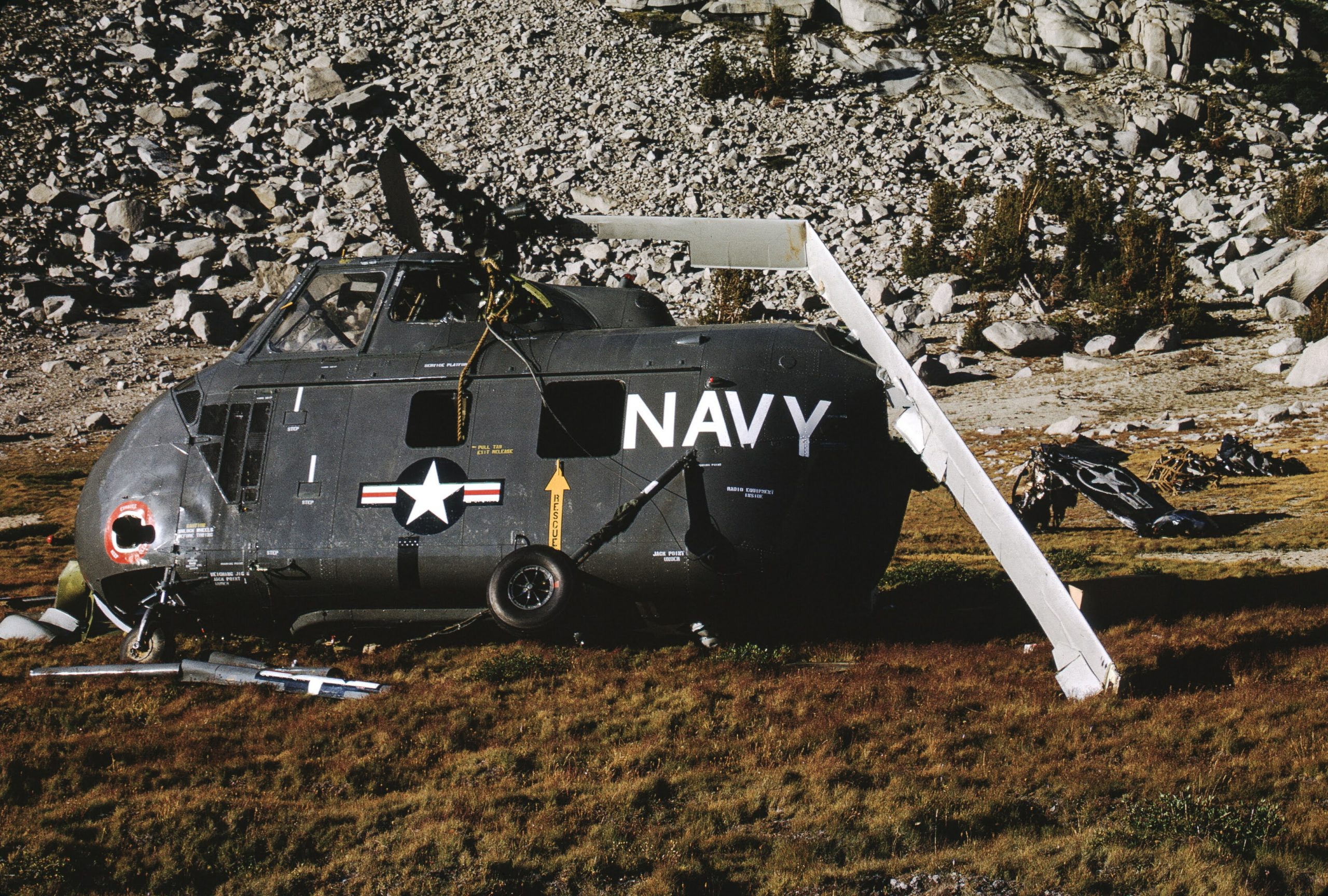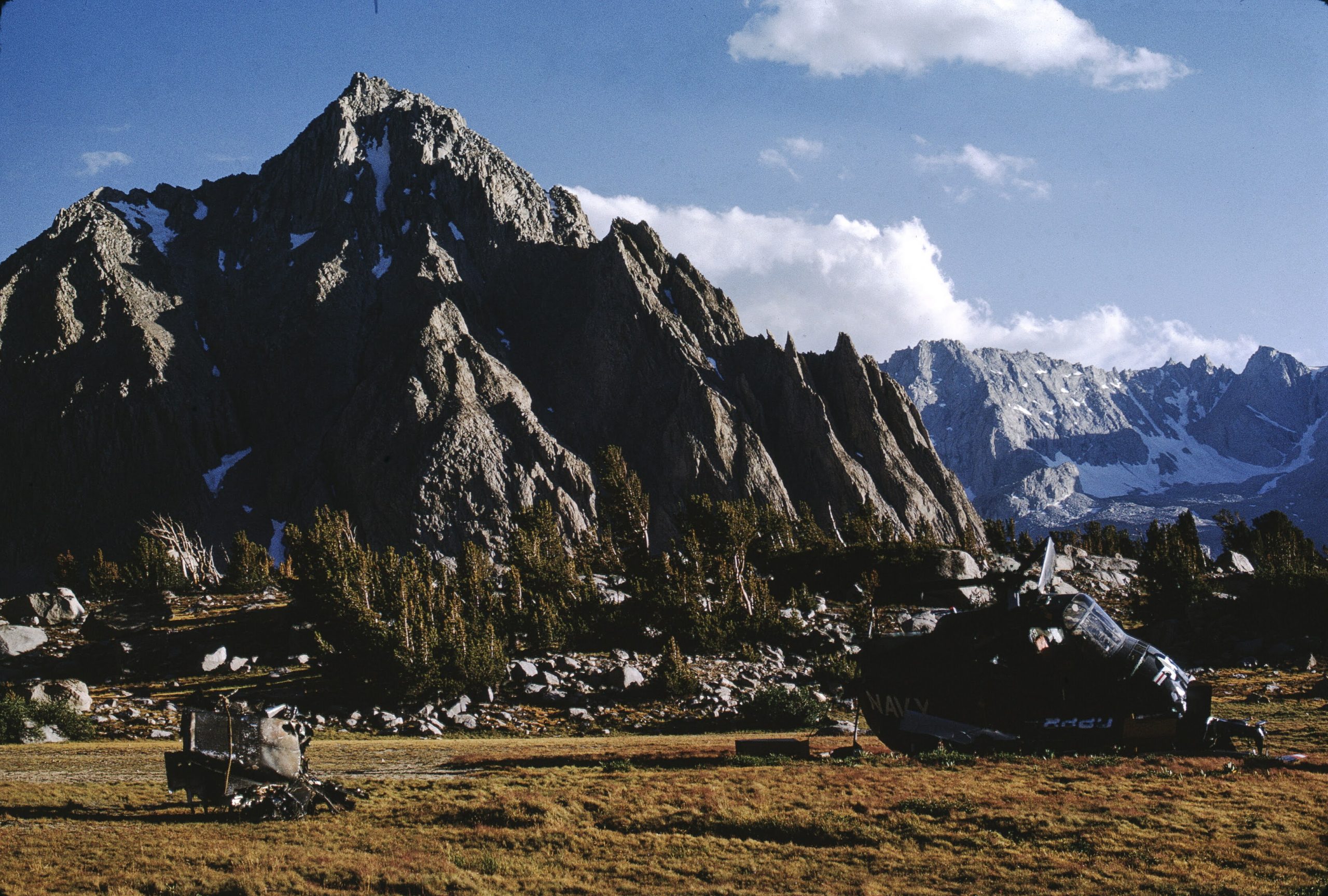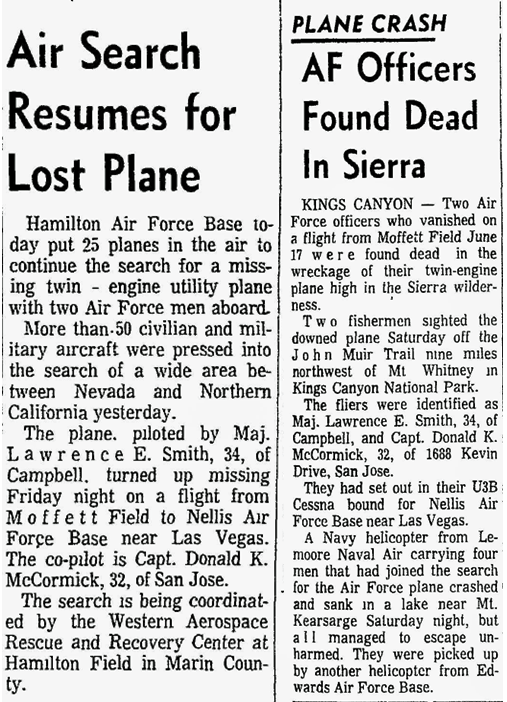 NHAHS did some initial research since we do not have mishap records in our historic collection and found two Oakland Tribune articles, the first from June 20, 1966 and the second from June 27, 1966 describing the events including the helicopter mishap in Kings Canyon National Park. A USAF crew and aircraft went missing on a June 17, 1966 flight from NAS Moffett Field to Nellis AFB. Searches were conducted over the next week, concluding with the discovery of the mishap USAF aircraft and crew in an area near Mount Whitney in Kings Canyon National Park..  A Navy SAR H-19E Helicopter homebased at NAS Lemoore with a crew of four crashed into a un-named lake in the Center Basin area of Kings Canyon National Park at night on Saturday, June 25, 1966 during search and recovery operations. This crew survived and were picked up by the USAF SAR Helicopter from Edwards AFB and taken to NAS China Lake. 
These are the basic facts about the this Navy aircraft mishap on June 25, 1966.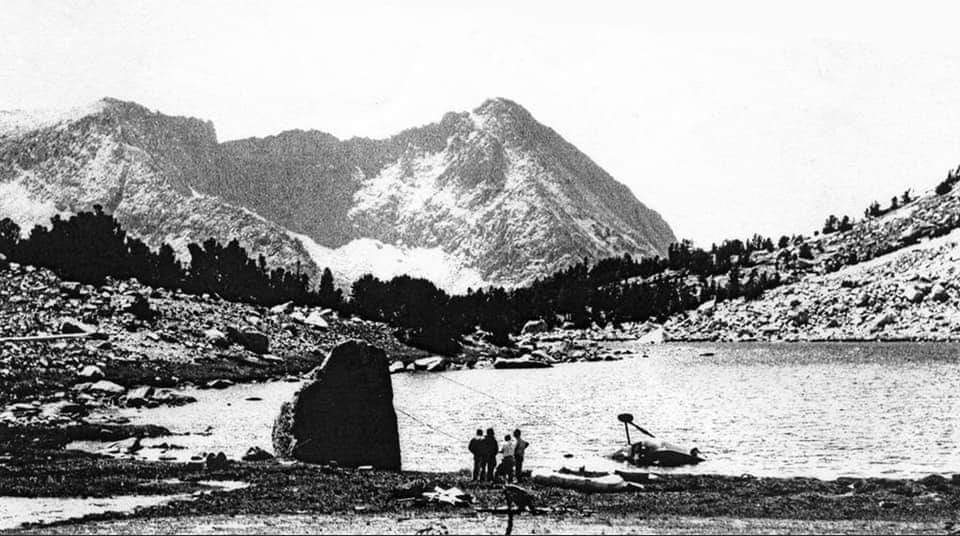 In an effort to learn more about this mishap, NHAHS shared the basic information above, including both pictures and both articles on Facebook and received contact from Craig Thorsen, a United Air Lines Captain/Check Captain, former USAF KC-135R pilot and a subject matter expert on Navy/Marine Corps HRS/H-19 Helicopters whose late father was a very early Marine Corps Helicopter Pilot flying this model helicopter during the Korean War. Craig knew about this particular aircraft and the mishap, its complete history and provided his personal black and white photo of this aircraft crashed in the un-named lake in the Center Basin area of Kings Canyon National Park. This helicopter was Navy Bureau Number 130222, Sikorsky C/N 55-352 and was accepted by the Navy on 19FEB53. This helicopter was only transferred to Lemoore Naval Air Station on June 17, 1966. Due to the June 25, 1966 mishap, It was transferred as a total loss on the Navy inventory on July 1, 1966.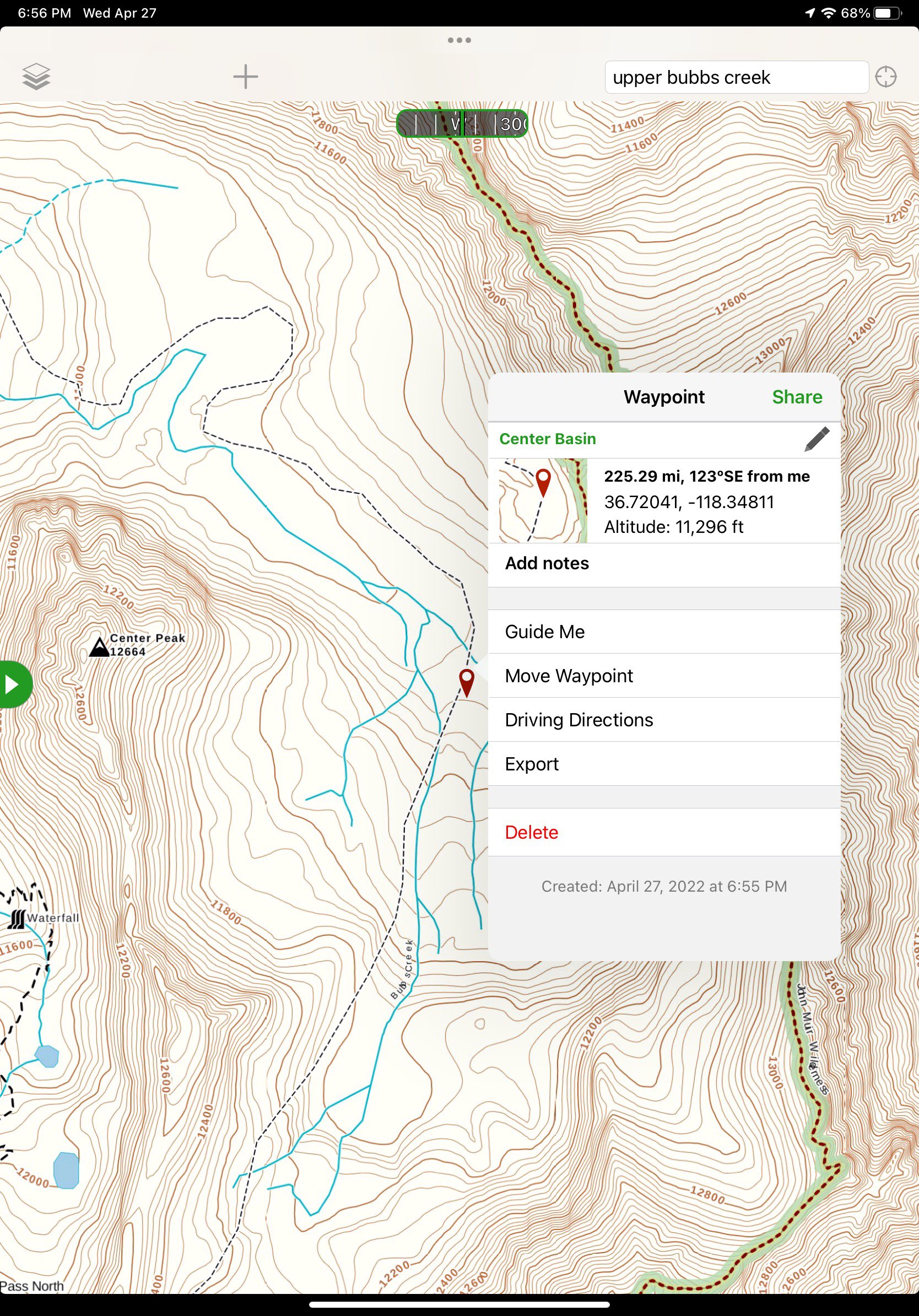 In further discussion with Craig Thorsen and Nick Gold, Nick's father provided the following map above of what his memory was for the aircraft wreckage location in his original pictures taken July 25, 1966. In examining this map, the two original photos and especially the black and white photo of mishap helicopter still partially submerged in the lake in the Center Basin area, Craig Thorsen took all of this information plus his personal Center Basin hiking experience, using a map below which I created plus Google Earth to locate which lake the aircraft crashed into above.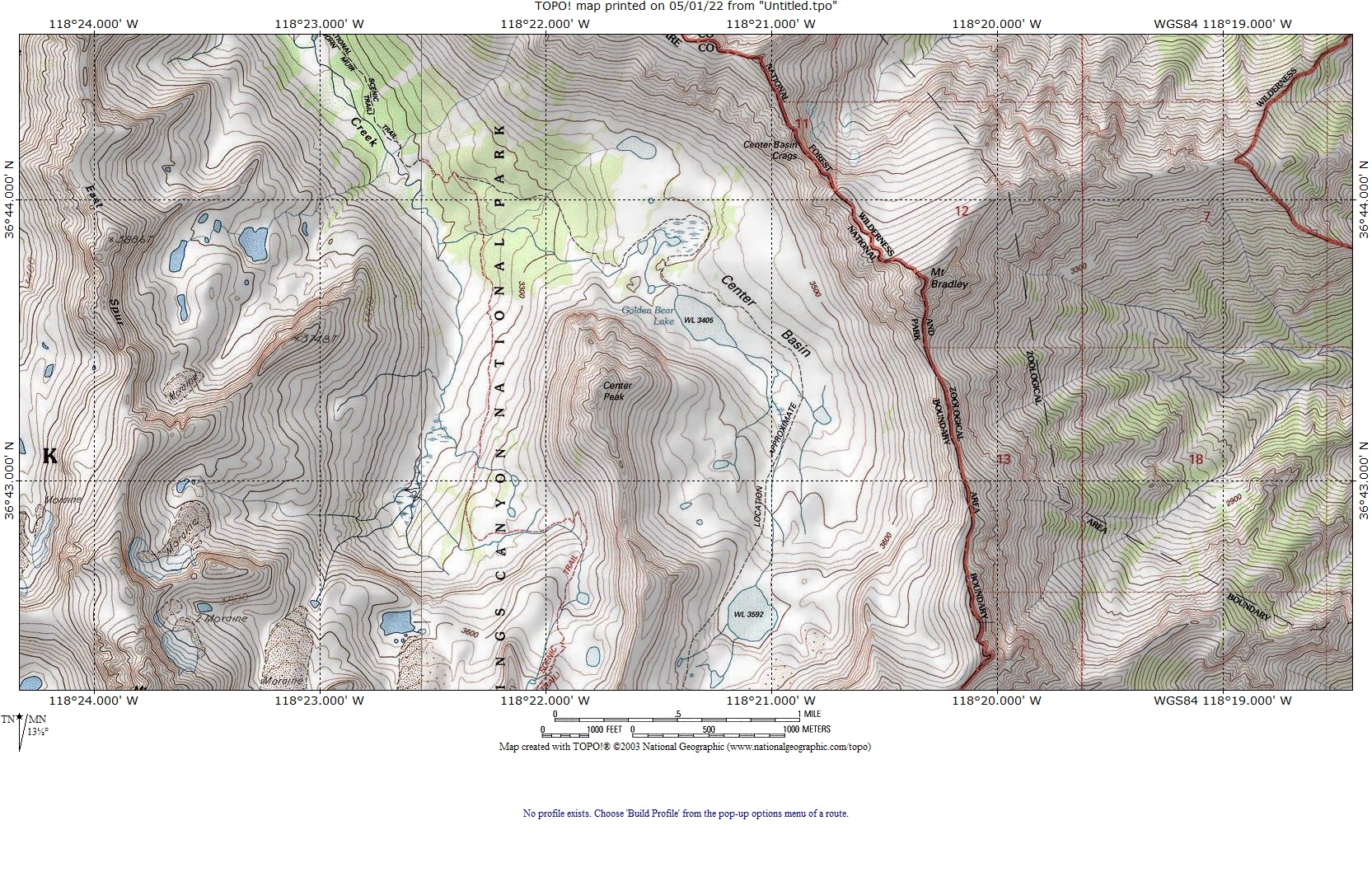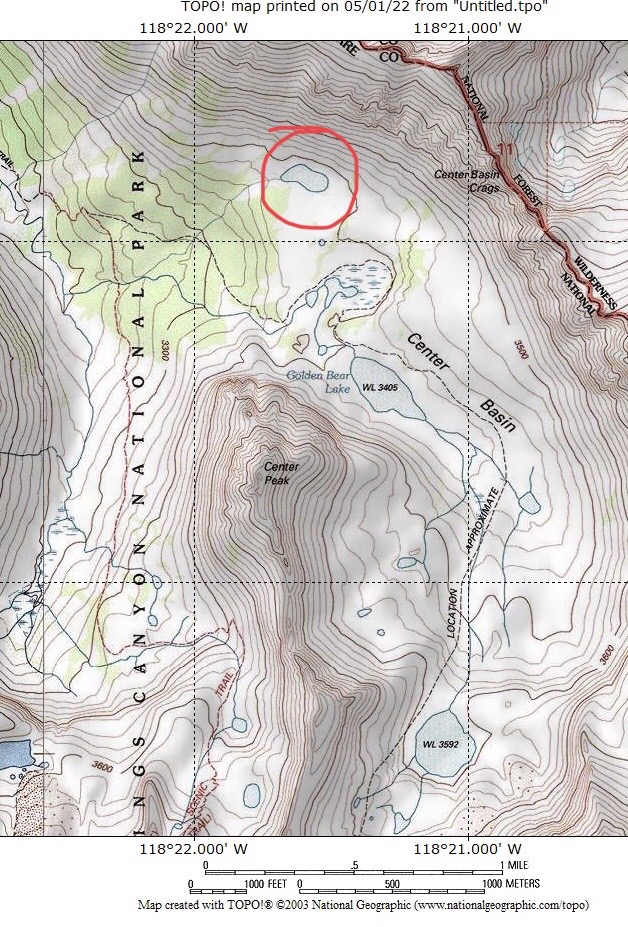 Craig Thorsen determined the actual Navy H-19E Helicopter Mishap Location to be a un-named lake in upper Center Basin, circled in red in the map above, Kings Canyon National Park.
So what has happened to the helicopter wreckage. From the pictures we can tell that between the mishap date June 25, 1966 and when Nick Gould's father viewed the wreckage and took his pictures on July 25, 1966, this helicopter wreckage had been removed from the lake and was up righted clear of the water. You can see the heavy rope line still hanging off the aircraft which must have been used in this process including seeing most probably Navy personnel working with a line and adjacent rock to remove this aircraft from the lake.
Is this wreckage still on Kings Canyon National Park after 57 years or was it removed in whole or part? We do not know the mishap crew names for this helicopter but hope to learn that in the future and find out what the actual issue was for ending up in the lake at night.
Anyone with additional information about this Navy Helicopter mishap from 1966 in Kings Canyon National Park, please reach out and drop me an email retiredaffairs@navalhelicopterassn.org or call me in the office at NHA onboard Naval Base Coronado (NAS North island) at 619435-7139.