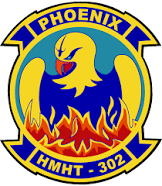 HMHT-302 Squadron Patch
History of HMHT-302
MAG-29 was commissioned 1 May 1972 at Marine Corps Air Station (Helicopter), New River, Jacksonville, North Carolina. MAG-29 was composed of Headquarters and Headquarters Support Squadron 29, Marine Air Base Squadron 29 and Marine Light Helicopter Squadron 268. The two squadrons were newly designated units awaiting assignment of personnel and material.
Four days after its activation, MAG-29 received its first aircraft, the UH-1N, directly from Bell Helicopter in Fort Worth, Texas. Eleven days later, the Group more than doubled in size with the addition of Marine Light Helicopter Squadron (HML) 167, Marine Attack Helicopter Squadron (HMA) 269 and Marine Observation Squadron (VMO) 1 from MAG-26. Less than one year after it was activated on 1 and 2 Feb 1973, MAG-29 was already conducting operations as HML 167 worked with the IRS to search for and destroy illegal stills throughout coastal North Carolina.
During 1982, the first phases of the MAG-29/MAG-26 reorganization were completed. UH-1N and AH-1T aircraft comprised HML-167 and HMA-269 and MAG-29 received its first Medium and Heavy Helicopter Squadrons. Marine Medium Helicopter Squadron (HMM) 162 and Marine Heavy Helicopter Squadron (HMH) 464 transferred to MAG-29 from MAG-26. During this period, HMH-464 demonstrated the capabilities of the new CH-53E as it was introduced into the Marine Corps inventory.
From the mid to late 1980s, MAG-29 supported multiple Marine Amphibious Unit deployments to the Mediterranean and deployments to Norway in support of Exercise BATTLE GRIFFIN. Throughout 1989 and 1990, MAG-29 participated in numerous exercises and operations which culminated with all MAG-29 units deployed in support of Operation DESERT SHIELD/STORM and Landing Force, Sixth Fleet commitments.
In 1993, MAG-29 units supported United Nations Operations RESTORE HOPE/CONTINUE HOPE in Somalia and DENY FLIGHT/PROVIDE PROMISE in the former Yugoslavia. In the summer of 1994, MAG-29 personnel and aircraft supported Operation RESTORE DEMOCRACY in Haiti.
On 7 June 1995, MAG-29's continued support of Operations DENY FLIGHT/PROVIDE PROMISE was highlighted when HMM-263, with a detachment of Marines from HMH-464, escorted by AH-1W Cobra Helicopters from HML/A-269, successfully rescued downed U.S. Air Force pilot Captain Scott O'Grady.
During the early part of 2000, MAG-29 deployed HMM-263(REIN) to the Mediterranean and Adriatic for continued operations in Kosovo. The remaining squadrons deployed in support of ASCIET-00 and formed the newly activated SPMAGTF-8, which deployed to Vieques, Puerto Rico in support of Operation EASTERN ACCESS to clear protesters off the training area.
After the terrorist attacks on the United States on September 11, 2001, MAG-29 prepared for support operations in New York City and contingency operations overseas. HMM-365(REIN) was quickly deployed and ordered to be among the first troops into Afghanistan in support of Operation ENDURING FREEDOM. Two years later MAG-29(REIN) deployed in January 2003 to become the 3rd Rotary Wing Aircraft Group for 3d Marine Aircraft Wing (MAW) in support of Operation IRAQI FREEDOM (OIF).
In October 2003, MAG-29 deployed a CH-53E detachment to the Horn of Africa in support of Combined Joint Task Force Horn of Africa (CJTF HOA) as part of Operation ENDURING FREEDOM. Over the next three years, MAG-29's enduring legacy was the ability to provide well-trained and equipped aviation units in support of world-wide combat operations.
From the Summer of 2005 to the Fall of 2006, MAG-29 oversaw the preparation and deployment of four MEU ACEs, four Marine Helicopter Light/Attack Squadron(HML/A) deployments to OIF, four CH-53E detachments in support of CJTF HOA for OEF missions and one Special Marine Air Ground Task Force(SPMAGTF) in support of relief operations after Hurricane Katrina.
In September 2005, MAG-29 formed a composite ACE of Marine Corps helicopters in support of SPMAGTF Katrina by using elements from five different squadrons to ensure commitments to the relief effort were completed. The six CH-53Es and two CH-46 aircraft provided assistance to over 4,000 people affected by what has been characterized as the most destructive natural disaster in U.S. history.
From February 2007 to February 2008 MAG-29(REIN) deployed to Al Asad Airbase, Iraq where it conducted combat operations as a Reinforced MAG, comprised of a Headquarters Squadron and 12 tactical squadrons from three different Marine Aircraft Wings and the U.S. Army. Throughout the year-long deployment the MAG provided exceptional support to Multi-National Forces-West (MNF-W) in the execution of OIF 06-08. During its combat deployment, MAG-29 (REIN) Squadrons flew in excess of 111,000 combat flight hours, supported the tactical movement of 187,000 passengers, and the aerial medical evacuation of 4,500 coalition and Iraqi force personnel. In February 2008, MAG-29 was replaced by MAG-16 and redeployed to MCAS New River.