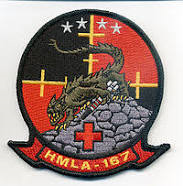 HMLA-167 Squadron Patch
History of HMLA-167
On 1 April 1968, at Marble Mountain Air Facility, Republic of Vietnam, Marine Light Helicopter Squadron-167 was commissioned. From commissioning date until June of 1971, HML-167 would participate in operations against communist forces in the Republic of Vietnam. Flying UH-1E's for the duration of its tenure in Vietnam, HML-167 achieved distinction with the following awards: Commanding General Third MAF "Outstanding Performance" (1968), Presidential Unit Citation with a Bronze Star, Meritorious Unit Citation with a Bronze Star, National Defense Service Streamer, Vietnam Cross of Gallantry with a Palm, and the Vietnam Meritorious Unit Citation. Additionally, on 21 June 1969, LtCol. T.F. Miller, the HML-167 Commanding Officer, dropped the first helicopter bomb. This was accomplished using the Helicopter Trap Weapon (HTW). In May 1971, HML-167 was the last operating helicopter squadron in the Republic of Vietnam. On 26 May 1971, the squadron held its official stand down in the Republic of Vietnam, concluding over 60,000 combat flight hours.
On 19 June 1971, HML-167 was transferred to MCAS(H) New River, Jacksonville, NC and became a part of MAG-26, 2d Marine Air Wing. On 15 June 1971, the last two aircraft in the Republic of Vietnam departed and flew aboard USS Dubuque.
In April of 1972, HML-167 received the Marine Corps' first UH-1N and became the primary UH-1N squadron for the Marine Corps. HML-167 acquired the additional responsibilities as training squadron and model manager for the UH-1N. On 16 May 1972, HML-167 was transferred to Marine Aircraft Group 29 at the same Air Station. The squadron performed the first coast to coast UH-1N flight in 1973.
Awarded the Meritorious Unit Commendation in 1979, HML-167's dedication and professionalism was evident throughout 1980 as well. From 11 to 22 August 1980 personnel and equipment from the squadron deployed throughout Haiti to provide disaster relief after the effects of Hurricane Allen. When Hurricanes David and Frederick hit the Dominican Republic, HML-167 was on the scene to provide disaster relief from 1 to 17 September 1980.
In 1982, HML-167 was reorganized and transferred back to MAG-26 at the same Air Station. Under MAG-26 command, the squadron continued to demonstrate its commitment to standards of excellence. This was evident by HML-167's role in the peacekeeping force in Lebanon from October 1982 through November 1983. On October 1983, HML-167 achieved ten years of mishap free flying, accumulating approximately 65,00 flight hours. Through the years HML-167 was awarded the following: CNO Aviation Safety Award (1972,76, 78, 81, 92, 93), FMFLANT Aviation Award (1975, 83), National Defense Transportation Award 1981, and Commandant of the Marine Corps Certificate of Commendation 1981.
HML-167 received its first AH-1T Cobras on 17 January 1984, and became HML/A-167 on 1 April 1986. It was the first unit to be officially designated as a Light/Attack Squadron with a permanent composite mix of UH-1N and AH-1T Helicopters.
Throughout 1986 and 1987, HML/A-167 demonstrated its flexibility by supporting four independent detachments simultaneously. HML/A-167's main body was deployed as the Aviation Combat Element (ACE) for contingency MAGTF 2-88 in the Arabian Gulf participating in Operation Praying Mantis. MAGTF 2-88 conducted an assault on the Sassan Gas/Oil separation platform complex in response to the Iranian mine attack on the USS Samuel B. Roberts. HML/A-167 also escorted eleven "Earnest Will" oil tanker convoys as well as ten minesweeper transits during its deployment in the Persian Gulf and was subsequently awarded the Joint Meritorious Unit Commendation. The rear detachment not only provided administrative support for the main body, but also maintained flight operations in support of FMFLANT, including a deployment to Puerto Rico during Ocean Venture 88. Upon return from the Persian Gulf, HML/A-167 deployed to 29 Palms to support Combined Arms Exercises 9/10- 88. During the same time frame HML/A-167 provided a detachment to Teamwork 88. The year closed out with another detachment leaving in support of an LF6F deployment.
The operational tempo of 1988 continued into 1989 with detachments from HML/A-167 supporting Alpine Warrior in Wisconsin, Cold Weather 89 in Norway, as well as Solid Shield and a squadron deployment to MCAS Yuma Arizona. As 1989 came to a close, HML/A-167 took delivery of its first three AH-1W Super Cobras during a ceremony at the National Helicopter Association's annual convention.
While the main body of HML/A-167 participated in CAX 3/4-90, a detachment of UH-1N's participated in COMMARFORCARIB 1-90 in support of Operation "Topkick," providing presidential support during President Bush's visit to Colombia for a drug summit. Beginning in June, detachments from HML/A-167 supported 22d MEU during the largest Noncombatant Evacuation Operation (NEO) since the evacuation of Saigon with the evacuation of over 3,000 American citizens and foreign nationals from the embattled capital in Monrovia, Liberia. In August, as the squadron was deploying to 29 Palms, California for CAX 9/10-90, HML/A-167 was recalled for deployment in support of Operation Desert Shield. Six AH-1W's and sixteen pilots were detached to MAG 29 and subsequently deployed to Saudi Arabia later that month and would remain in theater through the completion of Operation Desert Storm. Separate detachments from HML/A-167 would also participate in operation "Provide Comfort" and "Encourage Hope" in eastern Turkey and northern Iraq during the spring and summer months of 1991. While squadron detachments continued to support operations in southwest Asia, HML/A-167 continued to train and prepare crews for Landing Force Sixth Fleet commitments while continuing to accept deliveries of AH-1W helicopters and training maintenance personnel on maintaining the new fleet of Cobras.
CAX 3/4-92 ushered in the new year marking the beginning of a busy year that would see the squadron support three detachments in response to growing global crises. Detachments from the squadron would eventually begin participating in operation "Provide Promise" in the Adriatic Sea during the Balkans crisis. As these commitments rolled into 1993, HML/A -167 participated in CAX 3-93. A special purpose MAGTF, formed with a detachment of UH-1Ns, embarked aboard the aircraft carrier USS Theodore Roosevelt (CVN-71) in response to the continuing crisis in the Balkans, supported operation "Southern Watch" in the Red Sea during renewed tensions with Iraq. This deployment marked the first time Marine Ground and helicopter assets were embarked aboard an aircraft carrier. Assuming the air contingency force in the spring, HML/A-167 would see it activated in October to support "Operation Support Democracy" in expectation of contingency operations in Haiti. This operation was the first time Warrior aircraft executed an immediate embarkation aboard amphibious transport. HML/A-167 performed superbly, establishing another HML/A-167 "first." Support for operations in the Caribbean Sea continued into 1994 while HML/A-167 was tasked to support counter drug operations within the United States. HML/A-167 won the CNO's Safety Award for 1992 and 1993.
1994 was much like the prior year. The squadron continued to train the detachments that excelled during overseas deployments. Squadron detachments supported Operation "Deny Flight" off of Bosnia and assisted in the withdrawal of United States forces from Somalia. In October, HML/A-167 deployed to Cecil Field, FL, and the next month they deployed to MCAS Beaufort, SC, to support Exercise "Hornet's Nest."
In January 1995, the squadron deployed to Twenty Nine Palms, CA, to support CAX 3/4-95. After CAX, much of the squadron went to support WTI Class 1-95.
On 28 February 1995, the squadron became the first HML/A on the East Coast to receive an AH-1W Super Cobra with the Night Targeting System. This FLIR and Laser designator was a giant leap in technology and capability for the Warriors.
From 1995-2001, the Warriors supported all MAG-26 designated Marine Expeditionary Unit (LF6F) deployments. These detachments supported numerous contingency operations to include: Joint Endeavor in Bosnia, Silver Wake in Albania and Guardian Retrieval and Noble Obelisk in Africa. The Squadron also sourced one 2 plane UH-1N detachment to Special Purpose MAGTF-8 in support of Operation Assured Response/Quick Response in Liberia, Africa. The Special Purpose MAGTF Huey detachment also conducted the medical evacuation of numerous civilians from the Merchant Vessel Borren Mill after it caught fire and was rendered unseaworthy 100 miles off the West Coast of Africa. In the fall of 1998, Special purpose MAGTF/JTF Full Provider supported humanitarian relief operations in Puerto Rico, Dominican Republic and Haiti with two Warrior UH-1Ns after Hurricane George ripped through the Caribbean.
The Warriors completed another milestone in early 2002 by passing 75,000 mishap free flight hours. This milestone was passed while the Squadron was deployed in support of CAX 3/4-02 in Twenty-nine Palms, California.
In 2003 HML/A-167 supported MAG-29 by providing 7 AH-1Ws and 2 UH-1Ns to HML/A-269, as well as 17 personnel in support of Operation Iraqi Freedom. The Squadron also provided 3 additional pilots to support 3rd MAW, MAG-29, and 2nd MEB. The rest of the Squadron remained in the USA and continued to support Marine Forces, Atlantic and II MEF. The Squadron participated in the largest Marine Corps Group Exercise ever, when MAG-26 deployed to Yuma, Arizona and conducted Diamond Thrust –03. But the true accomplishment of the Squadron at this time was the absolutely tremendous maintenance effort accomplished by the young Marines of the Maintenance Department. Their ability to fix and turn around numerous aircraft that no one else had been able to fix was truly noteworthy.
In the fall of 2003 HML/A-167 again headed out to Yuma, AZ to participate in Exercise Striking Hawk, put on by MAG-14. Upon return from Striking Hawk the Warriors were informed that they were going to be supporting Operation Iraqi Freedom in 2004. 167 would again fall under operational control of MAG-16, the original parent MAG of HML/A-167. In preparation for joining West coast and East coast units in Iraq, MAG-16, in conjunction with MAWTS-1, developed an exercise to integrate its various units prior to deploying. HML/A-167 once again crossed the country in Jan of 2004 to participate in Exercise Desert Talon in Yuma, AZ.
In February 2004 HML/A-167 deployed in support of OIF II. The Warriors deployed 18 AH-1Ws, 9 UH-1Ns, and a small detachment of Marines in January aboard the USS Bonhomme Richard. After a CAM flight to Kuwait they met up with their aircraft in the Persian Gulf. On the 22nd of February all 27 aircraft made the transit from Kuwait to Al Asad Iraq. This was the home of HML/A-167 for the next six months. During increased operations in Fallujah in April of 2004, HML/A-167 sent a detachment to help with surge operations from Al Taquddam. The Warriors also operated from three forward operating bases (FOBs), FOB Al Quaim, FOB Korean Village and FOB Kalsu.
At the same time the Warriors were in Iraq, HML/A-167 had a MEU detachment with the 22nd MEU operating out of Afghanistan. The detachment and it's four Cobras and two Hueys were overhead for many of BLT 1/6's successful missions. The ACE for the MEU operated out of Khandhar Airfield, outside of Khandhar, Afghanistan and flew in support of Marine, Army, Special Forces, and Afghan National Army operations in southwestern Afghanistan.
On the 22nd of August 2004 the Warriors returned to New River. They fell back under the command of MAG-26. Having left their aircraft in Iraq for follow on units, the Warriors began to reassemble their squadron. The first aircraft delivered to 167 were former UDP aircraft from Okinawa. These were dropped off by a Russian transport aircraft to MCAS Cherry Point. HML/A-167 would eventually accept and transfer over 111 aircraft during then next year.
In November 2004 HML/A-167 transferred to MAG-29, as MAG-26 prepared to deploy in support of OIF. Three months later in, February of 2005, a detachment of the Warriors were again on the road headed to Camp Pendleton to support RCAX 11, 12, and 13. Upon their return many of these Marines comprised the personnel sent to the 22nd MEU for their upcoming deployment.
The rest of the squadron was in preparation for another deployment to Iraq by again traveling to Yuma, AZ in June of 2005 to participate in Desert Talon 2-05 put on by MAG-29 and MAWTS-1.
On the 7th of August 2005 HML/A-167 departed MCAS New River and rejoined MAG-26 in Al Asad, Iraq in support of OIF 4-06.2. This trip to Iraq would be the third in less than three years for many of the Marines. This experience along with the Warriors inherent professionalism and work ethic ensures yet another successful deployment.