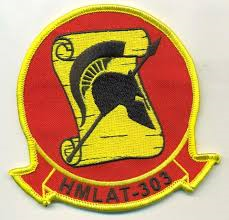 HMLAT-303 Squadron Patch
History of HMLAT-303
Marine Helicopter Training Squadron 303 was activated with four officers and three enlisted Marines on 30 April, 1982 and redesignated Marine Helicopter Light Attack Training Squadron 303 (HMLAT-303)in 2005. Today the squadron has grown to over 400 Marines and Sailors and over 30 aircraft. Based at Marine Corps Air Station Camp Pendleton, California, HMLAT-303 conducts an extensive training syllabus on the UH-1Y, AH-1Z and AH-1W helicopters to include familiarization, navigation, ordnance, formation, night vision goggle, terrain and instrument training.
To date, HMLAT-303 has prepared well over 3000 Cobra and Huey pilots for the Marine Corps Fleet Marine Force, Navy and other NATO countries. HMLAT-303 is the only Marine Corps squadron tasked with training newly designated Marine Light Attack Helicopter replacement, refresher and conversion pilots. In 2007, HMLAT-303 also acquired the mission of spearheading the fleet's conversion to the newly upgraded UH-1Y and AH-1Z aircraft. In addition to flight training, HMLAT-303 manages fleet wide Marine Corps and Navy NATOPS standardization programs for the H-1 community.
The squadron periodically deploys to Yuma, Arizona where training efficiency is enhanced due to proximity of ordnance delivery ranges and superb weather conditions.
In their thirty one year history, the Marines and Sailors of HMLAT-303 truly have lived up to the challenge directed by the Commandant of the Marine Corps, "…that HMLAT-303 will provide the leadership and professional performance to set new standards in aircrew training.