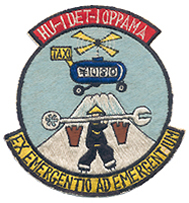 HSL-41 Squadron Patches
History of HSL-41 Seahawks
When commissioned on 21 January 1983, as Helicopter Anti-Submarine Light 41 (HSL-41) it was the Navy's first Light Airborne Multi-Purpose System (LAMPS) MK III squadron and flew the Sikorsky SH-60B helicopter. HSL-41 trained pilots and aircrew for the west coast HSL squadrons in San Diego, Hawaii, and Japan.
On 8 December 2006, HSL-41 was redesignated from Helicopter Anti-Submarine Squadron Light 41 to Helicopter Maritime Strike Squadron 41. Helicopter Maritime Strike Squadron 41 (HSM 41) is the Navy's Fleet Replacement Squadron dedicated to training new MH-60R pilots and aircrew.
In February 2008, HSM-41 surpassed 140,000 flight hours without a major aircraft incident and celebrated its 25th anniversary. Since 1983, HSM-41 has trained over 3,000 Fleet Replacement Pilots and Aircrew for service in LAMPS MK III and MH-60R fleet squadrons. In 2013, the squadron reached 170,000 flight hours without a major incident.
Helicopters have been a vital part our US Naval forces. With the introduction of helicopters the 101st Airborne division started deploying into battle mainly from helicopters as opposed to airplanes. An the helicopter patches are a representation of HSL-41 / HSM-41 squadron missions and deployments.