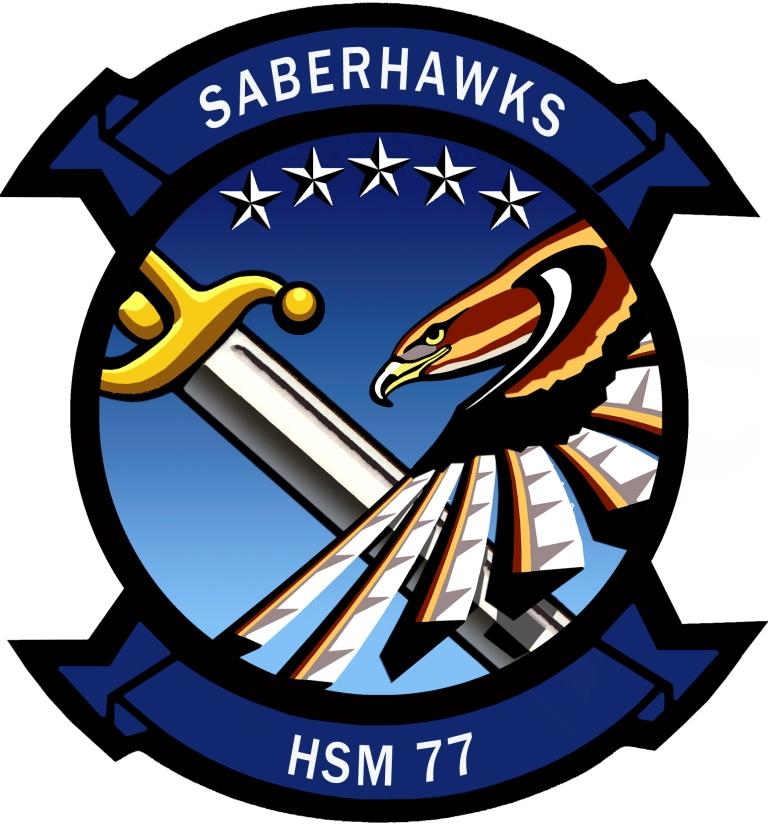 HSL-47 / HSM-77 Squadron Patches
History of HSL-47 / HSM-77 Saberhawks
The SABERHAWKS of Helicopter Antisubmarine Squadron Light FOUR SEVEN were officially established on 25 September 1987 on NAS North Island. The primary mission of HSL 47 is to provide combat ready detachments to Pacific Fleet surface combatants. HSL 47 outfits these detachments with highly qualified, motivated, and skilled aircrew and maintenance personnel, coupled with fully mission capable aircraft maintained in optimum material condition.
On April 2, 2009, HSL-47 transitioned to Helicopter Maritime Strike Squadron 77 (HSM-77).  The Saberhawks were attached the USS ABRAHAM LINCOLN Strike Group and deployed with the MH-60R until August of 2012. Their outstanding reputation led to their selection to fight from the tip of the spear with Battle Force 7th Fleet. They operated their specialized team of warfighters and advanced aircraft with Carrier Air Wing FIVE and the USS GEORGE WASHINGTON (CVN 73) Strike Group. On 16 August 2015, HSM-77 along with Carrier Air Wing FIVE, underwent a hull transition to their present home onboard the USS RONALD REAGAN (CVN 76). 
Helicopters have been a vital part our US Naval forces. With the introduction of helicopters the 101st Airborne division started deploying into battle mainly from helicopters as opposed to airplanes. An the helicopter patches are a representation of HSL-47 / HSM-77 squadron missions and deployments.