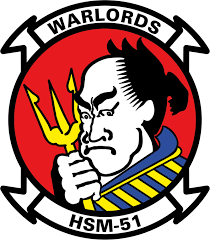 HSL-51 / HSM-51 Squadron Patches
History of HSL-51 / HSM-51 Warloads
HSL-51 was established 3 October 1991 and transitioned to HSM-51 on 7 March 2013. HSL-51 / HSM-51 is the largest helicopter squadron stationed in the Seven Fleet in NAS Atsugui, Japan. As you see on some of HSL-51 and HSM-51 patches, they embody the spirit and tenets of the Samurai warrior depicted on their unit insignia, Miyamoto Musashi.
Musashi was famed and accomplished 16th century warrior, artist, sculptor, and calligrapher and  master swordsman who created and perfected a two-sword kenjutsu technique called niten'ichi ("two heavens as one"). In this technique, the swordsman simultaneously uses both a large sword (katana) and a "companion sword" (wakazashi).
Helicopters have been a vital part our US Naval forces. With the introduction of helicopters the 101st Airborne division started deploying into battle mainly from helicopters as opposed to airplanes. An the helicopter patches are a representation of HSL-51 / HSM-51 squadron missions and deployments.