Captain Dick Johnson, USN (Ret) passed away on August 4, 2016 of a cardio arrest following a medical procedure. CAPT Johnson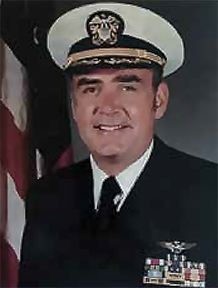 was a former HSL commanding officer (H-2 pilot). He also flew H-53s and helped sweep the Haiphong Harbor following the Vietnam War. He was active in the community, church, and his family.
Biography
Born in Minneapolis, MN on September 8, 1941. He enter the Naval Aviation Cadet Program in 1961, and was designated a naval aviator on May 1963. He and his finace Melodee were married in June 1964.
Johnson's first assignment was with HC-4; he deployed throughout the world including one tour as Officer in Charge of the helicopter detachment for Commander, U.S. Sixth Fleet. Richard welcomed his first daughter Beth in August 1966. In November of that year, he was transferred to training component of HC-4 and served as Training Officer.
In May 1969, he welcomed his son Rick and then reported to Helicopter Attach (Light) THREE (HAL-3).  Johnson served with DET Four in direct support of Operation GIANT SLINGSHOT. After his tour in Vietnam, he reported to the Naval Post Graduate School and earned his Bachelor of Art Degree.
Captain Johnson was assigned to HM-12 in July 1972. He participated in Operation END SWEEP in Haiphrong Harbor and later served as Officer in Charge. Detachment Ismailia, on the Suez Canal. His primary duties included Safety and Operations Officer and RH-53 NATOPS evaluator.
In August 1975, he reported the Naval War College and attended the Command and Staff School. Upon completion of his studies, he was assigned to HSL-31 were he served as Executive Officer (XO) from December 1976 to March 1978. He was assigned as XO to HSL-35 in April 1978 and assumed command later in July 1979. During his tour as commanding officer with HSL-35, the squadron earned both the COMNAVAIRPAC Battle Efficiency "E" award, the CNO Safety Award, and the runner-up for CINCPACFLT Golden Anchor Award. In December 1980, Johnson was assigned to the USS New Orleans (LPH-11) and served as the Operations Officer.
In August 1982, CAPT Johnson assumed command of HSL-31; and later assigned as the Operations and Plans on the staff of Commander, Naval Forces Japan. It is also when he welcomed his second daughter Brianne born January 1985. In November 1986, he assumed duties as Staff Ops and Plans, Fleet Group, San Diego.
In April 1990, he assumed command of the Naval Alcohol Rehabilitation Center, Miramar, the largest residential treatment facility in the Department of Defense. He retired January 1992. After retirement, He loved being with his family and friends, traveling, gardening and singing with the Alpine Chotale.