RADM Frederic Richard Ruehe, USN (Ret.)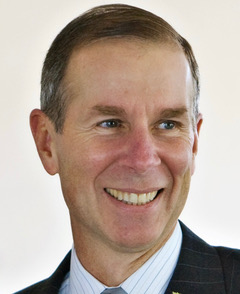 RADM Frederic R Ruehe (USN Ret.). age 70, passed away July 18, 2021 after a thirteen year battle with a rare dementia. Known as Rick, Frederic was born May 3, 1951 at Fort Jackson, South Carolina to Richard and Florence Ruehe. Rick married Catherine Lynn Adkins on December 23, 1972 in Aurora, Illinois. They had two children Emily Puckett and Eric Ruehe.
Rick was raised in a military family and traveled the world as a child. He attended the University of Illinois on a NROTC scholarship. Rick became a helicopter pilot and served in the Navy for 34 years in many leadership roles before retiring in 2008 as a Rear Admiral.
Rick was a humble and kind man with a wonderful sense of humor. His smile softened everyone he met. He listened, was not quick to judge, and took care to consider all points of view. Rick served his country by leading, commanding and teaching the next generation of Sailors and Marines.
Rick was an incredible father who loved his children, taught them to be kind and encouraged them to make their own paths. He instilled values in them through his own example, and supported them as they grew into adults with their own families.
Rick loved his wife, Cathy, who loved and supported him every step of the way. He received remarkable and loving care during his last few years at the Southern Utah Veterans Home in Ivins, Utah.
Rick is survived by his wife, Catherine A Ruehe; his children Emily Puckett and Eric Ruehe; his grandchildren, Iyla Ruehe and James Puckett; as well as his brother John Ruehe and sisters Ann Adams and Cathy Moore Ruehe.
In lieu of flowers, Rick's family requests that you consider donating to: The Association for Frontotemporal Lobar Degeneration, theAFTD.org
LTJG Ruehe, USN received his wings as a Naval Aviator on January 23, 1976 at HT-18, NAS Ellyson Field, Pensacola, Florida. LTJG Ruehe was Navy Helicopter Designator Number R-13768.
Obituary for Frederic Richard Ruehe | Hughes Mortuary
Fellow Flag Officers, 
 It is with deep regret I inform you of the passing of Rear Admiral Frederic Richard "Rick" Ruehe, U.S. Navy, (Retired) on 18 July 2021 at age 70.  Rick entered the U.S. Navy in 1969 via the Naval Reserve Officer Training Corps and served as a helicopter pilot until his retirement in 2008 as Commander, Navy Region Mid-Atlantic.  His commands included HSL-33, HSL-40, USS BELLEAU WOOD (LHA-3,) Navy Region Southwest, Amphibious Group ONE, and U.S. Naval Forces Japan. 
 On 15 September 1969, Rick Ruehe took the oath of office as a midshipman in the Naval Reserve Officer Training Corps at the University of Illinois.  He graduated with a Bachelors Degree in Psychology and was commissioned an ensign on 6 June 1973.  Ensign Ruehe then reported to San Diego as Electrical Officer and Damage Control Assistant on the guided missile destroyer USS HENRY B. WILSON (DDG-7.)  Selected for Naval Aviation, ENS Ruehe reported to Naval Aviation Schools Command at Naval Air Station Pensacola in December 1974.  Following flight training in Training Squadron ONE and Training Squadron TWO, Lieutenant (junior grade) Ruehe reported to Helicopter Training Squadron EIGHT in October 1975, followed by additional training in Helicopter Training Squadron ONE EIGHT.  In January 1976 he was awarded his Navy wings of gold.  
 In February 1976, LTJG Ruehe reported to Helicopter Anti-Submarine Squadron Light THREE ONE (HSL-31) as a replacement pilot.  In June 1976, he reported to HSL-33 in San Diego as an SH-2F Seasprite pilot and Squadron Public Affairs Officer, deploying with aviation detachments aboard guided missile cruiser USS STERRETT (CG-29) and destroyer USS PAUL F. FOSTER (DD-964.)  He was promoted to lieutenant in July 1977.  In June 1979, Lieutenant Ruehe returned to training squadron HSL-31 as Assistant Training Officer and instructor pilot.  During this period he earned a Masters Degree in Systems Management from the University of Southern California.  In May 1982, LT Ruehe reported to Commander Anti-Submarine Warfare Wing, U.S. Pacific Fleet Light Airborne Multi-Purpose System (LAMPS) Detachment, Cubi Point, Philippines as a detachment Officer-in-Charge providing maintenance and supply support to helicopter detachments deployed to the Western Pacific and Indian Ocean.  He was promoted to lieutenant commander in August 1982. 
 In August 1984, he underwent refresher training at HSL-31 before resuming operational flying from NAS North Island in November 1984 with HSL-35, serving as Operations Officer and Detachment Officer-in-Charge.  In November 1986, Lieutenant Commander Ruehe was sent to Washington DC as the Military Personnel Analyst on the staff of the Director, Total Force Programming/Manpower (OP-12.)   He was promoted to commander in September 1988.  
Following more refresher flight training at HSL-31, Commander Ruehe assumed duty as Executive Officer of HSL-33 in San Diego in February 1989 and assumed command of the squadron in January 1990.  In February 1991 he reported aboard amphibious assault ship USS TARAWA (LHA-1) as Air Officer for two deployments to the Arabian Gulf and Indian Ocean, participating in Operations DESERT SHIELD and DESERT STORM and humanitarian Operation SEA ANGEL in Bangladesh.  In November 1992, CDR Ruehe reported to Mayport, FL and assumed command of HSL-40, which had transitioned to the new SH-60B LAMPS Mk. III Seahawk. 
Promoted to captain in July 1994, that same month he commenced a training track at the Senior Officer Ship Material Readiness Course at Newport, RI before assuming duty as the Executive Officer of amphibious assault ship USS BELLEAU WOOD (LHA-3) in October 1994, forward deployed to Sasebo, Japan and among other exercises and operations serving as the command platform for Operation UNITED SHIELD (landing Marines ashore in Somalia to cover the end of the United Nations mission.)  In reaction to provocative Chinese missile tests intended to intimidate Taiwan, in March 1996, BELLEAU WOOD participated in the largest display of U.S. naval power in the Pacific since the Vietnam War in what was known as the Third Taiwan Straits Crisis.  In August 1996, Captain Ruehe, assumed command of BELLEAU WOOD, including a historic port visit to Vladivostok, Russia. In January 1998 he reported to NATO Supreme Allied Commander, Atlantic in Norfolk as Executive Assistant to the Chief of Staff.  On 29 November 1999, he was designated a rear admiral (lower half) for duty in a billet commensurate with that grade.   
In February 2000, Rear Admiral (lower half) Ruehe assumed command of Navy Region Southwest in San Diego.  He was promoted to rear admiral (lower half) on 1 August 2000.  In March 2002, RDML Ruehe assumed command of Amphibious Force SEVENTH Fleet/Amphibious Group ONE in Japan.  He was designated a rear admiral (two star) on 19 September 2002.  In September 2003, RADM Ruehe assumed command of U.S. Naval Forces Japan in Yokosuka, Japan and the next month was promoted to rear admiral.  In November 2005, RADM Ruehe assumed command of Navy Region Mid-Atlantic.  He retired on 1 January 2008. 
Rear Admiral Ruehe's awards include the Defense Superior Service Medal, Legion of Merit (four awards,) the Meritorious Service Medal (five awards,) Navy Commendation Medal, Joint Meritorious Unit Award (two awards,) Navy Unit Commendation, Navy Battle Efficiency Ribbon, National Defense Service Medal (two awards,) Armed Forces Expeditionary Medal, Southwest Asia Service Medal (with two bronze stars,) Humanitarian Service Medal, Sea Service Deployment Ribbon (with three bronze stars,) Overseas Service Ribbon (with one bronze star) and the Kuwait Liberation Medal (Kuwait.)   
Rick Ruehe volunteered to serve our Navy and nation at a time when other Americans were setting fire to ROTC buildings.  He served with distinction in the challenging domain of helicopter anti-submarine warfare, turning what had been a utility platform into a viable submarine hunter and killer, filling a void left by the retirement of the ASW carriers (CVS.)  He was a leader in the development and operational employment of the Light Airborne Multi-Purpose System (LAMPS) in both Seasprite and Seahawk helicopters.  Deploying in detachments to different ships at a faster optempo than the ships themselves, the HSL community required considerable time at sea and commensurate sacrifice of family time.  Nevertheless, HSL helos provided protection at sea to high-value Navy units (carriers and even battleships) during the culmination of the Cold War with the Soviet Union and into the present day.  With fewer career options than jet aviators, Rick nevertheless blazed a trail to flag rank through superior leadership at all levels, and his career probably ended sooner than it should have, due to a courageous fight of a different kind.  He was someone who listened, was not quick to judge, and took care to consider all points of view.  He was also described as a humble and kind man with a wonderful sense of humor, but that didn't stop him from getting the job done no matter how difficult the challenge at sea and ashore.  Rick's influence and legacy no doubt continues in the Navy helicopter community today, and the Navy and nation are better for his dedicated service. 
I have no information on services other than the family suggested that any donations be made to the Association for Frontotemporal Lobar Degeneration. 
Very respectfully, 
Sam 
Samuel J. Cox (SES)
RADM, USN (Ret)
Director of Naval History
Curator for the Navy
Director Naval History and Heritage Command
202-433-2210 (work) 202-571-213-9382 (govt cell)
Passing of RADM Stewart A. Ring, USN (Ret.)