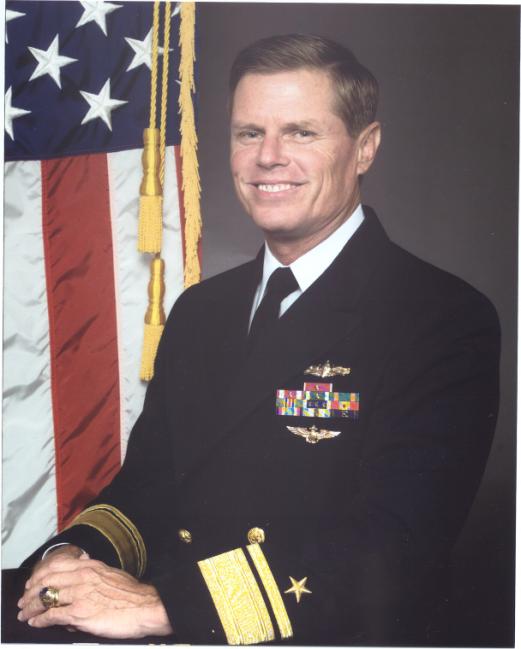 Rear Admiral John P. McLaughlin USNR-Ret
Rear Admiral McLaughlin is a 1972 graduate of the U.S. Naval Academy. He holds a Masters Degree in Public Administration from Troy State University. His first assignment was aboard USS Tripoli (LPH-10), where he served as a division officer until assignment to flight training. He received his wings in June 1975 and was assigned to Helicopter Support Squadron Three (HC-3). He was subsequently a plank owner in Helicopter Combat Support Squadron Eleven (HC-11), and completed his Surface Warfare Officer qualification during deployments aboard the USS Flint (AE32) and USS Sacramento (AOE-1)

He reported to Helicopter Training Squadron Eighteen (HT-18) in September 1978, and served a tour as a flight instructor. In December 1981, he was accepted into the TAR program and reported to Naval Air Reserve Unit San Diego for duty as a program manager. In August 1983, he was assigned to Helicopter Anti-Submarine Squadron Light Three One (HSL-31), and completed transition training in the SH-2F. He was subsequently assigned to the Naval Reserve's first LAMPS Squadron, Helicopter Anti-Submarine Squadron Light Eight Four (HSL-84). He was assigned as Officer in Charge of the Squadron in September 1985 and served in that capacity until assignment as Chief Staff Officer Helicopter Wing Reserve staff in March 1987.

In December of 1988, he reported to Helicopter Anti-Submarine Squadron Light Nine Four (HSL94) as Executive Officer and assumed command in July 1990. Upon completion of his command tour, he reported to Director Air Warfare (N88R), on the Chief of Naval Operations Staff in the Pentagon. He assumed command of Naval Air Station, Joint Reserve Base New Orleans in July 1994 and returned to the Pentagon in July 1996 as Executive Assistant to the Director of the Naval Reserve. He became Deputy Director of Naval Reserve in October 1998, was promoted to flag rank on August 1, 1999. Assumed his duties as Commander, Naval Air Reserve Force on October 23, 1999 and was promoted to his present rank on October 1, 2001. On July 20, 2002 he became the Commander, Naval Reserve Forces Command.

RADM McLaughlin's personal decorations include the Legion of Merit, Meritorious Service, Navy Commendation and Navy Achievement Medals.