RDML Ronald "Rabbit" Christenson, USN (Ret.)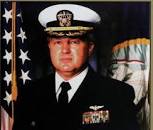 LTJG Ronald Christenson became at Naval Aviator on August 2, 1971 at HT-8, NAS Ellyson Field, Pensacola, FL. LTJG Christenson is Navy Helicopter Pilot Designator Number R-11719.
Obituary for Ronald Lee Christenson
When the orders for immediate transfer came early, Rear Admiral "Rabbit" Christenson departed the pattern for his permanent duty station on the Lord's staff in heaven on August 25, 2023, entering into travel status, suddenly, at his home in Leesburg, VA, where he had been executing his previously directed retirement with his accustomed and well-documented aplomb.

Designated Ronald Lee Christenson upon his worldly arrival on November 11, 1947, Ron honored that name with an outstanding work ethic which led to
significant academic and athletic recognition, including, but not limited to,
leading Mt Morris High to a Michigan football state championship and garnering offers from Dartmouth and Navy, entering the latter in June of 1965.

Shortly after matriculating, though the actual date and circumstance is shrouded in the mists of time, he became known as "Rabbit", a moniker which has endured.
Rabbit was a Navy footballer for all four years, wore academic stars throughout,
and established his position as a true leader.

He graduated in 1969, with a BS in aerospace engineering and was awarded a Guggenheim Fellowship, which he quickly converted into a Master's degree at Cal Tech. Continually demonstrating his breadth of talent as a true renaissance man, he complemented his academics by joining his wife Mackie as finalists on The Newlywed Game.

Rabbit then attended Naval Flight School and was designated a naval aviator in 1971, with his first stop at H-3 Readiness Training and assignment to Antisubmarine Squadron 15 aboard USS Guam (LPH-9).

Thereafter, in 1975, he reported to Air Test and Evaluation Squadron 1, Patuxent River, MD, followed by selection as an exchange pilot, serving with United Kingdom Royal Navy, as a Sea King pilot, in Squadrons 820 and 706, Royal Naval Air Station, Culdrose, England. His next duty station was Administrative and Maintenance Officer, Helicopter Antisubmarine Squadron 5, aboard USS Dwight D Eisenhower (CVN-69). After a tour on the staff of Commander, Sea Base ASW Wings Atlantic, he became Executive and then Commanding, Officer, Helicopter Antisubmarine Squadron 7, aboard USS John F Kennedy (CV-67). In 1986 he reported to Naval Personnel Command as Aviation Enlisted Assignment Officer. He entered the Nuclear Power Program in 1988, in preparation for his assignment as Executive Officer, USS Theodore Roosevelt (CVN-71) in 1990. After assuming Command of USS Dubuque (LPD-8), Sasebo, Japan, in 1992, he returned to USS Theodore Roosevelt as its Commanding Officer, serving from1994 through 1996. His final duty station was as Head, Carrier Programs and Aviation Manpower and Training Branches, Washington, DC.

Upon retirement from the Navy, Rabbit joined Lockheed Martin, where he served in a number of influential posts, most notably as Group Managing Director of United Kingdom Integrated Systems, headquartered in Chichester, England. Rabbit departed the Lockheed Martin warren in 2011, but his retirement was from formal employment only, as he pursued his fishing and hunting activities, oil and gas and realty investments, golf with the Jim Calvert Group of the USNA class of 1969, Asian rug and "Blue Coyote" art collecting and traveling with his family and friends, with the same zeal that made him such an exemplary Naval Officer and corporate executive. In 2013 he was Baptized and Confirmed in the Roman Catholic Church. He was also a Trustee of the Theodore Roosevelt Association, the Sports and Athletic Program board of the Naval Academy Foundation and a lifetime member and trustee of the National Helicopter Association. He was constantly a man in productive motion. In the words of Toby Keith, Rabbit never "let the old man in."

Rabbit's parents, Roy and Dorothy (Evelyn) Christenson, of Mt Morris, Michigan, preceded him in death. He is survived by his spouse, the love of his life, Mackie, the former Sharon McIntyre, two sons, Stephen Scott Christenson and Martin Alexander (Marty) Christenson, of Alexandria, Virginia and Franklin, West Virginia, respectively, and his brothers, Gerald Bruce (Jerry) Christenson, of San Antonio, Texas, and James Craig (Jim) Christenson, of Fair Play, South Carolina.

A visitation will be on Friday September 1, 2023 from 6:00PM to 8:00PM at Loudoun Funeral Chapel, 158 Catoctin Cir. SE, Leesburg, VA 20175.
A catholic funeral mass will be held on Saturday September 2, 2023 at 11:30am at Saint John the Apostle Catholic Church, 101 Oakcrest Manor Drive, Leesburg, VA 20175.

In Lieu of flowers, Memorial donations can be made in Rabbit's Honor to The Theodore Roosevelt Association

Rear Admiral Ronald Lee Christensen, Ret. will be laid to rest at the United States Naval Academy on a later date. Once Scheduled the arrangements will be posted here.