SIGNAL CHARLIE-Phillip T. Poisson, CWO3 USN-Ret
Phillip T. Poisson, CWO3 USN-Ret  Nov 27, 1942 – Dec 31, 2011. Phil slipped the surly bonds of earth at 7:20 a.m. peacefully at home with his wife, Serena , at his side.  The son of John and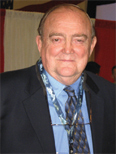 Dorothy Poisson, Phil was born in Springfield, MA.  Following graduation from Westfield High School in June 1961, he joined the U.S. Navy.    Becoming an Aviation Electronics Technician, Phil spent the next twenty-eight years advancing from an E1 to CWO3 before his retirement in December 1989.   During his military career, Phil had the experience of wintering over in the Antarctic  and was the first enlisted person to achieve 2000 hours in the H2 aircraft, many of which were accomplished during his time in Helicopter Combat Support Squadron Seven flying in and around Viet Nam.  While attached to Helicopter Combat Support Eleven In 1984, he was the Southwest Regional Individual Bowling Champion.
Phil's awards include Air Medals (13), Navy Commendation Medal, Navy Achievement Medal w/ two stars, Navy Arctic Service ribbon, Meritorious Unit Commendation w/three stars, Humanitarian Service Medal w/two stars, Navy Expeditionary Medal, Battle "E" Ribbon (seven awards), Presidential Unit Commendation, Navy Unit Commendation, National Defense Service Medal, Armed Forces Expeditionary Medal (Viet Nam), Philippine republic  Presidential Unit Citation, Vietnam Service Medal, Republic of Vietnam Gallantry Cross with Palm Unit Citation, Vietnam Armed Forces Meritorious Unit Commendation, Air Gallantry (Vietnam),  and the Meritorious Service Medal.
Earning a BS in Computer Science in 1989, he worked a number of years with Digital Wizards, Inc. as an Engineer.  Moving to Logicon then Northrup Grumman, Phil retired again 2007.
His interests were varied.  He completed a Taoist Study Program and was ordained as a Tao Shih in December 1995.  Following that, he completed training in Reiki and is a founding member of the San Diego Reiki Corps.  With compassion and warmth, for more than ten years he volunteered at Sharp Memorial Hospital offering Reiki to oncology patients.
Returning to his military roots, Phil was on the Board of Directors for the Navy Helicopter  Historical Society and active with the HC-7 Reunion Group.  He was recognized as an Imperial Beach Hometown Hero in October 2006 and the Mark R. Starr Pioneer Award in 2011.
In addition to Serena, his wife of 44 years, Phil is survived by his mother, Dorothy Poisson, of Southwick, MA; his sisters, Alberta (John) St. Germaine and Ann (Mike) Cameron; sons Edward  (Denise) Young and Phillip (Lynn) Poisson II; daughters Amanda (D'Arcy) Rigby, Andre (Tom) Raden and Serena (Earl) Harris; grandchildren:  Mark Taylor, Samantha Taylor, Alaina (Billy) Brooker, Kathryn (Brent Fox) Young, Kristen Young, Elexus Harris, Helen Rigby, and Ian Rigby.  He was predeceased by his son, Lyn Young.
Interment will be at Fort Rosecrans National Cemetary at a time to be announced later.