Sikorsky HOS-1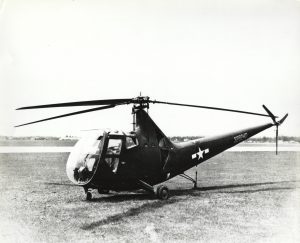 By LCDR  Brian Miller, USN (Ret.)
The Sikorsky R-6 was the follow-on model that improved upon the R-4 (Navy designation HNS-1).  While the R-6 retained the main rotor and transmission of the R-4, it had a sleeker, all metal fuselage and bigger engine.  Based on US Army Air Force (USAAF) satisfaction with the R-4, Sikorsky was awarded a cost plus fixed fee contract on April 30, 1943 to deliver six experimental airframes.  USAAF XR-6 SerNo 43-28240 made its first flight on October 15, 1943.  This was followed up with another five XR-6A airframes with improved 235 hp Franklin O-405-9 engines.  Of these, three were transferred to the Navy (former Army SerNos 43-28241/43) for use by the Coast Guard for experimentation/development as shipboard anti-submarine warfare platforms.  These aircraft were assigned BuNos 46446-48 and, following the BuAer convention of the time, the XR-6 was re-designated XHOS-1 for Experimental, Helicopter Observation, Sikorsky Series 1).  They were received sequentially by BuNo with the first of these aircraft delivered on October 18, 1944.  BuNo 46446 had the longest service life of the three and was used as an experimental helicopter at NAS Patuxent River until it was transferred to Norfolk for disposal on August 31, 1948.  BuNo 46447 was accepted at CGAS Brooklyn about two weeks later and was promptly destroyed in a crash, struck from the inventory on December 31, 1944.  The last airframe, BuNo 46448 was accepted at CGAS Brooklyn on January 9, 1945, where it remained until stricken on July 31, 1946 as war surplus.
According to the Sikorsky Archives:
Even before the first XR-6 took flight, the USAAF Production Division recognized their demand for the R-4 and R-5 were already overwhelming Sikorsky's limited manufacturing capacity.  As a result, the Army directed Nash-Kelvinator  to manufacture the production variant, the R-6.  On August 28, 1943 Nash-Kelvinator entered into a production contract to produce 900 airframes with engineering services and dynamic components such as rotors, gearboxes, blades, and the bulk of the drivetrain provided by Sikorsky…  Sikorsky, however, made numerous changes to the XR-6 design prior to releasing the production specifications to Nash-Kelvinator for the R-6…  As a result, the first R-6A was not accepted by the USAAF until October 23, 1944.
When production did commence, Nash-Kelvinator (a Detroit-based automobile and appliance manufacturer) ran four parallel production lines that intermixed USAAF and Royal Air Force (RAF) YR-6 and R-6 airframes.  During production, 36 USAAF airframes were turned over to the Navy for use by the Coast Guard as shipboard ASW assets.  In August of 1945, the war ended and the contract was cancelled after only 219 airframes were completed.  In addition to the thirty-six former USAAF serials (assigned Navy BuNos 75589-75624) two more that were originally built for the RAF under lend-lease somehow found their way into the Navy inventory following the war.  These were assigned BuNos 75729/30, but there is no indication they ever served a useful purpose and records express uncertainty about their chain of custody.
Of these 38 aircraft, the bulk went directly into Coast Guard storage at CGAS Brooklyn and were either retained by the Coast Guard or disposed of as war surplus.  With the massive drawdown of personnel following the war and the Coast Guard returning to the Treasury Department in January 1946, the Navy was left with only four qualified helicopter pilots and few, if any, qualified helicopter maintainers.  Demand by the Navy for helicopters was low and only about a dozen HOS-1's served operational purposes.  On March 11, 1946, CAPT Clayton Marcy (helicopter pilot #7) and CDR Charles R. Wood (helicopter pilot #3) requisitioned BuNos 75598, 75613/14, and 75616 for the Navy's first helicopter shipboard deployment aboard USS Shangri-La (CV-38) and USS Saidor (CVE-117) to support Operation Crossroads.  None of the airframes had long service lives.  All four were accepted and delivered on December 27, 1945 at CGAS Brooklyn.  BuNo 75613 was lost in a mishap during the deployment on June 3, 1946.  The remaining three were essentially left at the pier in San Diego after deployment when Saidor returned in August of 1946 and were disposed of as war surplus on November 30, 1946.
On July 1, 1946, while CAPT Marcy and CDR Wood were at sea supporting Operation Crossroads, the Navy commissioned its first helicopter squadron, VX-3, at NAS New York under the command of CDR Charles E. Houston (helicopter pilot #9) with seven Sikorsky HOS-1 airframes pulled out of Coast Guard storage at the co-located CGAS Brooklyn on June 22, 1946.  Among these seven aircraft were BuNos 75594, 75602, 75612, and 75615.  A few other HOS-1s found their way to VX-3 in April 1947, possibly for disposal or used for spare parts as the low HOS-1 production volume during the war made spare parts extremely scarce. 
While the HOS-1 showed immediate promise as a reliable utility platform, it had several limitations such as size and performance.  The airframe itself was extremely compact.  Excluding the landing gear, it was just 44 inches across at the cockpit, the widest part of the fuselage.  It lacked a bladefold system, however.  With a 38 foot rotor arc and a total tip to tip length of 48 feet, it had a flight deck footprint equaling 2-3 carrier aircraft of the time, making it cumbersome for shipboard use, and completely impractical for carrier use.  Even with the improvements in performance over the HNS-1, the HOS-1 still struggled to support much more than the weight of a single pilot in no-wind and high density altitude environments.  At roughly 85 mph, it cruised slightly slower than the 100 mph the Navy desired.  Beginning in 1947, the HOS-1 was phased out by the Sikorsky HO3S-1, which built upon lessons of the XHOS-1/HOS-1 and successfully addressed many of the Navy's concerns identified above.  The HOS-1 ended its service life with the Navy as a trainer at VX-3 and the last known airframes were stricken on March 31, 1949.