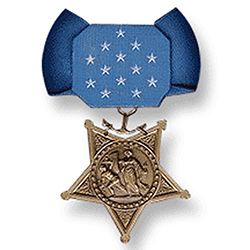 Medal of Honor
The Medal of Honor is awarded by the President in the name of Congress to members of the naval service, who distinguish themselves conspicuously by gallantry and intrepidity at the risk of his life above and beyond the call of duty:
(a) while engaged in an action against an enemy of the United States;
(b) while engaged in military operations involving conflict with an opposing foreign force; or
(c) while serving with friendly foreign forces engaged in an armed conflict against an opposing armed force in which the United States is not a belligerent party.
There must be no margin of doubt or possibility of error in awarding this honor. To justify the decoration, the individual's service must clearly be rendered conspicuous above their comrades by an act so outstanding that it clearly distinguishes their gallantry beyond the call of duty from lesser forms of bravery; and it must be the type of deed which if not done would not subject the individual to any justified criticism. The deed must be without detriment to the mission of the command or to the command to witch attached.
The naval helicopter recipients of this award are as followed:
CDR Clyde E. Lassen, USN
PFC Raymond M. "Mike" Clausen, USMC
Maj. Stephen W. Pless, USMC
LTJG John K. Koelsch, USN
Return to Honors