SIGNAL CHARLIE

CAPT Dick Catone, USN (Ret.) following a memorial service for a fellow helicopter pilot, is credited with the following statement: "I guess we are all in starboard delta waiting for Signal Charlie." Starboard Delta is the holding pattern for the airborne Search and Rescue helicopters on the starboard (right) side of the aircraft carrier. They fly at a low altitude so as not to interfere with the fixed-wing aircraft recovery pattern, and only land when the last fixed-wing aircraft is safe on board. When tower calls the helicopter to pass "Charlie" to a landing spot, the crew knows the fixed-wing recovery is complete, all is well, and it is time to come back. Hence, the statement appears appropriate that someday we will receive our own "Signal Charlie" and will be called home for a final landing.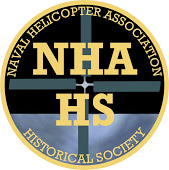 Signal Charlie has been created to inform our membership and honor the passing of fellow unrestricted aviators. It is only as good as the information we receive. If you have an obituary or other information that you would like to provide concerning the passing of a shipmate, co-worker, or friend of the community please contact the NHA national office by email with a copy of the Obit in a word file along with a picture in jpeg format to CDR Mike Brattland USN (Ret.), Retired and Reunion Manager/Signal Charlie Coordinator for  NHA at retiredaffairs@navalhelicopterassn.org and we will share the information here on the NHAHS Signal Charlie Page, in ROTOR REVIEW Magazine  and via email/social media to the NHA membership.
NAVAL ROTARY WING PERSONNEL KILLED DURING NAVAL OPERATIONS NOT INVOLVED IN COMBAT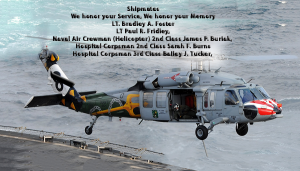 HSC-8 Mishap Crew August 31, 2021 USS Lincoln (CVN-72)-HAC LT Bradley A. Foster, USN, Co-Pilot LT Paul R. Fridley, USN AWS-2 James P. Buriak, USN, HM-2 Sarah F Burns, USN & HM-3 Bailey J. Tucker, USN
CDR Joseph Steven Allen, USN CO HS-2 April, 1956
AWS1 Jonathan Richard Clement, USN
LT Sean Christopher Snyder, USN
NAVAL ROTARY WING PERSONNEL KILLED IN ACTION (KIA) DURING COMBAT
HAL-3 names below are linked to their pictures-Click on their names!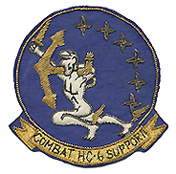 HC-6 Chargers who have reported to our Supreme Commander-Signal Charlie
Many thanks to Jeff Berger for compiling this information on the HC-6 Facebook Group page. JEFF BERGER·THURSDAY, FEBRUARY 22, 2018  To have a name added, please provide as much information as possible to include rank, rate, and date of death. Please email your information to HC6.Patch@gmail.com.
CAPT Ron Beougher 17OCT09
AT2 (AC) Daniel Rex Biddle 03OCT95
AT3 (AC) Patrick Bleakney 10JAN94
AT2 (AC) John Lukas "Big Sexy" Boyd 05JAN15
LT Guy Henry Brown 20FEB77
LCDR Marvin J. Bulson 13SEP99
Airman (AC) John W. Burkhardt Jr 23JUN90
AD1 (AC) Steven G Carlson (Date of death unknown)
LCDR Joe Cerda 28JUL87
CDR John J. "Jack" Connolly, Commanding Officer, 12JAN18
LT Harry "Buck" Crouthhamel 13MAY82
CAPT John L. Dailey Jr 20MAR12
AVCM Joseph Dyess 15JUN95
AD2 Greg Elkins 24JUN82
CDR Mike Feichtinger 22JAN14
AT1 (AC) Norman H. Geisel 23JUN90
AT1 Scott Allan Gustafson 18MAR03
AT3 Eric M. Hakel 03OCT95
AMH1 Samuel Leslie Hemphill 22JAN14
LCDR Jim "Huffer" Huffman 17MAY14
ADJ1 Neil G. Hyerstay 15MAR97
AD1 (AC) John F. "Ski" Jasinski 24MAY18
AMS1 Glenda Jessup, 21MAR09
CDR George I. Kuykendall 15MAR16
LT Bradley (Brad) Lewis (Date of death unknown)
LT James H. Love 19DEC90
CAPT Jim Magee, Commanding Officer, 16MAY18
AMSAN Joseph "Jody" Clifton Mangum 03JUN18
AECS (AC) Jeffery Markel 11JUN13
AK3 Dan Marquis 15SEP16
CDR Mike Masica 09NOV16
ADC Donald McDermott (Date of death unknown)
LT. Ronald J. Mobayed 03OCT95
CDR Robert Scott Murphy 06APR18
AMS (AC) Willam Mac Newberry 02DEC17 (Rank unknown)
CWO3 Larry Kevin Newbern 28JUL10
LT Robert J. Okoniewski 16SEP91
LT. Edward "Randy" O'Neill 10JAN94
LT Jane T. Paradeis 23JUN90
CAPT Eric Peterson 04NOV02
CAPT Charles Edward Plaugher, Commanding Officer, 05JUN06
AEC Roger Rau 27OCT17
AD3 Dennis C. Ricks 04APR03
AD2 Victor J. Rodowicz Jr. 17NOV14
LT Dan Russell ??AUG80
AT3 (AC) Joseph Robert Sevit 21AUG15
LT. Michael Tanner 10JAN94
LT Christian Gerard Taylor 17NOV91
AT1 Robert Turner 18MAR16
ADC Salvatore Tuttobene (AKA 'Tut' and 'Sal' and 'King Tut') 04NOV07
AD1 Louis Valdor 20SEP77
AEC Bill VanderHey 28AUG81
LT. Robert W. Vogel 03OCT95
CDR James Robert Walker 06FEB12
AE3 Russ Ward 20SEP77
CDR P. Douglas Wilkes 21DEC12
CAPT Beverly Wilson Witherspoon, Commanding Officer, 14SEP13
————————————————————————————————————–
INCOMPLETE DATA SECTION
AD1 (AC) Steven G Carlson (Date of death unknown)
LT Bradley (Brad) Lewis (Date of death unknown)
ADC Donald McDermott (Date of death unknown)
AMS (AC) Willam Mac Newberry 02DEC17 (Rank unknown)
LT Dan Russell ??AUG80
PO Cash. PO Jacobs. AN Johnson. Double Nuts 152554 17 Sept.75